Here is an invitation for all die-hard alcoholics, aspirant alcoholics and devotees of spirits and wines. Featured above is a portable home bar that can be erected within minutes. If space-crunch is an issue but you have a heart to throw gala parties then the portable bar is worth inking a deal. Also those grown-up kids who can't stay away from the taste of alcohol and take pride in installing the bar during their parties without little knowledge to their parents shall grab this functional and worth-flaunting product.
Clad in a compact case layered with aluminum with a silver stainless finish, it takes less than 5-minutes to assemble the bar. Its versatile frivolous structure enables it to stand virtually anywhere. It has a capacity to store up to (10) 750 ml bottles and (6) 1 liter store and pour jugs. All set to do a value add to your interiors, the stylish appeal of the bar may find success in enticing even non-alcoholics. Available in black, silver and white shades, the portable bar is a weapon for those who can't spoil the mood of the party at any cost and hence are in for shelling out $1,889.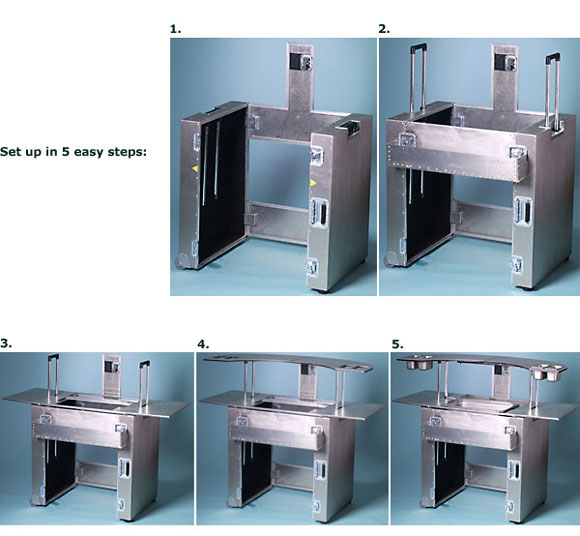 Dimensions:
Fully Assembled: 60″W x 41″H x 28″D
Fully Closed: 24″W x 31″H x 10 1/2″D
Weight: 65 lb.