There is a perception that it is easier to find unique gifts for women. It is true that choices are many when you are looking for gifts for her. Be it belts or fashion accessories, the range of offerings is always large enough to confuse you. We have done the homework to make your holiday shopping a pleasant and stress free experience. Here is our gift guide for you in case you are looking for accessories for women.
Chanel Vintage sunglasses €666
This is a real vintage black sunglasses from Chanel. The square frame has silver-tone studded detail. The arm is covered with a padded leather panel. It won't be out of place to warn you that vintage items could be 20 to 50 years old and hence have minor imperfections.
2. Buccellati   Blossom Sterling Silver Triple Drop Earrings
INR 35380.41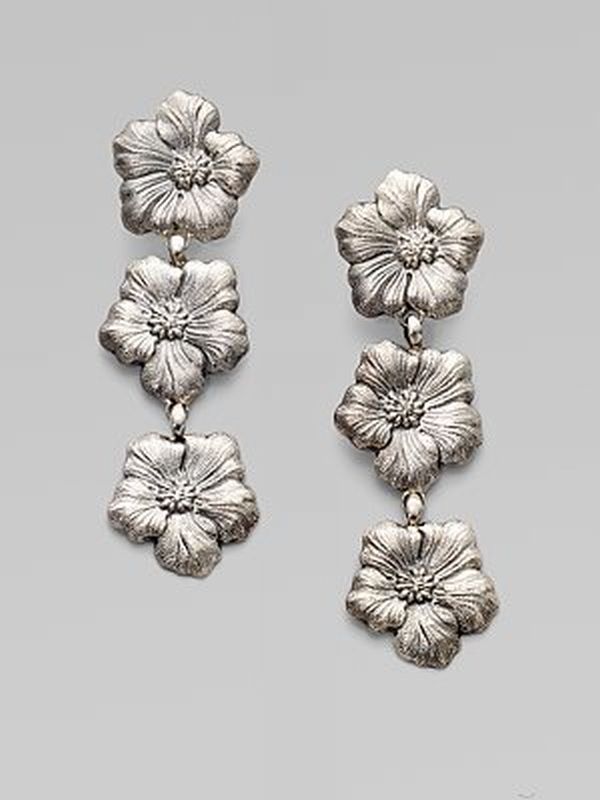 It is a tree drop design which is very feminine in style. The triple drop earrings are made from sterling silver and have a dramatic flair that is rare. The earrings drop to a little over 3 inches. The earrings have been made in Italy.
3. David Yurman White Freshwater Pearl, Diamond & Sterling Silver Earrings
INR 29937.27
These earrings feature white freshwater cultured pearls. Diamonds of 0.05 tcw have been used to spark the pearls. The total impact is rather sensual. The pearls with a diameter of almost half inch are exquisitely cradled in cabled sterling silver.
 4. David Yurman Diamond Accented White Mabe Pearl Ring
INR 121783.86 
This ring is part of the Moonlight Ice Collection. The centerpiece is a stunning mabe pearl and it is surrounded by two rows of sparkling diamonds. The ring is made out of blackened sterling silver. The diamonds add up to 0.75 tcw. The ring has been imported for your convenience.
5. David Yurman Black Onyx, Sterling Silver & 14K Yellow Gold Cable Bracelet
INR 32386.68 
This imported bracelet is from the Colors Classics Collection. The elegant bracelet is made from signature Yurman cable. The sterling silver cable is accented with 14k yellow gold. The bracelet is capped with black onyx domes.
6. GURHAN 24K Yellow Gold & Sterling Silver Drop Earrings
INR 29937.27
The earrings have a unique and rich drop design. Three hammered spheres have been stringed together to create the earrings from the Lentil collection. The three spheres have been created with yellow gold, white and blackened sterling silver. The earring drops to about one and half inch.
7. Ippolita London Blue Topaz & 18K Yellow Gold Earrings
INR 81374.94
This teardrop earrings are simply fascinating because of the London blue topaz that are richly faceted. The shimmering stones have been set in 18k yellow gold. Ear wire holds it to your ear. The earrings are a little over one inch in size.
8.  John Hardy Agate & Sterling Silver Bracelet
INR 92261.22

This is a very unusual design of a bracelet which has been made in Bali. The design is as exotic as the place. The bracelet circles your wrist with agate stones and sterling silver. The bracelet with a two inch diameter is about inch and a half wide.
9. Marco Bicego  18K Gold Cluster Link Earrings
INR 70216.51
The earrings from Marco Bicego have been made in Italy and are a part of the Jaipur Links Collection. There are three rings made from 18k gold that have been linked together in a cluster. Its three quarters of an inch long and half inch wide.
10. Hanky Panky   Low-Rise Thongs – Three Pack
INR 2667.14
The lingerie made in America has a soft feel. The stretchy lace design makes it very comfortable. The low rise thongs made from nylon and spandex has cotton lining. The low thong made by Hanky Panky doesn't show through your clothes.
11. CHANEL VINTAGE Ornate detail belt
€775.00
It's a black leather belt featuring ornate gold-tone hardware. The vintage belt has rear hook fastening. As mentioned earlier, the vintage items might have minor imperfections as they are 20 to 50 years old.
12. YVES SAINT LAURENT Link logo necklace
€663.00
It is a black plastic choker necklace from Yves Saint Laurent featuring a chunky link design with a gold-tone brass pendant.