Celebrity perfumes are all the rage nowadays. More and more celebrities from the worlds of movies, music and fashion are tying up with veteran perfumeries to create their own signature scents. A month ago, Roja Dove Haute Perfumerie and Clive Christian Perfumes had collaborated to create the world's costliest fragrances inspired by Prince William and Kate Middleton. The royal couple were not themselves involved in the development of this perfume, which was intended as something of a wedding gift. However, other celebrities tend to be quite hands-on when it comes to their signature scents. Here are ten celebrity fragrances that are set to bring something special to our summer.
1. Designer: Britney Spears, Elizabeth Arden
Fragrance: Cosmic Radiance
Price: $39.50 for 30ml, $49.50 for 50ml and $59.50 for 100ml
This August, watch out for the launch of Britney Spears' new perfume from Elizabeth Arden. Named Cosmic Radiance, this celebrity perfume is yet another high-profile addition to Britney's line of fragrances. Elizabeth Arden's VP for Global Fragrance Marketing Karen Huntoon revealed that Cosmic Radiance is "inspired by powerful, strong, confident women".
The perfume has opening notes of mandarin, lychee and pear. These then give way to flowery notes including jasmine and tuberose. The final earthier whiffs will come from musk, amber, sandalwood and vanilla. Credit for the composition goes to Honorine Blanc and Harry Fremont. Meanwhile, the black and white gemstone-studded bottle is the perfect fit for a pop princess.
2. Designer: Elie Saab
Fragrance: Le Parfum
Legendary fashion designer Elie Saab's signature perfume was announced a couple of years ago. Named Le Parfum and developed by perfumer Francis Kurkdijan, the perfume is scheduled for a July release this year. This celebrity perfume will boast of both flowery and woody notes. Inspired by Saab's red carpet creations, the Le Parfum will have hints of jasmine, orange blossom, cedar and rose honey. It will be available in 30, 50 and 90ml bottles. Supermodel Anja Rubik graces the ad campaign in a glamorous, flowing dress.
3. Designer: Jennifer Lopez
Fragrance: Love and Light
On 2 July, Jennifer Lopez will be launching her 17th fragrance on the Home Shopping Network. Fans would be able to speak to the actor-singer as she takes viewers' calls on the channel for 8 hours.
That this is a signature Jennifer Lopez perfume is evident right through the feminine curves of the bottle and its jeweled cap. To be sold in 30ml, 75 ml and 200ml bottles, Love and Light is described as a blend of "luminous florals with her sensual signature of luxurious woods". This Jennifer Lopez perfume will be available exclusively on Home Shopping Network for a month after its release. Only from September will it hit the stores.
4. Designer: Bulgari; Celebrity: Kirsten Dunst
Fragrance: Mon Jasmin Noir
Price: $45 for 25ml, $80 for 50ml and $105 for 75ml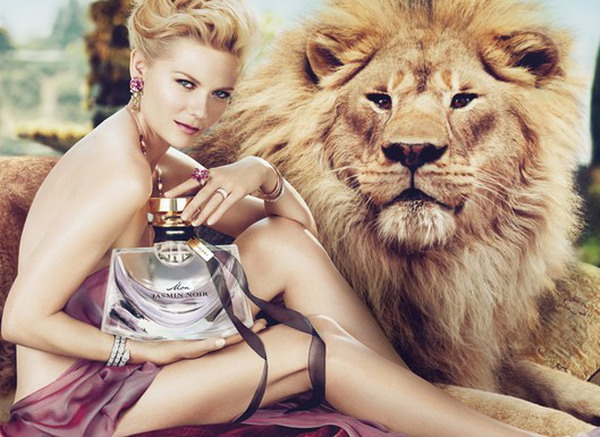 Bulgari launched its Mon Jasmin Noir this April with an eye on Asian markets. The brand built up the ad campaign for the perfume with actor Kirsten Dunst as the poster girl. This light floral scent is primarily composed of jasmine flowers and has hints of citrus, cedar, patchouli and lily of the valley. The perfume is set to be sold across 200,000 outlets across the world.
5. Designer: Beyonce
Fragrance: Pulse
Even Beyonce is joining the celebrity perfume bandwagon this summer when her Pulse releases this September. Beyonce already has two fragrances to her name – Heat and Heat Rush. She describes Pulse as being "all about finding the power inside". She added that she works on creating perfumes that can work for any occasion. Her partner company Coty Boty announced in a statement, "The woman who wears Beyonce Pulse is impossible to ignore."
6. Designer: Diane Von Furstenburg
Fragrance: Diane
Designer Diane von Furstendburg conducted one of the classiest perfume launches ever when she launched her signature scent Diane on board her husband, media mogul Barry Diller's chic superyacht Eos. The designer said of the perfume, "All my power is in this bottle," and went on to add, "it's all for the woman you want to be." As per the designer's description of the perfume, it has hints of violet and of frangipani.
7. Designer: Kim Kardashian
Fragrance: New Fragrance
Kim Kardashian ensures that she is always in the news. The television celebrity launched her signature perfume on 8 June this year at a central London store. In true Kim Kardashian style, her signature scent has been inspired by all things pretty and feminine. The TV star admitted that while developing her scent she thought about all the things that brought her confidence and made her feel special.
8. Designer: Halle Berry
Fragrance: Reveal The Passion
This Halle Berry perfume comes in a chic and feminine pale violet bottle. This celebrity fragrance has opening notes of Italian bergamot, freesia and apple, which give way to white champaca and mangostee. The base notes are of patchouli, okume wood and musk. Set to launch in July 2011, this Halle Berry perfume has been developed by Givaudan perfumer Olivier Gillotin.
The scent is meant to give off a sense of mystery, elegance and confidence. The flacon will be available in 15ml, 30ml and 75ml versions.
9. Designer: Vera Wang
Fragrance: Lovestruck
Another fashion designer launches her signature scent. This June, Vera Wang launched Lovestruck, a feminine fragrance that embodies the feeling of "being overwhelmed, inexplicably, hopelessly in love". Perfumer Stephen Nilsen developed this perfume using ingredients like guava, angelica, lotus blossom and musk.
Described as "A new definition of Romeo and Juliet", this Vera Wang perfume is set for an August release. The perfume will be available in 30ml, 50ml and 100ml bottles. Wang will also be introducing matching body products.
10. Designer: Heidi Klum
Fragrance: Shine
Price: Between $17 and $35
Supermodel, designer, TV show host – Heidi Klum wears many hats. And now, she is set to launch her first signature fragrance. Named Shine, the fragrance includes notes of pink peppercorns, sunflower, lily of the valley, vanilla and Venezuelan tonka bean. Klum described the perfume as sensual, feminine but at the same time luxurious. This celebrity fragrance will be sold in a gold bottle with a transparent, rounded base.