When you are travelling, shuttling between airports and hotels or simply looking for a place to unwind with friends and good conversation, lounges offer a wonderfully laidback experience. We tracked some of the coolest lounges in hotels, ports and airports and found several winners that provide a fine blend of comfort and luxury. Here are our 10 top picks.
1. Party Lounge Onboard Korean Air Airbus A380
Business and First Class passengers flying by Korean Air's Airbus A380 are in for a special treat. The airline has introduced a party lounge onboard this aircraft. Plush sofas create an easy ambience in which passengers can relax and have a few drinks. The Airbus A380 also boasts of a special in-flight duty-free shop. The party lounge Airbus currently does the Seoul-Incheon and Tokyo-Narita routes.
2. The Cannes 2011 DPA Lounge
The Cannes 2011 DPA Lounge was essentially a gift lounge offering promotional luxury items for the film festival's high profile guests to purchase. The Intercontinental Carlton Hotel in Cannes hosted the Cannes 2011 DPA Lounge this year. Several of the glamorous invitees to the Cannes Film Festival were also staying at the hotel.
Among the luxury goods on offer were Marchon's new line of sunglasses from Pucci and Lacoste, Michique clutches, and a $65,000 luxury vacation to Bora Bora sponsored by St. Regis. Select guests were gifted the exclusive "Cannes Survival Kit", which consisted of the "Upside-Down Dress", a reversible hobo bag in leather, and a "Day to Night" lipstick set, all from Turbine. The lounge was open until 20 May this year.
3. Pontoon At St. Katherine Docks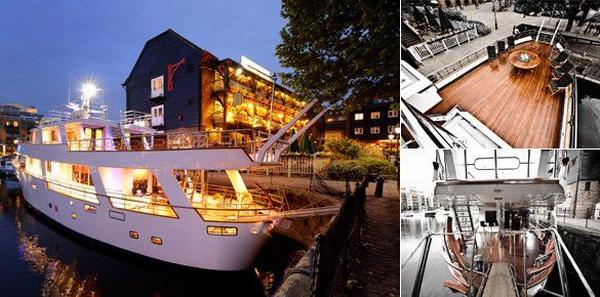 London's first floating champagne lounge is now open in the waters of the picturesque St. Katherine Docks. Located in a historic London neighborhood, St. Katherine Docks has long been popular with tourists for its quaint beauty. The Pontoon yacht offers another reason to head there. The yacht offers five berths and can accommodate up to 80 people. This classic 1975-built motor yacht by Camper & Nicholsons is open from 9am to 12am and appears to be a great spot for a quiet, romantic dinner.
4. VIP Seaplane Airport Lounge At Maldives
Even luxury travelers to the Maldives occasionally have to wait a few hours for their connecting seaplane ride. However, this will no longer be a trying wait for select passengers; specifically, Hilton Maldives/Iru Fushi Resort & Spa, the Beach House Maldives A Waldorf Astoria Resort and the Conrad Maldives Rangali Island. A VIP seaplane lounge has opened up at the Maldives airport, allowing passengers to relax in luxury.
The lounge includes oversized sofas, computer stations, Wi-Fi connectivity, changing rooms, food cooked by an in-house chef, and even a playroom. Guests get a complimentary shoulder massage. Plus, there are other massages and treatments available for a fee.
5. Rolling Stone Restaurant And Lounge
Designer Gavin Brodin has pulled out all stops to recreate the look and feel of the iconic Rolling Stone magazine in a US restaurant and lounge. The restaurant and lounge also boasts of several retro elements, which recall British travel lounges and Paris of the 1870s. Street lamps and crystal chandeliers provide the illumination. The 10,500-square-foot restaurant and lounge occupies two floors of a property on Hollywood and Highland. The dining space can accommodate 140 diners. There is also a bar and a DJ booth.
Brodin has introduced several quirky touches. For instance, the reception desk at the second floor lobby is an antique floor cart originally belonging to an old citrus factory.
6. Bar D'Eau, Pool Deck Lounge At Trump Soho, New York
Last year, Trump Soho launched its 6,000-square-foot pool deck on the seventh floor of the hotel, which stands on 246 Spring Street. The outdoor pool deck lounge houses a lounge pool lined with blue Italian mosaic. The DiGuiseppe Architect designed Bar D'eau also houses a waterfall, private cabanas and a bocce court. By night, this transforms into a brilliant urban oasis, the perfect place to unwind with the Trump Soho's signature cocktails. The lounge is open from 11am to 11pm between Sunday and Wednesday and between 11am to 1pm on Thursday and Friday.
7. Mobile Cigar Lounge
Strict anti-smoking laws in the United States gave rise to the mobile cigar lounge a few years ago. In came the luxury cigar lounge on wheels. The air-conditioned Airstream lounge was fitted with a top-end filtration unit to ensure the cigar smoke did not collect within its luxurious confines. The interiors of the lounge were indulgent, to say the least, with ostrich leather seating, cherry wood cabinetry, and cedar ceilings and walls. Add to this flat screen TVs, a wet bar, a wine cooler and attractive Cigarista girls to serve guests.
8. Ritz-Carlton Moscow's O2 Lounge
The Moscow Ritz-Carlton's O2 Lounge stands on the 12th floor, with prism windows offering magnificent views of the city skyline. You can spot the Kremlin and the St. Basil's Cathedral from here. The lounge's new age design is brilliant and eye-catching.
The rooftop bar offers sushi, oysters and lobsters. Apparently, the fish for the sushi is regularly flown in from the Tsukiji Market in Japan. The O2 lounge also offers Bohemian crystal hookah pipes purchased in the Czech Republic. Particularly, check out the Russian style of opening champagne bottles using a saber.
9. World Class Bar In Heathrow's British Airways Club Lounge
Business class passengers flying by British Airways are in for a treat at the British Airways Club Lounge in London's Heathrow airport. Until mid-July, the lounge will be hosting the World Class Bar. British Airways is collaborating with liquor supplier Diageo Global Travel and Middle East to run this temporary bar, which will be offering ultra-premium liquor brands from the Diageo Reserve Collection. Watch out for Tanqueray No10 gin, Ciroc vodka and Ron Zacapa rum.
10. Qantas Business Class Lounge At Sydney Airport
Qantas' Business Class Lounge at Sydney is similar in many ways to its First Class counterpart. The entry area has plenty of armchairs, but on walking through you find a bar area overlooking the runway, two kitchen galleys, a playroom, computer stations with free Wi-Fi, and showers. Plus, there is a basic menu of snacks and finger foods to ease your hunger pangs.