Those of you who get adrenaline pleasure out of virtual racing have hit the right place. Here comes a feature-packed race simulator called Motion-Pro II Simulator by CXC Simulations. Designed to offer you real racing experience while sitting at home, it comes equipped with full-motion technologies, force feedback and high-tech control systems. Words fall short to describe its revolutionary and state-of-the-art design that can mar any realistic racing reproduction.
It has an integrated PC hardware, CXC Racing software, AV technology, 505 watt true 5.1 surround sound system together with a giant subwoofer fitted with four high-tech vibration transducers. The 46-inch full HD screen is selected particularly for outstanding contrast ratios, brilliance and color diffusion.
The F1-style paddle shifter and the force-feedback steering system enhance the rider with utterly sensitive steering resistance and tactile feedback. You would be surprised to know that every single Motion Pro II Simulator is configured independently and its handcrafted appeal adds to its beauty.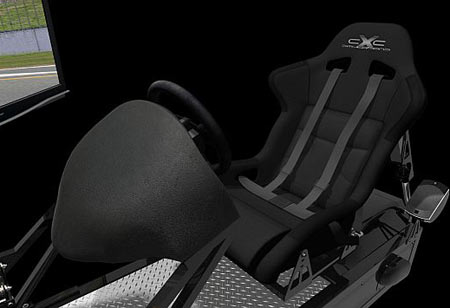 I hereby assure you that riding on this simulator is no less than taking a riding on the wheels that are meant to burn the road.
Via DigitalDrops