Two out of three works by Pablo Picasso are scheduled up for auction on 7 November at Sotheby's, a sculpture and a painting of the celebrated women in his life. As a part of Sotheby's New York "Impressionist & Modern Art Evening" sale, Picasso's creation is expected to generate $65 million.
Made in 1941, "Tete de femme (Dora Maar-left)" is a 31.5-inch (80-cm) bronze bust that is anticipated to sell for $20-$30 million while "La Lampe" (right) from 1931 features the likeness of his mistress, Marie-Therese Walter, and hopes are alive that it would fetch $25-$35 million. Those who cannot resist to witness Picasso creation can visit Sotheby's London on October 7-12 and in New York on November 2-7 as the artistic creation would be available there for display.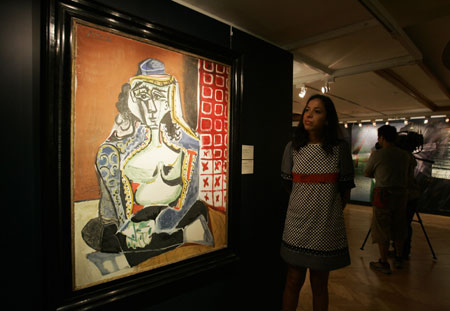 Another Picasso's painting that has made up to the auction is "Femme accroupie au costume turc (Jacqueline)". The painting is set for auction at a Christie's preview in Hong Kong on 4 October 2007. The painting is estimated to fetch up to $25 million at the upcoming Christie's "New York Impressionist and Modern Art auction" on 6 November 2007.
Read