"Hello Royalty, We are here to visit Heritage". Yes, we are in Suryagarh,  Jasialmer, the Golden City. Thanks to the yellow sand and sandstone walled architecture. This looks tawny lion color during the day and turns magical honey-gold as sun sets. The small city lies in the heart of the Thar Desert (great Indian desert) and has a population of about 78,000. Reserve your calendars if you want to taste the high life in a desert.  Starting now till March is the perfect time for a hooked traveler to make love with this place.  Our rendezvous with the city started with a 4 hr drive to hotel after the 10 hr train ride from Delhi to Jodhpur.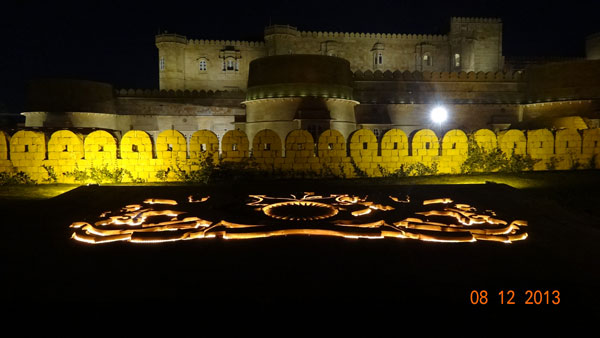 We were comfortable in a "Suryagarh" branded coupe only to be escorted midway by "guards" who stood holding hotel's signature flags on the back of jeep we were following. Feels Great!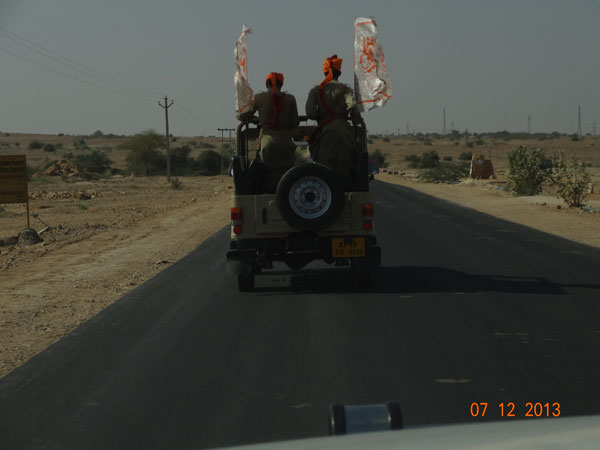 Oh, let me share by "We" here is me and my hubby.  We have been covering luxury (places, products, experiences) over elitechoice.org now for past 7 years.  Feels like an achiever.
Honestly, we were a little tired but were excited to see the property with our naked eyes.  To our much surprise, as we stepped on the main courtyard, we were welcomed by drums, traditional singing, and guards with folded hands wishing "Khamaghani" followed by a shower of rose petals from the sky and blessings/tikka from the fort's priest before we finally entered the property premises.  Touché.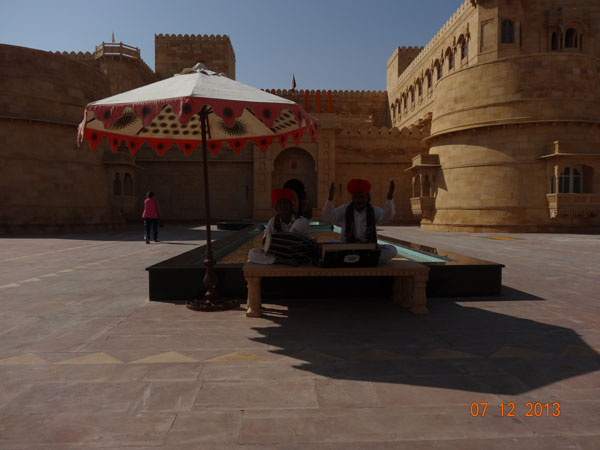 Likewise Sand is synonymous to Jaisalmer, for a sophisticated traveler, Suryagarh is to luxury. Starting from its architecture, style, design, décor, culinary to services, Suryagarh is a destination in itself that considers its guests like a family. If you happen to stay here ever, you are going to take home an inimitable "experience."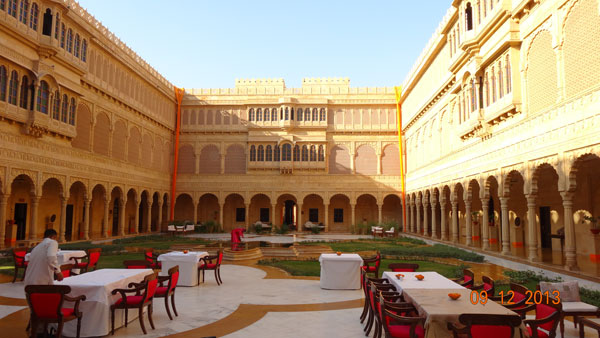 Suryagarh is like your second home and much more. The property features Neel, an indoor pool fashioned like a Roman Bath with Mediterranean blue tiles; Taash, the card and Billiards rom; The Riat Spa, a place for the exotic; Salim, the child magician; Kaki, the Songstress of the Thar; and the whole ambience there that offers you a pleasant smile always.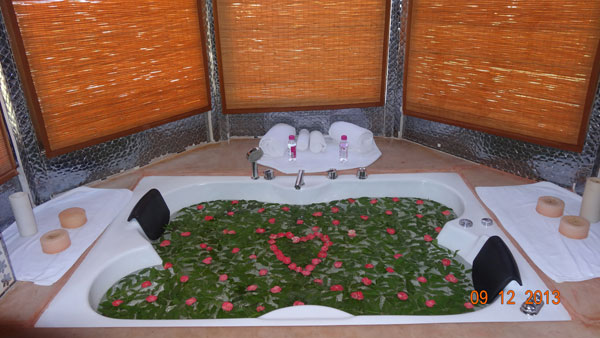 We were running late as per our planned itinerary but vacations are no fun if you follow serious planning.  Before we could be escorted to our Signature luxury room, we were told to do away with the itineraries as they can be customized as per our wish, one over other.
Day 1 was well spent at the property with a relaxed lunch at Draksh. We were introduced with Sachin (a Punjabi stud from Chandigarh), the key chef who was polite enough to ask for our food likings. We nodded him to let our taste buds venture into Rajasthani cuisines or with the best dishes from the day.  We started with dahi kebabs, which still waters my mouth as and when I name it. He fed us with numerous dishes until we got stuffed. We told them we are small eaters only to be told "Mam, we think you are tiny eaters." But, small or tiny, the food quality with distinctive flavors made us happy till late evening where we were invited for Rajasthani Dance and Musical evening at TulsiAngan. This particular arrangement from the Suryagarh team was to let the guests feel the amount of talent that resides in this small town. Mehboob Khan and his fellow musicians successfully managed to beguile the attention of the guests there as only drinks after drinks were just ordered.  This was followed by a private dinner where we were served with Rajasthani thalis as well as charcoal grills and roasts were planned in harmony with beautiful floral patterns and table settings. Thanks to the crew of 35 chefs who manage this extraordinary kitchen.
After having lived a fulfilled day with a calm night ahead, we both crashed planning day 2 so as to get up on time to meet the schedules as we both are not morning people. But how can we forget, we were residing at Suryagarh, where comfort is above all.
Day 2 started with Sun-Kissed Brunch only to jump in to leave for sight seeing with our driver "Himmat Singh." And it followed like this:
Jaziya Talaab
We started with Jaziya Talaab, an oasis that never dries up despite the fact it rains only 15-20 days a year here.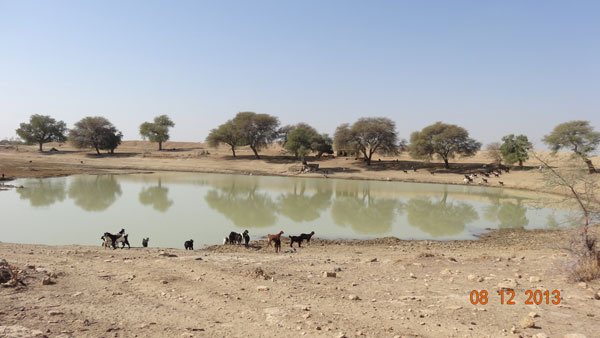 Golden Fort: World's Largest Inhabitable Sand Castle
Jaisalmer, crowned by an 11th century fort attracts tourists for its living heritage installation. Even today, 5000 people live inside this boundary of four walls.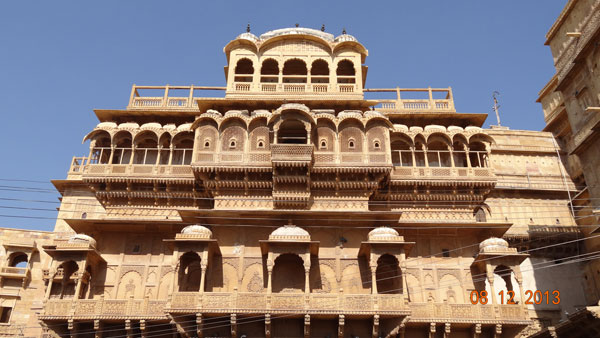 Jain heritage of Jaisalmer
Enriched by its Jain community, the small town features several Jain temples, diaphanously chiseled.
Lake Gadi Sagar
Positioned to south of the city; Gadi Sagar is a rain-water lake enclosed by countless temples and holy shrines. The crystal clear water of this lake holds the water supply of the entire city. A visit there would offer you a sight of migratory birds flocking around the lock in the company of colorful boats.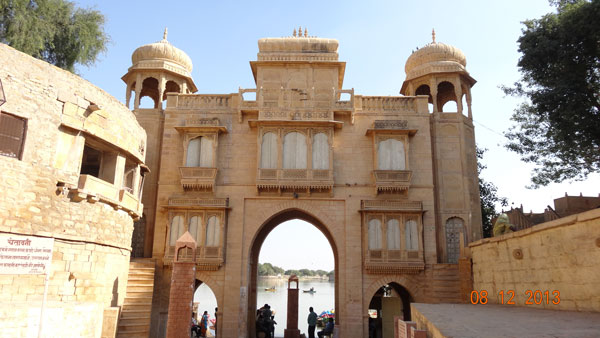 Patwa Haveli
The sole purpose of traveler to explore this last corner of the city is to wander the the old town and a glance at the five grandiose havelis facing the Jailsamer Fort.
Bada Bagh
Bada Bagh is a complex with chhatris of Jai Singh II (d. 1743) and subsequent Maharajas of Jaisalmer.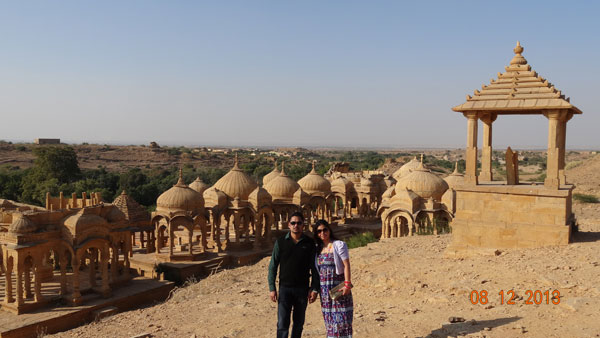 Camel Safari…Sunset…Sam Sand Dunes
We managed to visit these tourist attractions within 4.5 hours only to be back at the property to grab a quick bite and depart for the most awaited sight of sunset at Sam Sand Dunes. They say a visit to Jaisalmer is not complete if you miss Camel Safari and sunset at the dunes. And we were fortunate to be there on time around 5:25 pm (sunset that particular day was scheduled at 5:53). A lifetime moment we captured. A golden memory we built. Deserts were never so beautiful.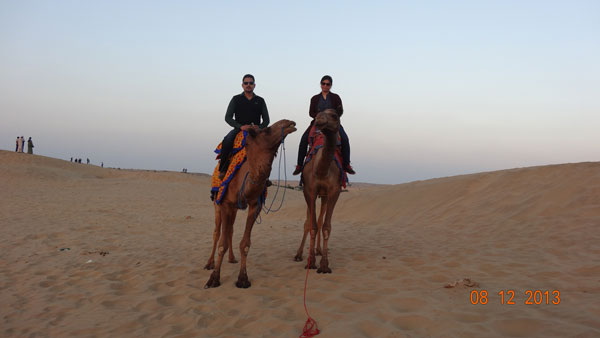 Suryagarh: An Oyster of Surprises
Suryagarh, a five star boutique hotel, our host never seizes to amaze you.
Starting from flood of rose petals on entry to flower beds on room exit to private dinners, our most cherished memory here was drinks/dinner setting at the sand dunes.
Picture this:  You are at Sand Dunes at 9 in the night with drinks and Nomadic Hunt Menu served to you. To add to the charm, you're serenaded by a group of folk singers and graceful dancers who entertain you with the music of their ancestors. And this perfect setting becomes more charismatic when we were introduced to Manvendra Singh Shekhawat,  MD, Suryagarh.
It gave us an opportunity to know more about the face behind this Royal property. This, Under 30 entrepreneur, a bag packer by choice is a cool looking dude on first glance. Allow him to share his business expansion plans and you will discover his ambitious side.  He values experience over others as "Nothing can substitute experience." The conversation was followed by a Jaisalmer Grill and Curry Dinner at the Mehandi Terrace. The patio looks out onto the dessert ahead with a tiny temple, an original spot of worship that presided over this land even before the idea of the hotel originated. And there ended another beautiful day.
Day 3 was more on the relaxed side. We woke up quite late only to order a light breakfast but were served with a sumptuous one.  Burp.
We were to leave the property by 4 pm to catch train enroute to Delhi at Jaisalmer station.  The afternoon was well spent with a bowl of pasta for lunch followed by quick look at each of the category of rooms in the property. And there we bid adieu to Suryagarh until we meet again.
Here is the virtual view of the room, we stayed in: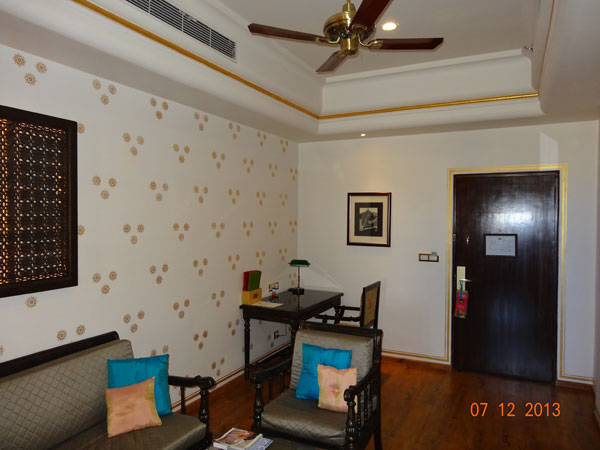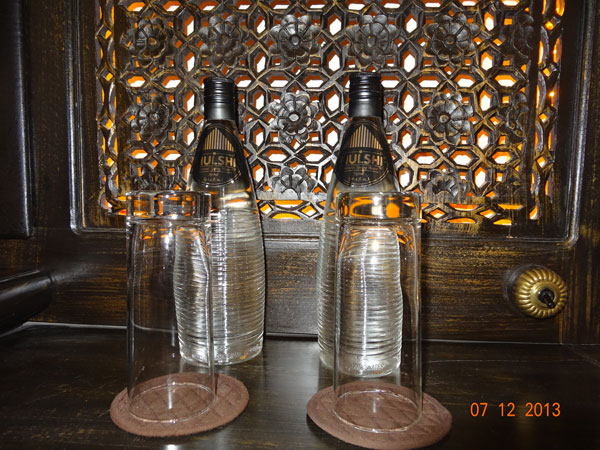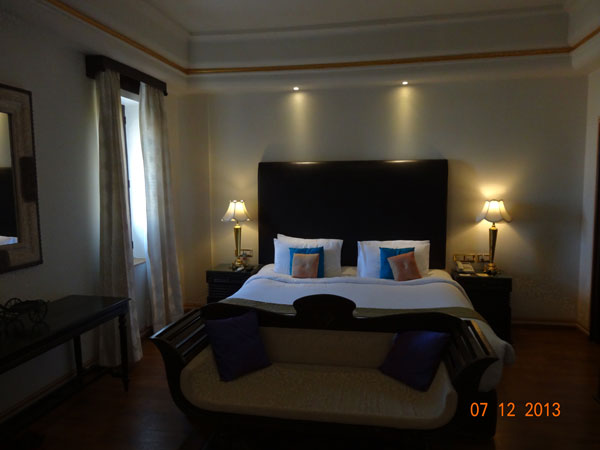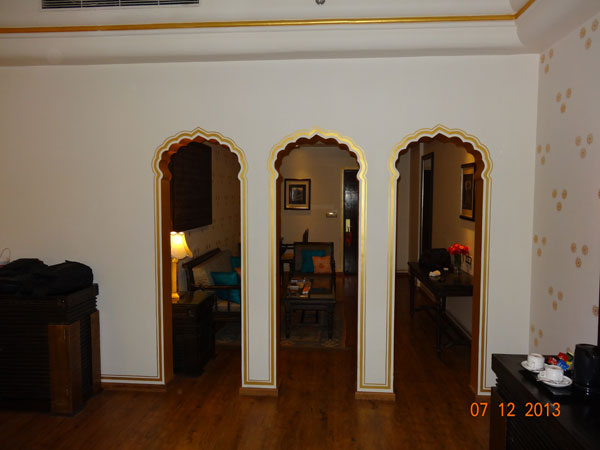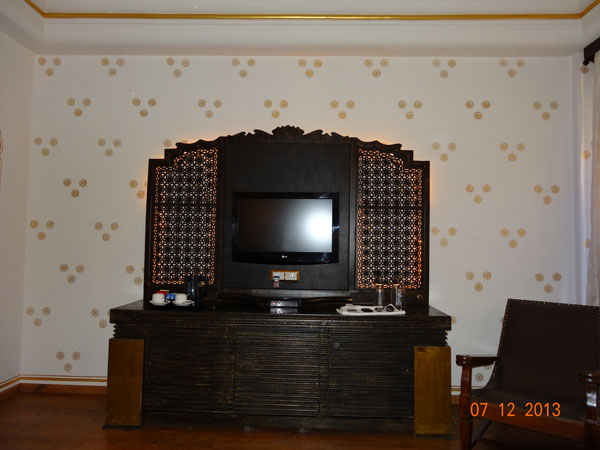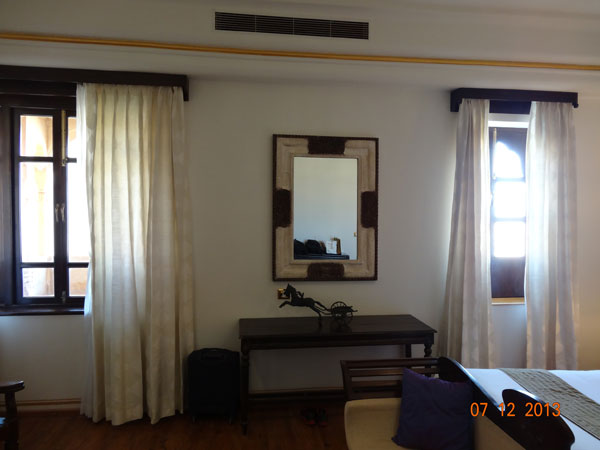 We Missed
We regret having missed the breakfast in the company of some 100 peacocks.
 Transit
Jaisalmer is accessible by train and bus from most parts of Rajasthan and Delhi.
Truly said, at Suryagarh, History is the foundation; the experience is original.