There are bikes, then there are super bikes and there are bikes that are the world's most expensive and luxurious mean machines. We have already reported on how the Icon Sheen became the most expensive bike at €130,000. The limited edition model was known for its top notch speed of 200 mph. Designed in memorium of Barry Sheen, someone who ruled the Grand Prix Motorcyle cicuit for years, the Icon Sheen bike was displayed the Goodwood Festival of Speed in the United Kingdom sometime ago.
Another bike will soon be on display at the Nicholas James Hatton Garden showroom. No ordinary bicycle this for its costs a staggering £25,000. Dubbed the Brogue, this two wheeled wonder is the creation of jeweller Nicholas Fitch of the renowned Nicholas James and Simon Harcourt, well known leather designer. So what happens when a jeweller and a leather designer join forces? They create a bike which has the finest leathers and of course some diamonds! It's a bike that exudes luxury and is synonymous only with style and elegance. Don't even think of rushing around London on this super expensive bike encrusted with diamonds.
Traditional cycling has witnessed a revival in London over the last few years and many biking companies such as Bobbin bicycles, a London based company which is launching bicycles at £349 in lovely pastel colours. Similarly, other bicycle manufacturers like Urban Outfitters and Brick Lane bikes are also on a bicycle launching spree at £340 and £699 respectively.
However, we are not talking about reviving cycling as it were. Luxury's what been discussed and the Brogue is bestowed with and that too in abundance. Let's give you an insight into this bike which can easily be the world's most expensive diamond studded bike!
The Brogue
It would be hard for you to believe that this bike which comes with the finest leather and diamonds was actually an old worn out bike which Nicholas Fitch accidently found hanging on the wall of the Highgate Studio and he knew that the bike deserved a glorious make over. It did not take long for Simon Harcourt to get convinced for this rather adventurous and one of its kind venture and thus was born the Brogue. The bike was designed by Chris Delia, a fixed gear free style rider. It took about eight gruelling weeks to create this beauty on wheels.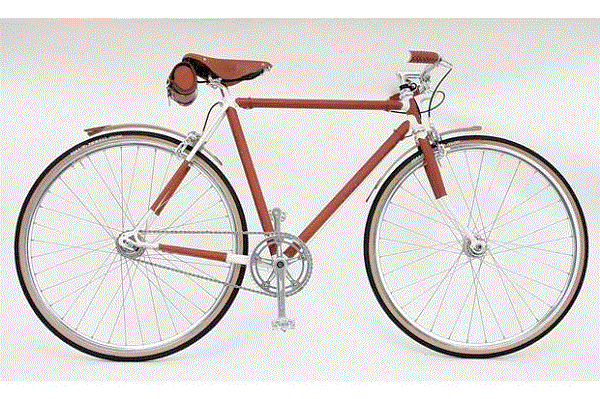 Just about everything about this bike is expensive. For instance, the Dia Compe BRS 202 breaks cost around £26.99 each. They weigh around 200g and are known to perform better than any other ordinary bike.
It is the diamond encrusted handle bars that will make heads turn. Brown diamonds, which have become exceedingly popular in the last few years have been encrusted on the rims of the stops which are also cast in sterling silver. The Twin Rail Courier wheels are lightweight and well suited for riding around cities and come with a price tag of £22.99 each.
The brown diamonds are well matched with the Italian Ed Tanner Saddle leather seat and the Brogue leather saddle bag. The bag is attached to the seat with two straps and has enough storage space to accommodate all of the bicycle tools. Conway buckles were used to give it the look of a horse saddle. The only difference was that in the Brogue they have been cast in sterling silver.
The other expensive accessories in the bike include the lightweight Gusset Expresso Chain costing, £32.99 and also Sturmey Archer five speed gears costing £129.99. The frame of the bicycle was sourced by Simon Harcourt who found it at an antiques sale. The Triumph Frame from the 1970s was covered with the tanner leather.