One of the most highly revered names in the world of international fashion, Grayson Perry, who is renowned across the globe for his cross-dressing style and gorgeous ceramic vases, has now unveiled his latest creation in the form of Louis Vuitton Alan Measles 1 'LVAM1' Bespoke Trunk. Unveiled at the Louis Vuitton Bond Street Maison, this magnificent trunk was showcased as part of an exhibition put up by the designer and sponsored by one of the biggest fashion houses in the world, Louis Vuitton. Apart from the exhibition, Louis Vuitton had especially commissioned the artist to design this exclusive luxury luggage that seats the renowned teddy bear, Alan Measles. This teddy was one of the most creative works of Turner Prize winner Grayson Perry, who crafted the teddy some fifty years ago.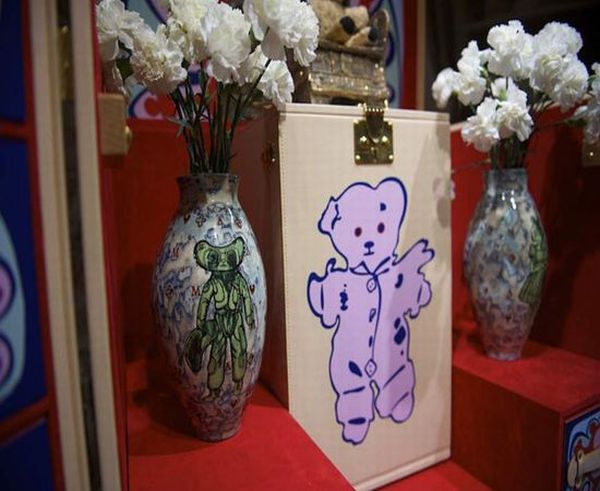 The LVAM 1 trunk was designed and developed at the Louis Vuitton atelier in Asnières and fulfills the role of a luxurious travel case as well as a homage shrine to Alan Measles. This magnificent travel trunk carries some of the most artistic designs from Mr. Perry and features depiction of folk characters from both genders. To ensure exclusivity and heighten the charm of the trunk, Grayson has incorporated it with his world famous ceramic vases that come with white carnations, while the trunk sports several sized cabinets for a variety of dresses.
At his exclusive exhibition, students of Mr. Perry also got an opportunity to showcase three dresses that have been designed under his tutelage. The exhibition will also feature a film that showcases behind the scene shots of the creation of the Louis Vuitton trunk as well as the gorgeous dresses on display.
This Louis Vuitton steamer trunk with breathtaking artistry and gorgeous design could just as easily be added to the list of 100 legendary trunks. While there is no word on the sale of the gorgeous Louis Vuitton trunk, you can be rest assured that if and when it surfaces for sale, it will definitely carrying quite a substantial price tag.
According to Grayson Perry,
"My immediate idea was to make an altarpiece to Alan, because he's very much part of the British Museum show."
Via Stylist