The Streets of Monaco by Yacht Island Design is a 155 meter concept and very ambitious one at that. The idea is to recreate a small section of Monaco with all its details and architecture. Yacht Island Design wants to push the design boundaries and create themed super yachts. The UK based company says that creating a theme based yacht is an art and requires extensive consultation as the story must be woven into every element of design.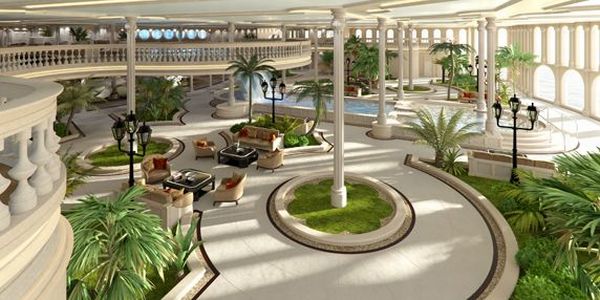 Yacht Island Design has teamed up with BMT Nigel Gee for the project. The design incorporates a lot of land based architecture but is trying to comply with the current regulations. The design incorporates a swimming pool with swim-in Jacuzzi/bar on the upper level. The upper level also features a Casino Square, a garden, a courtyard with various sporting facilities doubling up as a helipad. Sun decks and BBQ facilities are obvious features. The other two communal areas are The Oasis and the Grand Atrium.
Oasis is the garden that acts as the main boarding point and the Grand Atrium is the central hub of the yacht linking the upper and lower living areas. There are seven guest suites, library, communal office, communal balcony and cinema. The owner's suite comprising the main salon with Havana room and adjoining wine cellar, casino, dining room and dance hall is located on the upper level of the Atrium.  The steel and aluminum vessel with its 16 guests and 70 crew members would travel at a top speed of 15 knots.
Via: bmtyachts, superyachtdesign