Brand Veuve Cliquot is not just known for the famous fizzy offerings alone. The 200 year old company has also special love for outstanding designs and aesthetics. Their latest launch is meant for the Salone 2010. It includes two new creations which are quite remarkable for their taste and beauty.
The first one goes by the impressive name of The Tasting Gloriette, which runs in collaboration with the Campana Brothers. It features a playful twisted nest-like structure that has been crafted from coiled thin metal on a bent wood base that can be used to hand the champagne bucket in a style and manner unique to its own.
As for the second one, it is called Once Upon A Dream and was created by Mathiew Lehanneur. This one has been designed something like a retro futuristic bed. On top of that it promises to give you a luxury sleep experience that will be the best in the world. We hear, it works wonders for jetlag recovery. It comes equipped with special lighting, white noise balancing, ideal temperatures and curtains that work together to create a womb-like effect. You will feel that you are in nature's lap. Both these art creations will be installed in the Veuve Cliquot Hotel du Marc which is due to open in spring next year.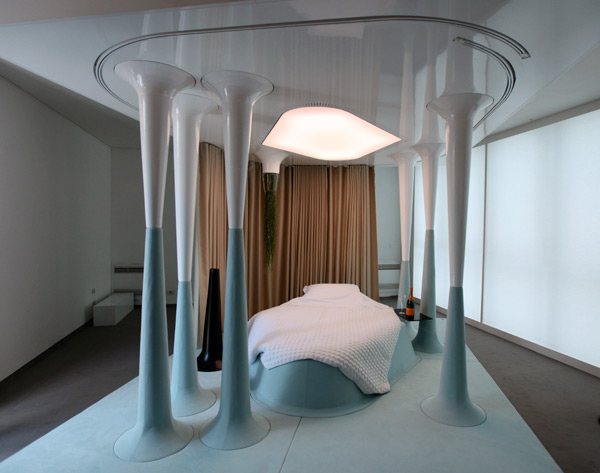 Via notcot