'Future of the Water' Contest encourages young designers to create gadgets that look out for both modern ergonomics and water usage. There probably is no design that is cooler than the 'Re-Cycle' wall washing machine that looks like a space-age pod that is designed to spin around and transform you into another portal by creating a vortex through space and time. Yet, it actually does nothing more than spin around, clean and dry your clothes; which is still damn impressive!
The washing machine fitted onto a wall, uses gravity as a means to move water around so that it cleans your clothes and the water is transported from the tank to the container using nothing but gravity. This saves both the power in pumping water and moving it around in the tank. This water is then transferred to another pod which cleans this water up and recycles it to give another wash with same water.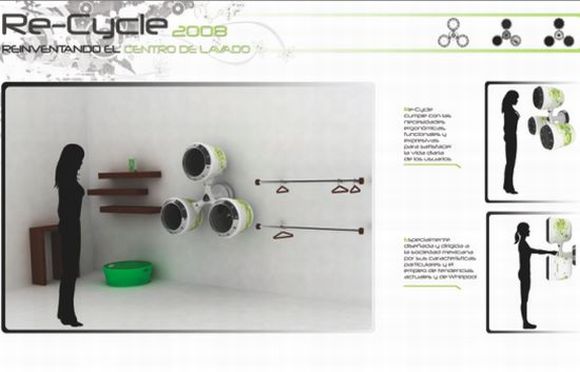 The washing machine uses really a simple technique and sports a great look, but it's fitting to the wall and the moving of the clothes for drying is also another hassle. But still, here is another wonderful futuristic concept that hopefully at least will get into a prototype stage as it surely deserves that and maybe a bit more!
Via: Trendsupdates / productdesignforums