It's being quite some time that Belvedere vodka is in news for its promotional strategies, thereby strengthening brand's image. The latest tool it has picked is the Jagger Dagger, a sword developed by jewelry designer Jade Jagger, daughter of Rolling Stone Mick Jagger and model Bianca Jagger. The sword dipped in 18K-white gold comes encrusted with 12-carats of brilliant-cut diamonds, 42 pastel sapphires, and a vital blue lapis lazuli square. The blade is formed using mirror-polished carbon steel with an impression of the similar tree twigs that adorn the Belvedere bottle.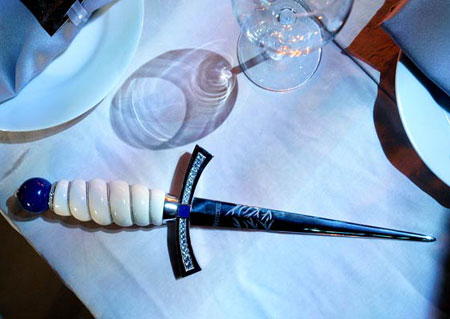 The "Jagger Dagger" is being considered for tableside ice-picking service with the sword provided by servers at distinct nightspots i.e. 1OAK in New York, Crystal in London and VIP in Paris. Lately, Jade unveiled this revolutionary creation by throwing a gala party in the company of around 90 plus guests. The dagger is retailed at $250,000.
If you can't afford to buy this luxury then would suggest you to go for other models that have white topaz and aquamarine instead of diamonds and sapphires. This one would cost you only $10,000.
FashionWeekDaily