Things appear to be looking up for the luxury magazine business. We are looking at the rise of optimistic new publications like DuJour magazine that debuts this month. DuJour is a brand new luxury print publication that caters to the richest of the rich. Its readers are not regular Joes, but exceptionally rich folk, each with a net worth of at least $5 million and annual income of $250,000 or more; but these are just a couple of the seven criteria of which potential readers must meet at least five. Moreover, in keeping with the need of the hour, DuJour will not be a case of "more content, fewer ads". Rather, it will be the other way around. The luxury magazine has announced that two-thirds of its 300-page inaugural issue will feature advertisements – that is 200 pages of ads from luxury brands.
Pursuits from the house of Bloomberg will also be competing with DuJour. Pursuits is a luxury lifestyle magazine that started in February 2012, and which is meant for about 375,000 readers, all of whom subscribe to Bloomberg's terminals, unperturbedly paying $20,000 for the service. These readers are unlikely to worry about money. On an average their household incomes range around $490,000. Naturally, luxury brand advertisements in Pursuits hope to hook these readers with glossy ads that capture the high rolling life. Pursuits has four issues in the year. Moreover, publisher Mike Dukmejian has reportedly said that 60 percent of the luxury brands that advertised in the February 2012 issue are coming back for more in time for the October edition.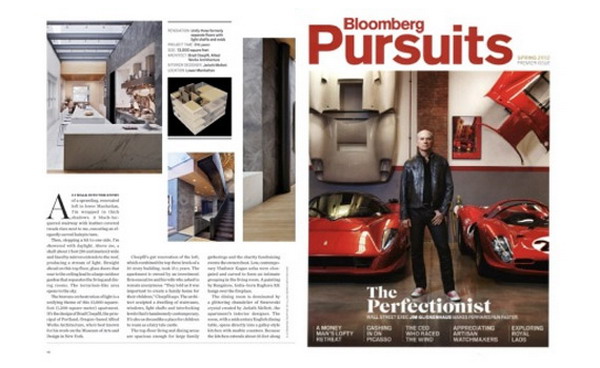 Similar stories of success and reason for confidence in the market are seen in Reuters Magazine which launched its debut edition in January 2012. The WSJ Magazine from The Wall Street Journal is also doing well according to its publisher.
Good Times For Luxury Print Media
Nevertheless, the new luxury magazines on the block are not the only ones going all out to woo both readers and advertisers.  Established names like Vogue, Elle and Marie Claire are set to release record-breaking editions this September. In Vogue's case, September marks the 120th anniversary of the hugely popular magazine. What better way to do it than break the magazine's former record of publishing the biggest ever magazine? In 2007, Anna Wintour, the English-born editor-in-chief of the American Vogue, took charge of releasing a humongous issue – one that weighed nearly 2.27 kilograms. The upcoming September issue should break even that record, given that it has 916 pages, of which 658 are devoted to advertising. The issue has Lady Gaga on its cover, a clear indication that flamboyance is the order of the day.
Although not quite in the same league as the anniversary issue of Vogue, Elle is set to become Hearst Magazines' largest September issue ever. The issue will have 400 ad pages, an increase of 14 percent compared to last year. Similarly, Marie Claire, which is another Hearst publication, is also set to release a magazine that is bigger than ever before. Moreover, the magazine has roped in a new high-end advertiser as well. That advertiser is Chanel's ready-to-wear line.
Why Luxury Print Publications Are Worried
However, not all is well in the world of luxury magazines. While Vogue and Marie Claire and Elle and DuJour boast of lots of ads, some like Robb Report are struggling to stem a decline in ad sales. Compared to last year, Robb Report has seen a 7 percent decline in ad pages. The luxury lifestyle magazine is not alone. Town & Country is witnessing a stagnancy in ad sales in recent times. Given that ad sales and the number of ad pages usually indicate the prosperity of a magazine, the declining numbers are a worrying trend. A report in WWD went as far as to say that publishers who experienced a single digit decline in ad sales were in fact lucky.
Sharp declines are being seen at paid circulation magazines like Vogue, Vanity Fair, Allure and Lucky. All four magazines from the house of Conde Nast experienced double-digit declines. Vogue, for all its excitement over the September 2012 issue, saw a steep decline in circulation of 16.5 percent, selling only 300,955 copies on the average. Vanity Fair fared worse, dropping to 283,938 copies and recording a drop of 18.8 percent. According to reports, Elle's single copy sales have reduced by a fifth to only about 198,715 copies. Circulation figures have largely remained stagnant for Harper's Bazaar and Marie Claire as well.
The Rise Of Multi-Channel Luxury Magazines
However, it may be a tad unfair to concentrate on circulation figures alone these days. The heyday of the print magazine is pretty much gone. Print now has to share space with the digital versions. There was a time when a magazine's performance on the newsstands was the true indicator of success or failure, growth or decline. Today, a magazine's online presence must also be taken into consideration. That alone explains why online properties like Gilt Groupe have become so popular these days. Tech-savvy millionaires and billionaires prefer to read their magazines on the go – no more magazine pile-up, no excess hand luggage.
To succeed today, a luxury magazine has to perform well on multiple platforms. This explains why DuJour ensured that it launched in the print and online media all on the same day. Digital integration is more than necessary for a magazine to remain relevant in today's world. Regardless of how DuJour performs in time, the magazine has worked on creating distinct identities for its print and online versions. The online version even allows readers to click through to the advertiser's retail site if shopping is on their mind.
Established names like French Vogue are also entering the online medium, thereby launching multiple platforms. Vogue.fr is now available in English as well. In September 2012, the print edition gets a new look as part of a wider branding exercise for Vogue. The Vogue Paris website is doing really well in recent months. Since its launch is February 2012, the online avatar has garnered a 35 percent rise in unique visitors, while ad revenues have also doubled.
September will be a big deal for the luxury magazine business, what with bulging issues and record numbers of ad pages. But will the magazines manage to draw the attention of its affluent clientele sufficiently? That really is the big question.