Eddie Jordan, also known as EJ has commissioned the construction of a 155 feet long super yacht for himself which is a whopping £ 25 Million. The construction of the Eddie Jordan yacht began in April. However, the super yacht of the F1 giant and the Founder and Owner of the Jordan Grand Prix does not quite live up to the magnificence that is the Eclipse, the world's largest yacht, owned by Roman Abramovich, former Chelsea Football Club Owner.
Looks like everyone's' headed to the high seas now for some luxurious interludes. And owning a yacht is the just the way to do that. It's the new find of the rich and loaded and everyone wants a mansion that floats. Not long ago we had also compiled a list of some luxury yachts to charter. Roman Abramovich's Eclipse, which we have already mentioned, topped the list then also costing a whopping £272. Over 557 feet long the super yacht is spread across an area of 5000 square feet and has everything from a hair salon to gym and two swimming pools along with a dance floor. The yacht is well protected with a military style defence mechanism and also has a missile defence system. The yacht was followed by the Seven Seas which is owned by Hollywood bigwig Steven Spielberg. Luxury yachts have also become a common sight now with the rich and the loaded wanting to spend a good deal of their time on the seas. If not the yachts then we also have some floating islands or hotels, golf courses, recreational docks and even cities that have been built on water.
Well, EJ's yacht is where we started and let's give you some more insight into his mansion to be built on the seas.
Eddie Jordan's Super Yacht
A busy commentator for BBC, Eddie Jordan can now relax and ease off on his super luxurious yacht once his work commitments begin to take a toll on him. The family must be very excited for the construction on the yacht has already begun and it is currently at Sunseeker headquarters in Poole, Dorset. It is expected that it will be complete by December. May be Eddie Jordan can think of welcoming the New Year on this boat. Jorda has always bee a fan of sailing and also owns a 120 feet vessel which goes by the name 'Snapper'. He also happens to be a member of the Royal Cork Yacht.
We have relied just on the construction plans to get a glimpse what this super yacht will house. For starters it will have four decks. The upper deck will house a dining area whereas the sky deck will have a bar and a hot tub. The lower deck will be a kind of a resting area and the yacht also boasts of a nightclub to dance the night away. The yacht can accommodate upto 12 guests and 10 crew members and a garage to accommodate some small boats and skis. the yacht also has a stern from where the Monaco Grand Prix can be viewed.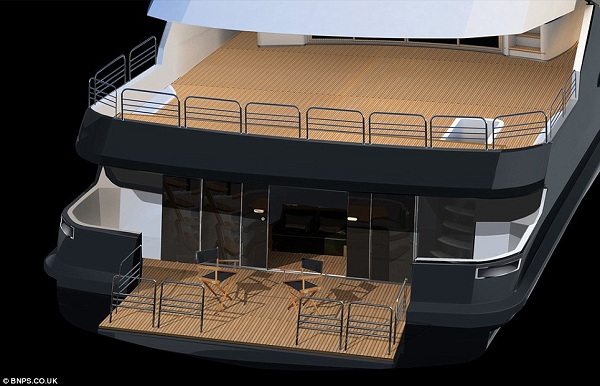 The super yacht will need fuel worth £30,000 for cruising upto 4,500 miles.
Eddie Jordan to face competion from the Eclipse and Project Azzam?
Although it may be Eddie Jordan's most prized possessions but he is already facing stiff competiton from the Roman Eclipse.
Also the Project Azzam, which is a 590 ft long and a whopping £400 million yacht being built for the royal family of Saudi Arabia. It is said that the yacht, which was transported out of the dockyard of German shipbuilder Lurssen, can hold a million litres of fuel and will be surrounded by a flotialla of smaller boats, yachts and submarines almost giving it the look of royalty.
Well, EJ is already facing stiff completion and if he wishes to live up to the Roman Eclipse or the Project Azzam he may have to introduce some changes in his construction plans!