Manhattan, New York is home to many more billionaires than one might imagine. And billionaires like to invest in high-end luxury homes. Take the instance of fertilizer tycoon Alexander Rovt. The businessman lives in an enormous 11,400-square-foot townhouse on East 63rd Street. Rovt's luxury home is a study in luxury. During a recent interview, Alex Rovt was asked what spurred him to buy the property in Manhattan for $4.7 million. He put it down to his love of freedom, saying, "…if I buy myself a building, I can smoke wherever, whenever I want."
Decadence Reigns
If billionaire Alex Rovt loves his freedom, he also enjoys living in luxury. A tour of his Empire-style home in New York highlights the man's penchant for decadence. At this point, it should be confirmed that when Rovt bought the building, he was not interested in what lay within. According to a report, he did not even cross the threshold because he wanted to knock it all down and start rebuilding it from scratch. As it now stands, the 1925 townhouse is spread over six stories, all of which feature elaborate and expensive detailing. Rovt and his wife Olga got to work, putting up Corinthian columns, mahogany panels on the walls, hand-painted silk wallpaper and so much more. The master bath features solid 14-karat gold fixtures, while the master bedroom boasts of a 19th-century bed and intricate gold-leaf detailing. And this is only the tip of the iceberg.
Billionaires like Alex Rovt need not think twice before shelling out $18 million on home renovations. The couple have actually imported much of their furniture and fixtures all the way from Europe. Moreover, they have given sufficient thought to security. With a house this expensive, you cannot afford to take chances. Hence, like some other billionaires around the world, Alex Rovt has built a fortress. Bulletproof metal shades protect the balconies and windows from would-be criminals. Billionaires need to take that much care of their person and belongings.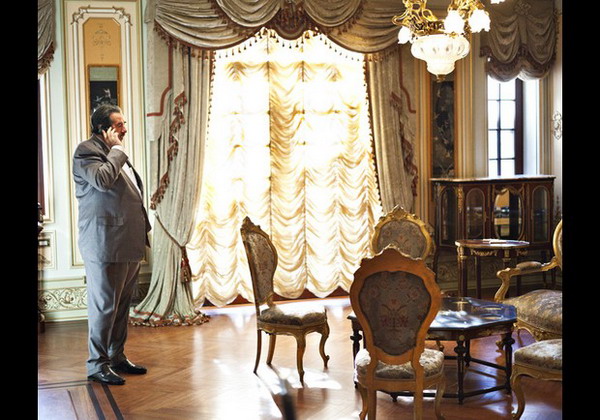 Humble Beginnings
Alex Rovt may currently be worth $1.2 billion, but it was not always this way. His father was a manager at a knitting factory, while his mother was a housewife. However, the Ukraine-based Rovt wanted more. An excellent student, he earned a PhD in international economics, which helped him get a job at a luxury resort in Hungary. He moved to the United States in 1984, first working at his uncle's deli and that at a cousin's jewelry business. Soon after, he moved into fertilizer trading at IBE Trade. He worked his way up until he controlled the company, and then began the task of expansion. The rest, as they say is history!
Latest Infatuation
Like other billionaires, Alex Rovt is literally loaded. So although he had initially claimed that he would not sell his Manhattan townhouse, he already has a new property that he is completely infatuated with. We are talking about the 30-room, 18,267-square-foot Sloane Mansion. Apparently, Rovt is so taken up by this 1905 mansion that was built by architect C.P.H. Gilbert, that he spent eight months trying to buy the building since first spotting it in 2010. He finally managed to avoid the building's going into foreclosure by picking up a debt of $33 million.
In the meanwhile, the Manhattan townhouse has been listed for $27 million. The question is, what will Rovt buy when he tires of the Sloane Mansion? A luxury mansion in Miami maybe?
Take a Tour of Alex Rovt's luxury mansion