There is nothing like a relaxed cruise vacation with family and friends, more so, when you have the run of the entire luxury yacht. Of course, not everyone has that luxury, but if you happen to be filthy rich, you can have your pick of the most indulgent luxury yachts. For most people, it is the stylish interiors that make all the difference. So let us step inside some of the most extravagant luxury yachts in the world
1. Blind Date, Heesen Yachts
Interior Designer: Keech Green
Exterior Designer: Frank Laupman of Omega Architects
Price: $40 million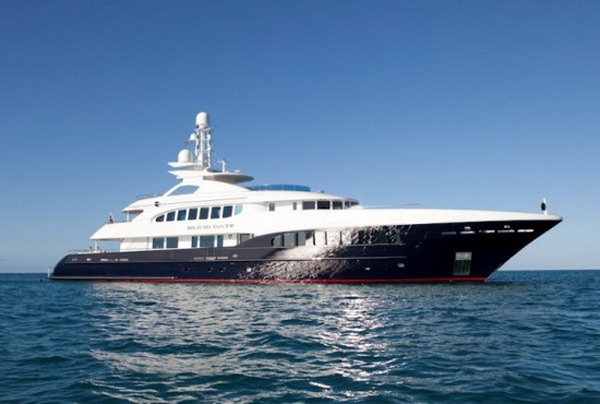 Details: This opulent 48.9-meter yacht has been done up in Art Deco style with generous doses of marble, silk and cashmere. Four cabins on the lower deck and an elaborate owner's suite house up to ten guests. Each cabin houses a private bathroom with paneling of various semi-precious stones including onyx. The yacht houses a gymnasium, a dining suite on the aft bridge deck and a Jacuzzi on the sundeck. A spiral staircase finished in liquid metal connects the four decks of the Blind Date.
2. Azteca, CRN
Designer: Nuvolari & Lenard
Price: $83 million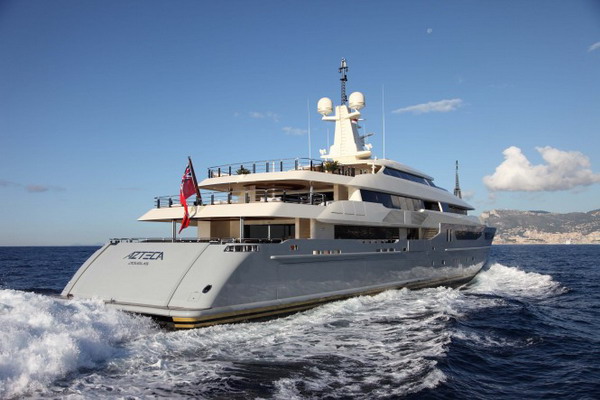 Details: The master suite on the Azteca offers direct view of the sea. The door folds at 90 degrees to turn into a terrace with full view of the ocean. The master suite houses two bathrooms, done up in marble, with brown Tiger's eye inserts for the men's bathroom and a mother-of-pearl slab for the women's. This suite also houses a 65-inch screen cinema room, a massage room and a spacious wardrobe. 12 guests can be accommodated on this watercraft. One of the cabins on the upper deck is a "Special VIP cabin" reserved for special guests. The three upper decks are connected by a sheer crystal-walled lift offering magnificent views of the ocean. The ship houses two big kitchens, one with a White Carrara marble table. There is also a wine cellar on board.
3. Voronoi
Designer: Kim Hyun-Seok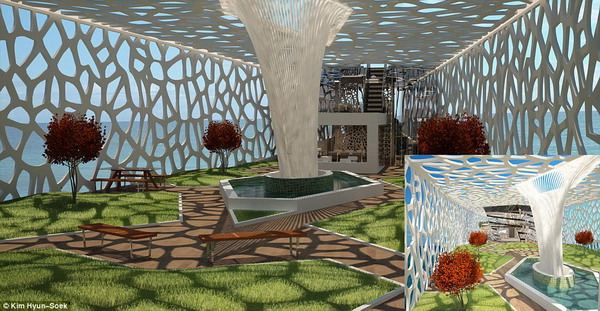 Details: This unique super yacht stands apart from the rest because of the intricate honeycomb lattice that covers its surface. This 125-meter yacht is the picture of indulgence. It houses a swimming pool, hot tubs, a sky lounge, an indoor garden and even a golf course. There is also a dining area, a bar, a gallery and a stage for musical performances. "Voronoi" is a concept of random geometric spacing often used in engineering, which was developed by a Russian mathematician of the same name.
4. Lamborghini Power Yacht by Mauro Lecchi
Interior Designer: Fenice Milano
Details: A Lamborghini-themed yacht, must necessarily be a luxurious affair. Hence it is no surprise that Fenice Milano has been hired to design the interiors of this luxury yacht. This watercraft is currently under construction, so we can only speculate on what the interiors will finally be like. But knowing Fenice Milano, it is sure to score high on luxury.
5. Soraya 70, Soraya Yachts
Designer: Uniell Yacht Design
Price: $84 million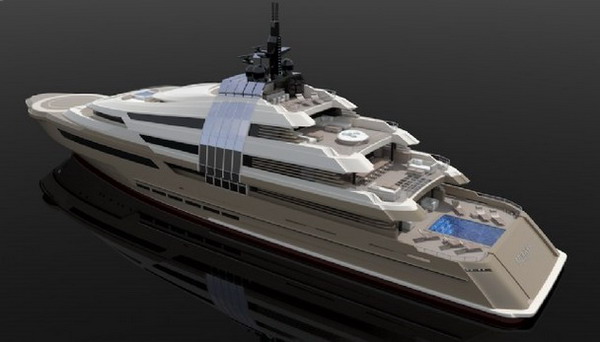 Details: Soraya Yachts is no stranger to luxury yachting, and their Soraya 70 is designed to appeal to the superrich. This super yacht houses a 6-meter swimming pool overlooking the ocean, a 2.3-meter Jacvuzzi pool, two sundecks, large entertainment areas and saloons. Since this luxury yacht is geared towards the filthy rich, the Soraya 70 even houses a helipad. One of the best features are the floor to ceiling windows gracing the entertainment areas, promising every party full view of the magnificent ocean.
6. 33-foot Aqua Riva by Gucci
Designer: Gucci
Price: On request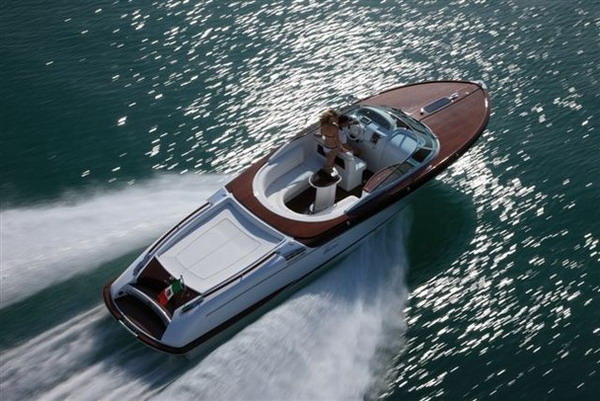 Details: Luxury yachts rarely get as stylish as the 33-foot Aqua Riva by Gucci. This RINA-classified luxury yacht boasts of plenty of chic mahogany work. The Sunpad Cushion and the seats in the cockpit bear the iconic Guccissimo design, reminding guests of the Gucci connection. This watercraft is home to a concealed ElectroHydra sun canopy and a concealed console electric commode. The cockpit table can be stowed away and there is also a wet bar with a sink and fridge – ideal for cozy get-togethers.
7. AB 166 Superyacht, AB Yachts
Price: Approx. $41.8 million
Details: Few luxury yachts are as sleek and modern as this 49.9-meter sporty creation from AB Yachts. The AB 166 is beautifully designed, with spacious interiors. Moreover, the designers of this boat sought to entice owners with a grand owner's cabin. Most super yachts have luxurious owners' cabins, but the designers of the AB 166 have taken it a step further. The master cabin on this yacht is spacious, well-illuminated and has two balconies. Plus, owners get exclusive access to a private pool located at the front of this luxurious yacht.
8. AY41 Vertigo Superyacht, Alloy Yachts
Interior Designer: Christian Liaigre
Exterior Designer: Philippe Briand
Details: The brief given to the designers of this luxury yacht was that it should have an "urban feel". As you step inside, it is clear that the requirements were met perfectly. The Vertigo's interior designer Christian Liaigre designed this luxury super yacht as he would a New York City home. He has used a lot of glossy woodwork and leather. The chromed fixtures, contemporary lighting and state-of-the-art technology ensure that this yacht has all the features of a modern home. The yacht houses a fully-equipped kitchen as well, with stainless steel appliances.
9. Imagine, Amels
Interior Designer: Andrew Winch
Exterior Designer: Tim Heywood

Details: "Imagine" is the first super yacht from Amel's 212 LIMITED EDITION luxury yacht segment. This luxury boat houses a master suite and two VIP cabins, each of which offers access to private balconies. A "wet feet" bar on the sundeck brings a relaxed aspect to vacationing on this yacht. Meanwhile, the stern hosts a Beach Club.
10. DIAMOND 44
Designer: Fenice Milano, TCI Italian Style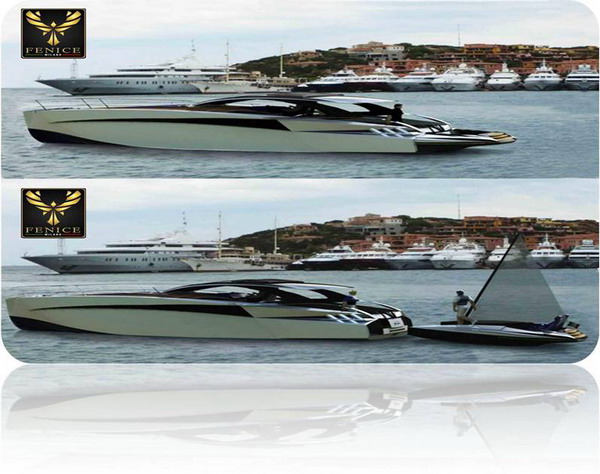 Details: So far, not much is known about Fenice Milano's other yacht project DIAMOND 44, which it is designing in association with TCI Italian Style. What we do know about this luxury yacht project is that the DIAMOND 44 will consist of two watercrafts – a yacht and a catamaran that will reside within the yacht. When not in use, the catamaran will form a swim platform. However, Fenice Milano is working on two versions – one with a catamaran, the other with Kawasaki jet skis.
P.S: If these creations fall short of your imagination then here are potential 10 concepts of luxury yachts ready for the reality check.