The Futuristic Tech Chair!
Relax yourself on this Tech Chair! Seemingly a standard sun lounger, it is possible to turn it into the deckchair of the future. Experts at computer vendor PC World have formulated the Tech Chair concept that is the clear depiction of the lounger we can afford to relax in near future. The integrated mechanical sunshade keeps you stay cool physically and incorporated speakers provides with a mental peace enabling with to stay connected with your loved ones via wi-fi or Bluetooth.
The Tech Chair allows you an easy plugging of devices and offers an individual socket for an MP3 player, camera to immediately download your holiday snaps, and a docking station for your games console. With a slider to accommodate your laptop, the functional GPS text reservation system saves your lot of time as you need not kill hours locating your lounger across beachside. Solar panels provides al the power that a tech chair is expected to own to perform endlessly. But until some manufacturer sits and gives shape to this concept, I propose you to enjoy a great holiday on your old-fashioned deck chair.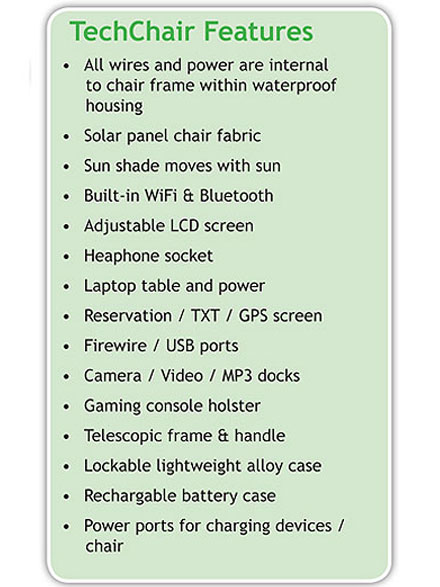 Via SkyNews