Germany is known to be a land infused with Ideas and the history proves it has had its share to offer. Mind you the aspirin, the airship, the printing press and the diesel engine are all invented by Germans. And now they have one more to be added to the list. BBC News crew lately visited Germany to get a feel of SBaggers, the robotized, fully mechanical restaurant with no single waiter standing and also plates ride over your head on steel rails to arrive at your chair. A complete futurama feel!
Good part is its functioning is admired by all. Located in Nuremberg, this fully mechanical restaurant follows an elite way for placing an order. It makes use of a touch screen that gives you access to surf net while killing time before the order flies to your color-coded seat. It is only at the cooking front that some manual exercise is done by some Elzar apprentices (70% human, 30% iron chefs) within the building. The great mind behind Baggers technology welcomes the huge market for such restaurants that are undoubtedly offers ultra fun while cutting costs to the owners as well as clients.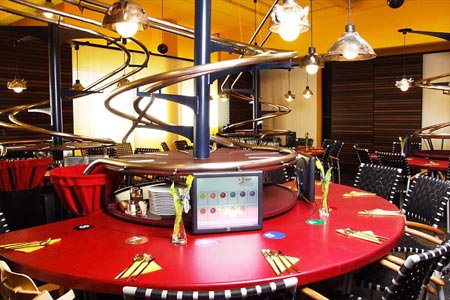 And BBC agrees to their argument that it is fun, delicious, fast, and no tips. Moreover, it absolutely erases the need for a terrible job of waitressing.
Check out the video: