Call them Manbag or PurseLady but this latest collection of seemingly clutches falling under the brand Urban Performer Unit would surely rule the minds of fashion fanatics. This handbag with integrated pocket is designed to house your iPod, thereby facilitating you to monitor the music from the outside of this purse. One more effort to make you feel lazier…. but i can't help, as this is what people demand.
This Austrian-designed purse comes with a disturbing pill: It claims to be unisex (looks feminine. so guys need to take a call). But for sure you can think of shunning down your all craggy and scruffy stuff and don't think about your identity as an outmoded man living from a metrosexual world and welcome this Urban Performer Unit. Here i give a green signal to go ahead with a manly attitude and reap the best compliments possible. Within seconds, you would be regaining a new guise of a rhinestone cowboy.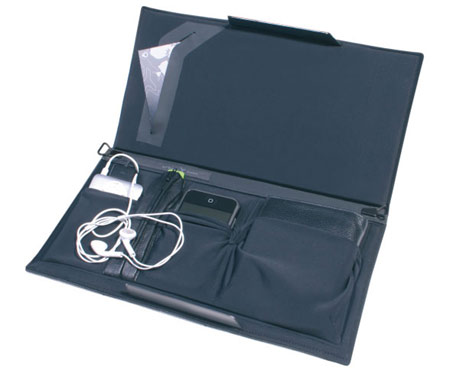 I like the dude above making substituting the purse for guitar and coming as a RockBand. But something is still missing. Masacara…..Oomps now he looks complete. Pray his girlfriend is generous enough to accept him in his changed looks.
Even from inside the Urban Performer Unit looks no less than a gadget kit as can accommodate gadgets like PDA, cell phone, Hadron Collider and others. Folks, i know you must be excited to ink one to your name but you have to wait till Christmas falls. But FYI, the black leather purse is retailed under $520.
Via UrbanTool