After seeing this giant motorcycle bathed in green tub, I was taken a back for a while. Following the road warriors who created the buzz via their ultra portables, the renowned Russian modder Dennis Ilyin (a.k.a. "Xooler") thought of delivering some different concept and thus targeted upon offering on-the-go computing with this determined motorcycle casemod. The profoundly modded, liquid-cooled PC can comfortably be used while the motorcycle is parked and if need be can be accessible while riding by placing monitor in your lap and connecting it with an extension cord.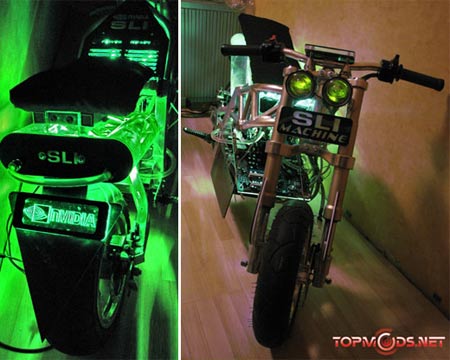 This two-wheeled computing marvel doesn't have an engine but the availability of massive LED-lit water tanks covers it up by assuring ample processing power that compensates for the absence of racing horsepower.
The compu-bike was unveiled at the NVIDIA-sponsored modding contest and bagged second award to its name. For more pics visit here.
Via Technabob