Call it a TV or a mirror, it has both and is designed for elite class who loves experimenting with such products. This elite collection is a much-in-demand offering by Seura, which has offered three models of television mirrors available in all TV sizes, thereby screen getting completely erased when turned off. "Wow" is too less a word for it. By installing one ion your bathroom, you can watch your favorite soap or test series by relieving yourself, thus no waste of time or rather double utilization of time. It gives you an option to bring home an LCD in your large contemporary-designed master lavatory.
Wisconsin manufacturer Seura offers gamut of such TV mirrors manufactured to integrate LCD TVs, and apparently accesses this mirror technology for smaller displays to be used in bathrooms along with larger mirrors that can be plugged on to the walls. Redstone American Grill in Minnesota lately inked a neat deal with Seura to clad its restaurant with the mirrored products counting placing of TVs over urinals.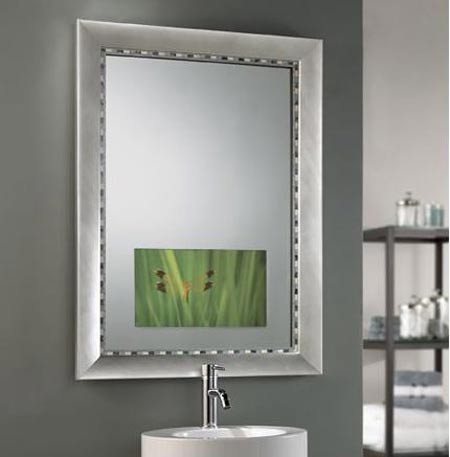 Seura's television series are available in three models viz. Enhanced Series, featuring vanity mirrors with fading technology that disappears TV screen when TV is turned off; Premier Series is there for producing giant decorative art mirrors featuring vanishing technology; and then comes the Decouverte Series vanity mirror that does not integrate the vanishing tech. If all this is too much for your taste then you can keep your fingers upon the ordinary models manufactured by them with a tinge of illumination. Truly, everyone can't afford to install TV in a bathroom.
Via ElectronicHouse