We at elitechoice have been introducing you to various forms of fireplaces suspended, static and multimedia driven to kill your cold. But don't you think installing fireplace just with a selfish motive to do away with frozen ambiance is a restriction? Truly, it is as if you sit down and explore the existence of fireplaces that are operational to do their job besides adding beauty to your abode then there are many. Doing away with the earlier introduced suspended fireplaces, diva-gas fireplace, bloch designer fireplace, radius design fireplace, steel stove minus glass fireplace; One revolutionary option that I came across is bringing home fire bowls.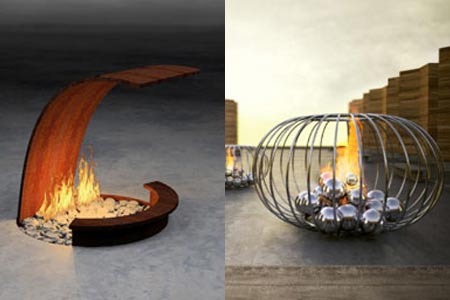 Structured in the form of bowls (huge ones), they will definitely bring a silent and much-needed but never realized makeover to your living. It is not only the bowl form that seems appealing but there also exists water bowls with eternal flame. The idea is to represent all the natural elements viz. earth, air, fire and water at a given site to stabilize yin and yang. Likewise dubbed as water bowl, it is a perfect blend of visible fire and water with metal bowl representing earth and the movement of the blaze reproduced in water provides shape to the breeze. All four!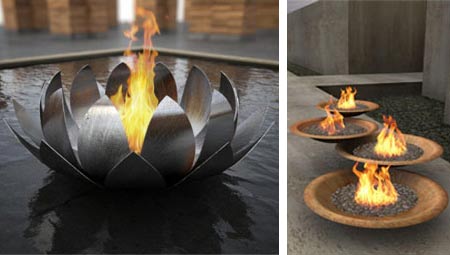 Amonst the 49 fire bowls available, few that invited my attention are in-ground corten steel fire arc with acid etched tree, copper fin bowl, floating fire arc with cut-out palms, stainless steel lotus fire bowl, 12ft curved corten radiating slab with arc bench, square dish, fire vine, floating cut-out water bowl and fire stack.
Via FireFeatures