Picture this: Last night you party hard and got dolled with champagne to an extent that your conscious is not aware who dropped you home. But you woke up and peep from the window of your room, find yourself amidst exotic parrotfish or barracudas floating around your window. Pinch yourself! It is not a dream but you should rather experience your momentarily stay in an 'aquarium'.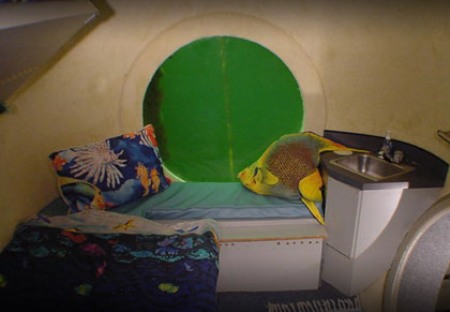 Months' back we presented numerous to-be-installed undersea and on the sky concepts that are expected to take form in the coming years. And we also talked about treehouses that are becoming 'in' including ewok-style house. Meanwhile, we have another pill of relish for you in the same geography. Jules' Underwater Lodge is a tangible offering in commission constructed 30 feet under the tropical mangrove locale of the Emerald Lagoon in Key Largo, Florida. Proprietor and co-founders Ian Koblick and Dr. Neil Monney forenamed their sub-aquatic escapes after Jules Verne, novelist behind literature classic "Twenty Thousand Leagues Under The Sea".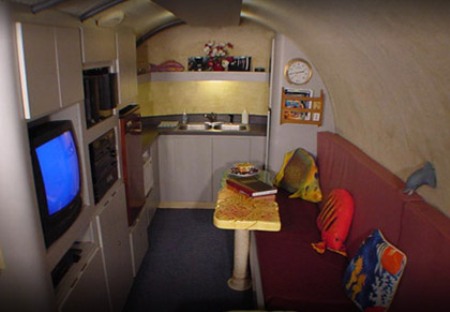 Initially, this submarine installation was a research laboratory identified as La Chalupa and the idea behind its designing was to investigate the continental shelf off the coast of Puerto Rico. Presently, it features two air-conditioned private rooms, VCR/DVD, a common multiple-purpose room; over-stocked kitchen, a spacious dining and entertainment area along with surround sound system. Swallowed up with the pool of water, the lodging manages to shield itself from the compressed air boundary that fills the rooms.
Round the clock land-based "Command Center" provides clean air, water, power and communications via an umbilical cable and keeps a track of all processes at the Lodge. But to reach there, guests are expected to dive 21 feet under the pond. On their 'soaked' entrance, guests appear from a 5.7 foot "moon pool" located at the base of the underwater cottage, which rests on stilts 5 feet above the water floor. After de-gearing and a warm bathe, your submarine escapade instigates.
The foremost attraction that is anticipated to move your eye lids is the 42″ viewport window charted in every bedroom, offering impressive sight of the varied flora and fauna. The Lodge usually hosts two separate couples. Each couple has a private bedroom, and the rest of the facility is shared. Family groups of up to six people can book the Lodge, with the additional guests sleeping in the living room. You can always consider this as a part of your honeymoon trip as it costs $1,195 per night, for a couple.
Via Jul