Forbes magazine has made an effort to gather the "costliest handbag in the market" that are exclusive in style and design. The colorful collection of bags available at Forbes is mind-blowing. True, the amount is bulky but it justifies the quality and durability.
I personally consider Handbags and shoes as the two major accessories that define one's personality and attitude. The attractiveness of the endless list of bags is such that few of the bags seem more of a display collection than of daily use. Also, you will find that the fabric used for most of the bags is of Animal Skin, not an ordinary one, thereby making the price of the bag a bit bulky.
But mind you not even a single bag displayed at Forbes magazine could mar the Diamond studded handbag for $1.63 million by GinzaTanaka.
The Chanel "Diamond Forever" Classic Bag: $261,000
With the coming of Christmas, Chanel has plans to unveil the world's most pricey bag by the end of December. Starting with the "Diamond Forever" classic bag that is embedded with 334 diamonds (3.56 carats) with long and wide shoulder straps dipped in 18-carat white gold, plans are to produce counted 13 such bags.
The editor of purseblog.com believes that this Chanel bag serves the purpose similar to that of a rare painting that catches all eyeballs due to its low production and high demand.
Hermes Matte Crocodile Birkin Bag: $120,000
Influenced by French singer/songwriter Jane Birkin, the grasp of this 30-centimeter long bag is decked up with 10 carats of white diamonds. The bag was available for sale at Doyle New York. Having used crocodile as its fabric, the variable price tag of the bag depends upon its leather quality.
Lana Marks Cleopatra Bag: $100,000
Following the annual custom of producing Cleopatra clutch bag for retail, Marks has come out with the limited edition tote designed using metallic silver alligator skin. Its clutch is layered with 1,500 black and white diamonds outlining the 18-carat white gold.
Leiber Precious Rose: $92,000
Precious Rose, the name defines its importance. But the value become two-fold when it is used to defined a bag. Rolled into the shape of a flower, the bag is ornamented with 1,016 diamonds (42.56 carats) along with 1,169 pink sapphires and 800 tourmalines.
Who knows you could be its blessed sole owner as this the only bag offered for sale.
LV Tribute Patchwork Bag: $42,000
Assembling of products cannot be limited to computer accessories. The practice is followed in forming designer bags. The fine example for this is the Patchwork Bag by LV Tribute designed by combining 15 different Louis Vuitton patterns. Out of the total 24 bags produced, around four have already been sold in U.S. stores and the remaining is available for sale in Louis Vuitton boutiques across Europe and Asia.
Gadino Bag by Hilde Palladino: $38,470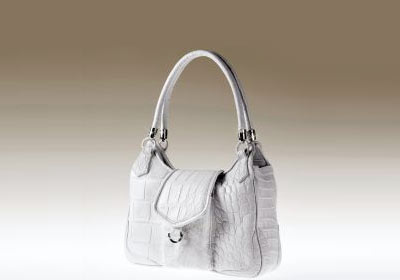 Designed by Norwegian designer Hilde Palladino, the crocodile Gadino Bag doesn't have anything special if peeked from distance. But a close look makes you feel its charm by holding white gold clutch packed with 39 white diamonds.
Marc Jacobs Carolyn Crocodile Handbag: $30,000
The rigid yet stylish look Its hefty price tag hasn't swayed Marc Jacobs fans from nab this bag; it is one of his most popular accessories. Made of purple crocodile skin, the quilted Carolyn comes with interior pockets and separators.
Fendi Selleria Bag: $38,000
A bag like this one can be made to order with sable and chinchilla, two of the world's rarest and most luxurious animal skins. It's far from precious but big enough to accommodate necessities such as a wallet, keys, cellphone and makeup kit.
Nancy Gonzalez Porousus Bag (rare skin): $30,000
The USP of this Porousus Bag resides in design tailored using crocodile skin that is evenly scaled all over the bag.
Devi Kroell Alligator Hobo: $29,000
The triangular shaped Alligator Hobo's bag designed by Devi Kroell is spacious enough to carry a mini-laptop. The in-built pockets offer a storage capacity for other accessories.
LEIBER Dandelion Suede Gator Handbag: $15,000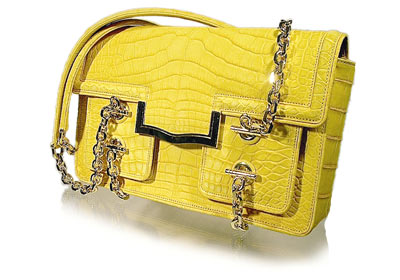 Following the spring shade of yellow, this alligator LEIBER bag is set to awaken the senses of the fashion freaks obsessed with designer bags. With two external pockets, strap along with a clutch ornamented with 18-carat gold, only four such bags are produced and are available for sale. Want to buy one?
Via Forbes