Christie's, the world's leading art business is never at rest. At the upcoming two-day exhibition in Geneva on May 16-17 at Geneva's Four Season Hotel des Bergues, some of its beautiful works will be exhibited for display.
This will include various sought-after diamond designs, including a diamond-briolette pendant, emerald ring, sapphire ring, diamond earrings on the block. The rings are mounted by Van Cleef and Arpels.
The collection by the contemporary designers' viz. Boivin, Boucheron, Bulgari, Cartier, Harry Winston, Lacloche and Van Cleef and Arpels epitomizes the style statement.
A diamond choker necklace made of a pear-shaped diamond weighing 20.28 carats and another smaller pear-shaped diamond weighing 2.05 carats. (Displayed on 16 May)
Expected Cost: $ 1,230,000 – to $ 1,500,000
A ruby and titanium brooch by Michele Della Valle embedded with 5,000 rubies weighing almost 300 carats.
Expected Cost: $56,000-$72,000
Christie's Jewelery specialist Helen Molesworth displays interesting rings to respect your fingers.
Estimated Cost:
Emerald and diamond ring (L): $600,000-$800,000;
Colored diamond ring (2L): $1,400,000-$1,650,000
Sapphire ring (2R): $300,000–$410,000 and
Single-stone diamond ring (R): $600,000–$680,000
These rings are available for auction on 17 May in Geneva.�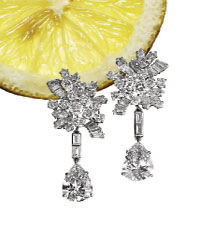 Pear-shaped diamond earrings weighing 6.77 and 6.18 carats from Cartier.
Estimated Cost: $350,000-$500,000