Fine jewelry brand Bjorg has built a loyal clientele for its high-end jewelry. Jewelry designer Bjorg Nordli-Mathisen has made a name for herself by the sheer exclusivity of her designs. Sometime last year I remember drooling over Armor Jewelry's stunning armor-inspired ELEVEN collection. This year, I find myself swooning over the new jewelry collection by Bjorg.
The Dreamy 2012 Collection
Jewelry by Bjorg is known for its surreal appeal. The 2012 collection that has been named "Not All Those Who Wander Are Lost" carries on this surreal theme. The Bjorg website describes the 2012 line beautifully, saying, "The collection makes up an odyssey of imagnination, mystique and poetry, switching between dreams and reality, thus welcoming Dark Knights, Pale Moons, Magic Hours and Misty Mountains."
The collection mingles history with futurism. The color palette is largely pale and translucent. The designer has combined natural materials like feathers with futurist shapes. Bjorg has frequently experimented with juxtaposing the natural with the industrial, and this collection carries on that trend. Bjorg being Bjorg, the prices are high, but each piece is handcrafted. So if you end up paying through your nose, you should not be surprised.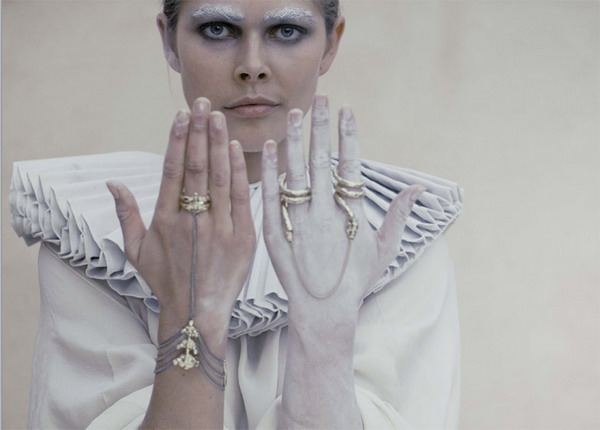 The "Heresy" Video
Late in 2011, the fine jewelry brand launched an elaborate campaign promoting this new collection. The video advertisement entitled "Heresy" showed two young women trudging through deserted terrain towards a stake. One woman tied the other to the stake, set her on fire and ran away. The reason? The doomed woman was heretical enough to wear Bjorg jewelry.
Many viewers complained that the 3-minute video was too obscure. But the accompanying witchcraft-themed print advertisements added perspective to the overall campaign. Bjorg's status as an established fine jewelry brand allowed it the freedom to take the risk with this rather obscure campaign. The luxury brand also played with potential controversy by using the historic theme of burning witches at the stake.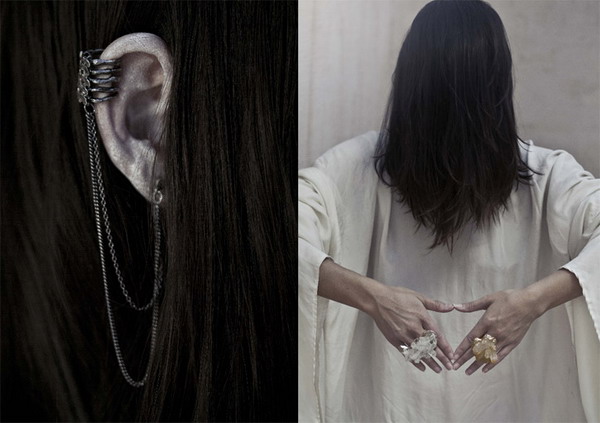 Why Fans Wait For Bjorg's Limited Collection
Unlike some other jewelry brands that produce new jewelry designs several times a year, Bjorg limits herself to only two collections per year. As a mere jewelry wearer with no concept of jewelry design, I cannot possibly criticize prolific jewelry designers. But I do feel that Bjorg's unwillingness to mass produce jewelry works magic for her two annual collections.
Anyone who follows Bjorg's jewelry collections will note that it cannot be categorized easily. This fine jewelry designer is greatly influenced by her travels around the world, particularly the time she spent living in India. She uses her travel experiences to craft some exceptional jewelry, using a range of materials and precious stones. Her jewelry falls under two themes – the delicate Classic line that uses silver, diamonds and other precious stones; and the heavier Odyssey, which celebrates bronze and more experimental designs.
Most of her jewelry collections also have a back story. Not only that, Bjorg is also dedicated to producing eco-friendly designs. She claims to use 100 percent natural materials and takes steps to increase preservation of the environment. She counts among her biggest fans such names as Madonna and Rihanna.