Commercial aviation has been in existence for decades and as the technology progresses this safest means of travel has evolved into a more comfort intensive vertical, where in the passengers are showered with opulent luxury and had redefined luxury travel. As technology enveloped the commercial air travel the concept of charter flights took to the skies as more and more charter service began to offer passengers with exclusive packages tailored to make their journey all the more enticing. Nowadays, nearly every airline across the globe has adopted the idea of luxury infused with aviation technology and offer the travelers with a variety of amenities to make their journey all the more exciting and memorable.
In our quest to unravel the world of luxury air travel, we came across a long list of commercial, charter and private aircrafts that have been specially fitted with the most elegant of interiors as well as amazing gizmos. Here is our list of The Ten Best Aircrafts With Stunning Luxury Interiors.
1.  Gulfstream G650 Business Jet:
Price: $65 Million
From one of the foremost manufacturers of business jets, Gulfstream, comes the all new magnificent Gulfstream G650 Business Jet that is also hailed as the world's fastest civil aircraft and boasts of cutting edge technology and incredible in-air comfort. Powered by Rolls-Royce BR725 engines, the G650 can attain an altitude of a mind boggling 51,000 ft. Gulfstream has given this remarkable jet the largest cabin available in any current generation business jet. The cabin of the G650 has been designed to be exceptionally quite thereby providing the passengers with a more serene flight experience. The interiors of the Gulfstream G650 are tailored towards the ultra-luxury realm, where in the business jet features electronic seats with heated cushions and back massage as well as 28 inch panoramic windows. The cabin has been designed to accommodate six people with extreme comforts and the cabin can even be reconfigured to take the form of a four-place conference table. Apart from the passenger cabin's insurmountable luxury, the cockpit of the jet is also in every sense, state of the art. The Gulfstream G650 features Enhanced Vision System (EVS) II, Head-Up Display (HUD) II. Furthermore, to ensures safety this reamarkable business jet has been given a Triplex Flight Management System, Automatic Emergency Descent Mode, 3-D weather radar, Advanced Flight Controls as well as Honeywell Enhanced Ground Proximity Warning System (EGPWS).
Price: $8.6 Million
Enveloping its passengers at a phenomenal altitude of 45,000 feet, the Embraer Phenom 300 is one of the most luxurious light jet aircraft that has been designed and developed by Brazil based Embraer. This remarkable luxury aircraft has a maximum seating capacity for seven and cruises at 520 mph, while achieving a maximum cruising range of an astounding 2,300 miles and as per company's claims, the Phenom 300 can travel from New York to Denver on without the need for refueling. Powered by twin Pratt & Whitney – PW 535-E engines, the Phenom 300 represents a classic amalgamation of cutting edge technology as well as desirable luxury. This magnificent jet comes with comfortable leather seats, along with burl wood trim interiors. Furthermore, the Embraer Phenom 300 is equipped with the state of the art Doppler radar and provides the occupants with numerous luxurious amenities such as Wi-Fi, satellite telephones and LED lighting,
Price: $185.2 Million
The luxury commercial air travel had been holding its breath for a while in anticipation of one of the most sought after aircrafts, Boeing 787 Dreamliner that will redefine the luxury air travel vertical. Now, the 787 Dreamliner is all set to make an impact as the Boeing is due to deliver its first aircraft to All Nippon Airways (ANA). The Boeing 787 Dreamliner is one of the most advanced and luxury intensive aircraft, powered by twin Rolls-Royce Trent 1000 engines and the aircraft can cruise at an astonishing 647mph, while achieving an operating range between 14,200 to 15,200 kilometers with a service ceiling of 43,000 feet. The all-new 787 Dreamliner is not only a marvel of modern aviation engineering but also represents a new trends towards luxury. This magnificent airliner comes with 17 inch widescreen touch panel LCD screens, along with a universal PC power source, a USB port and an iPod jack. The 787 Dreamliner can accommodate as many as 250 passengers segregated into various  seating classes. The plane also features electronically dimming windows, while the their dimensions have been significantly increased to 18 inches in height and 10 inches in width. Furthermore, Boeing has given this magnificent aircraft roomier bathrooms and raked wingtips that enhance the craft's fuel efficiency by reducing drag.
4.  Air Sarko One:
Price: $ 253 Million
As of now, the President of the United States of America is the only head of the state to have his own private aircraft that shuttles him across the country and even continents. Air Force One as it is most commonly referred to allows President Barack Obama to fly in executive style and even conduct the country's affairs all aboard the flying fortress. Realizing the impact of such an aircraft, French President, Nicholas Sarkozy has also joined the high profile rank with the introduction of his very own 'Air Sarko One'. This symbol of French elegance power is a highly modified Airbus A330-200 and is powered by Rolls-Royce Trent 700 engines and the aircraft can cover a distant of 13,400 km. the Air Sarko One carries the same level of style that President Sarkozy is loved and hated for. This magnificent Presidential craft comes with a 12-man meeting room, 60 business class seats, a reinforced fuselage for security and a state of the art missile decoy system. Furthermore, the aircraft has been fitted with a flood-proof hip bath, which replaced President Sarkozy's demand of full-sized presidential bathtub that was deemed unfeasible due to technical reasons.
5.  'Super First' Class Airbus A380:
Price: $375 Million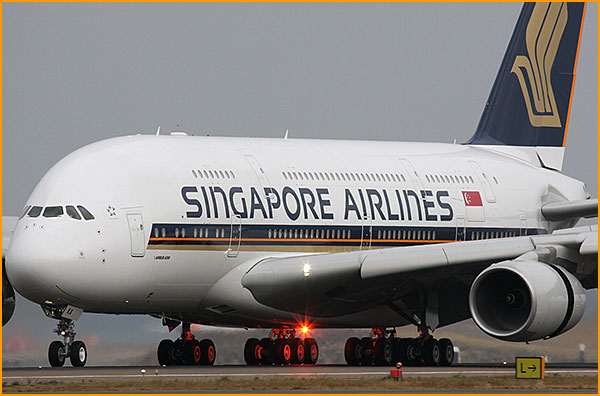 The world's biggest airliner, Airbus A380 under the operational management of Singapore Airlines has come up with an ultra-luxury feature for its fleet of its behemoth A380s in the form of 'Super First' class that offers the travelers a unique and refreshing take on what luxury is all about. These new luxury intensive private suites are enclosed places that have been specifically designed by the renowned International designer, Jean-Jacques Coste and will feature a plus leather seat, along with full-sized bed with mattress. The 'Super First' Class is entirely separate from the rest of the airplane thereby offering much warranted privacy and comes with a plethora of tech additions. These majestic suites are adorned Givenchy furnishings and the passengers are served with eclectic food by world renowned chefs, including Gordon Ramsay. The 'Super First' class suites feature a 23-inch flat-screen TV, where in the passengers can choose from vast array of some 100 films and 180 TV programs, as well as 700 CDs. The Airlines $375 million Airbus A380, which is a double deck, wide body airliner can accommodate up to 471 passengers, with 39 in business class and 399 in the economy class. This marvelous flying giant is powered by Rolls-Royce Trent 900 engines and can travel at a stunning 587 mph with a cruising altitude of 43,028 feet.
6.  Airbus A380 'Flying Palace':
Price: $492 Million
One of the foremost design firms in the United Kingdom, Design Q has designed and developed what can be termed as the world's most lavish Airbus A380 in the form of Airbus-A380 'Flying Palace'. Commissioned by an anonymous and fabulously wealthy individual, the Flying Palace has taken the form of a private jet that believe it or not even comes with a separate garage for the owner's prized vehicle. The Flying Palace has been stripped of all commercial airliner components and the plane features four massive sized beds,  a Turkish bath for four, along with a spacious concert hall. This incredibly awesome plane is expected to be finished in the year 2012 and will carry the title of the world's largest private jet. Accentuating the aircraft's lavish interiors is a lift that comes down to the tarmac to collect its passengers along with a red carpet. To relieve the stress of the occupants, the Flying Palace comes with a wellbeing room that is composed giant screen showing the ground below. Furthermore, if the owner needs to tend to his professional responsibilities, the plane has even been given a large boardroom that features iTouch screens and live share prices that are projected directly on the table. The most astounding feature of the Flying Palace is its prayer room, which carries a hologram projecting prayer mats that always face the holy city of Mecca.
7.  Versace & Tag Aircraft Interiors:
Price: On Request
One of the foremost fashion houses in the world, Versace has teamed with the leading entity in the field of aircraft interiors, Tag Aircraft Interiors (Tag AI) to bring the best of both the companies into the designing of  exclusive as well as luxurious interiors for aircrafts. The very first project that collaborative efforts between the two companies grabbed was the customization of an Airbus A319 Corporate Jet (ACJ). This magnificent corporate jet has undergone a gorgeous facelift with the Versace/Tag AI team providing luxurious improvements to the aircraft's interiors including 16 seats that have been arranged in four compartments, along with salon, galley, business office, and stateroom with a lavish bathroom. The ACJ has also been given executive armchairs that carry the signature Versace Greek fret montif. These furniture selected for this luxurious corporate jet has been designed from the most high grade materials and feature executive finishes.
8.  Etihad Airways 'Diamond First Class':
Price: On Request
One of the foremost airlines in the Middle East, Etihad Airways last year came out with its exclusive Diamond First Class, offering the passengers with bountiful features and luxury that stands unmatched. The service begins with a chauffeur driven limousine that picks you up from your hotel/house and ferries you the Abu Dhabi International Airport, where you are taken to the luxurious executive Etihad Premium Lounge. On board the flights, the Diamond First Class travelers are offered in incredible level of privacy and are seated in an extremely comfortable Diamond Seat that rotates a full 180 degrees, perfectly suitable for a one on one rendezvous or a business meeting. Also, the Diamond First Class comes with 6 ft 8-inch flat beds that are located just within range of a personal coatroom, a mini-bar, a fold-and-swivel meal table, an integrated personal mirror, a magazine rack, a reading light and a desk lamp. Etihad Airways has also incorporated state of the art tech features with in-seat power sockets and iPod/audio/ethernet connectivity. The travelers in this holy grail of airborne luxury are treated with 23-inch personal LCD TVs that are powered by E-BOX in-flight system providing a wide range of latest blockbusters and interactive games for children.
9.  Airbus A350 w/ BMW Interiors:
Price: N/A
What happens when one of the foremost names in aviation, Airbus and the leading firm in automobile design innovation, BMW Group Designworks club together? It results in the development of a commercial airliner that is packed with state of the art electronics and a design that exuberates luxury and panache. This is what has exactly happened with an Airbus A350 that was put under designing talents of BMW Group Designworks. The concept plane showcased mood lighting that can be projected on the ceiling as per the general mood of the cabin. This mood lighting displays shapes in form of the night sky or clouds etc. Furthermore, this marvelous A350 has also redesigned the overhead bins to provide more space for the luggage.
10.  Airbus A320 Prestige:
Price: $85 Million
Designed and developed primarily to be used as VIP airborne transportation, the Airbus A320 Prestige is the company's crown jewel in the category of Airbus Corporate Jets (ACJ). A majority of the Airbus A320 Prestige fleet is operated by Comlux, a Zurich based Aviation Group. The A320 Prestige based in Bahrain epitomizes corporate luxury and has been reconfigures to accommodate just 19 passengers, thereby adding to the plane's luxurious persona. Powered by twin Pratt & Whitney PW1100G engines, the remarkable A320 can achieve a maximum range of 5,700 km, while operating at a maximum service ceiling of  39,000 feet with top speed of 594 mph. The interiors of the magnificent A320 Prestige have been designed to befit the charisma of the VIPs and also carry a plethora of hi-tech amenities such as the likes of wifi Internet, on board GSM, Satcom entertainment, iPod docks, CD and DVD.