One of the most brilliant and extraordinary watch makers in the world, Cabestan have announced the introduction of its all new Nostromo Watch, that is surely going to make you wonder about its creation. Designed by the famous watch designer, Jean-François Ruchonne, the all new Nostromo watch is one of kind in its unique design, beauty and functionality.
The design of the all new watch is incredibly complicated in the first look, but turns out to be a very user friendly one, when it comes to accessing the functions of the watch. The time depiction on the watch is achieved by using engraved drums, that show hours, minutes and seconds and then there is an additional drum in the dial, that serves as n indicator for the battery powers, which in itself provides an incredible 50 hours worth of operating power.
All the drums and the moving parts of the Nostromo watch have achieved their success, due to the Calibre CAB PG 160 manually wound movement, which was developed by Cabestan. The case of the watch is made entirely from lack PVD coated titanium and the dial as well as the sides of the watch are studded with sapphire crystal, giving the watch a breathtaking look and aura. Furthermore, the bridges and the windows of the Nostromo watch have all been given a coating of Superluminova phosphorescent. The all new Nostromo watch from Cabestan is carries a very expensive price tag of $141,400.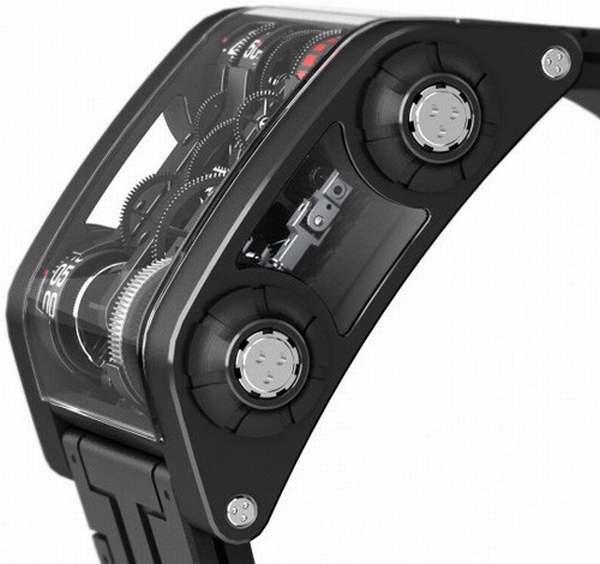 Via Engadget & A Blog To Read