The legendary Lomo LC-A camera that had won the hearts of millions of users was discontinued in the year 2005, to pave wave way for its successor, the Lomo LC-A+ camera, that has now been given a complete overhaul in the form of an exquisite 24 carat gold finish. The all new Lomo LC-A+ Gold Edition cameras is a limited series edition, that will have only 130 pieces made for the commercial production.
About 25 years ago, the Lomo LC-A was introduced by the Soviet Union (Russian Federation) in the year 1984, as an almost disposable camera for everyday photography and was made popular with the immensely popular Minitar 1 lens. The Lomo LC-A was a camera that could work in any light condition and gave vibrant, wide angle images, complete with auto exposure technology.

The all new Lomo LC-A+ Gold camera comes in a brown leather wrapping and 24 carat gold finish. The company has retained the historical Minitar 1 lens and the entire package is delivered in a wooden casing. To ensure that, the customers get only the most authentic piece of the limited 130 Gold cameras, the package also includes a unique number and certification sheet, along with two rolls of Lomography 800 Film in a golden tin. This entire bundle of one of the greatest technological marvels of the 1980's is also comprised of a 'Lomographiere' hardcover book and costs a pretty hefty $698 per piece.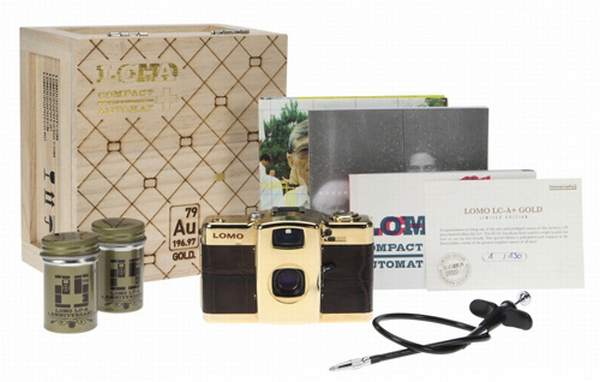 Via Gizmodo & Lomography