Daniel Fitzgerald is a designer based in Melbourne, Australia. He is an Industrial Designer and a 3D modeller who has designed the Pagemark Smartphone. The design aims to bring the facility of navigating through large documents to a digital reader which is less fragile than eBook readers and laptops. Targeted specifically at parents of students and at students themselves, the Pagemark Smartphone allows the user to stay in touch, thanks to the in-built phone, and also navigate through books and documents.
It also doubles up as a PDA and it comes with 2 optical mouse sensors, thanks to which navigation is made easier. There is also no need for a touchscreen an there is always a protective screen as well, and the optical sensors do all the navigational stuff. It may even come with GPS and Wi-Fi abilities if things go well.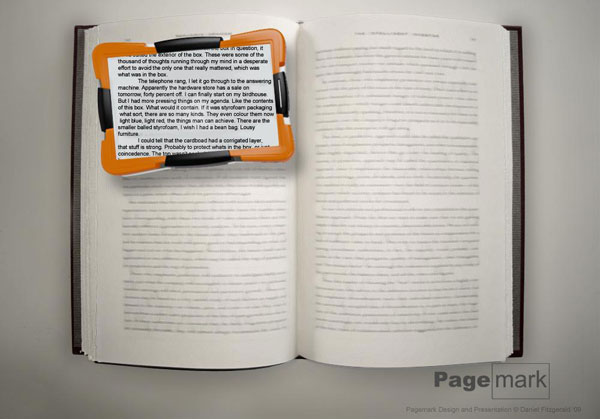 With a select few buttons, it would become a student's ideal document reader, phone and PDA and perhaps even connect to the Internet through Wi-Fi and GPS. It is robust and sturdy and thanks t its robustness, it can be used by students and even construction workers. If manufactured, it may cost between $350 and $450.