IROPOD PC is an Interactive Robotic Computer which is being touted as the world's first organic design computer. It can adapt itself to the position that is most comfortable to the user and thus would not only reduce stress and fatigue, but also repetitive movement injury which can give atrocious pain to people.
It comes with a movable and foldable design which helps you not only use it in the room, but also kitchen, or even in the living room if friends drop in. You would not need to worry where you are actually standing or sitting, as the computer can travel with you easily. It can be installed in hair salons, gyms, hotels, restaurants and of course at home. The IROPOD PC has been designed by Rad Iliuta, a famous and award winning French Designer.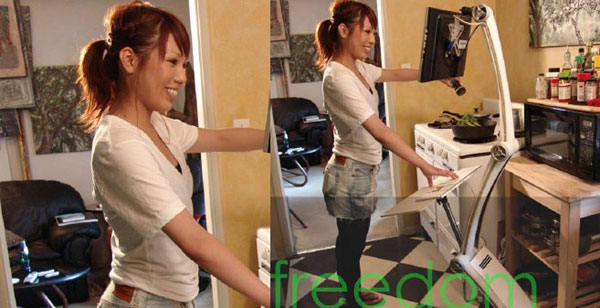 The long and adjustable handle or stand is so convenient that you would never have to worry about that lingering back pain while using the computer. With the touch of a button, you could adjust the position. Moreover, the IROPOD is environmentally friendly and it has been packaged using eco-redesign. I would say, it is a must-have for people who use computers a lot.