If your favourite sport is travel, read further as the female travel influencers listed here are gonna give you much needed dose of inspiration to create travel goals for self. Stories from the road to water, city to wild pictured well over insta feeds supported with micro blogs or vlogs give you a reality check that if they can, why can't we.
Yoga doing (check), Ocean Loving (check), Solo travel (check), Adventure sports (check), Camera and Photography (check), Female traveler (check). It is the check list above that drives affirmative from the female travel influencers listed here via our days of research. When was the last time you had put your phone off, left home to venture into an unknown place/city (travel doesn't mean international always)? if you fail to recall that, spend some time on their gram feeds and breathe and imagine their travel experiences. This will get you onto road soon without worrying much about things keeping you occupied.
You may see them discovering places with their bestie or boyfriend or other half as a photographer. If nothing more, it will make your lost in your daydream of your next adventure.
1. Leonie Hanne|@leoniehanne | 1.9 m
Leonie, a german based fashion blogger is popularly known for her travel adventures as well. A quick look at her insta profile will introduce you to her wide escapism across places. It is always a bonus to see her in exclusive outfits that make her look ultra gorgeous. Her travel soul gives us every reason to go out and venture into travelling without prior booking of flights or hotels. Do check out her first vblog that talks about her 2 days visit to Havana/Cuba.
2. Sjana Elise Earp |@sjana| 1.6 m
Sjana, a 22 year young Aussie girl is a yoga expert who believes women deserve and have every right to feel empowered. She is an avid traveller too. Her travel journals over instagram would introduce you to her both sides: health and travel, both equally important in one's life.
Do check out her Camping on Beach in Australia
3. Janni D | @jannid | 1.2m
Janni Olsson Delér @jannid, a 28 year young babe born and raised in Stockholm until she started to travel and explore different places all across with husband Jon Olsson Delér. She has lived in London, Spain and is currently in Monaco. In 2013, she ventured into starting a blog to document her rendezvous with various places and people and thanks to instagram that gathered her eyeballs and popularity in no time. good work pays! As a part of her blogging journey, she gathered interest in photography and today drives satisfaction in finding beautiful places to shoot.
Do check her vlog on life in Costa Rica
4. Angelica Blick |@angelicablick | 1.2m
Angelica, a 22 yr fashionista is a travel birdie at heart. She feels the world is her home. A glimpse into her insta account reveals she is a perfect combo of adventure and luxury, soft yet confident, rough and beauty. She qualifies to be an oxymoron in every sense. Her work has bagged her many awards i.e. "Best international blog" Vixen awards 2013 and "Best fashionblog of the year" VR Blog Awards 2014 to name a few.
Watch her vblog: Welcome to BAHAMAS! Pig Island + adventures
5. Hello Emilie | @helloemilie| 1.2 m
The wanderlust in her will never give you an opportunity to see her without camera. Emilie Ristevski is a Australian based creative with insta handle @helloemilie. Her travels tell stories via the beautiful moments and images that she is known for creating. Her curiosity and natural light works wonder for her. She is a University of NSW graduate residing in Queensland.
6. Collage Vintage |@collagevintage | 1.1 m
Sara Escudero is a founder of collage Vintage. Known for making fashion statements and working with brands, Sara is a globetrotter at heart.
7. Paris In Four Months | @parisinfourmonths | 902 k
Hailing from Stockholm, Sweden, Caren Olsson's "Paris in Four Months" started as an encounter and discovery about the new place, french cuisine and overall exploring a new country for 4 months. It seems sooner, Paris stole Carin's heart and mind, giving her every reason to move there permanently.
8. Pilot Madeleine | @pilotmadeleine | 1.1 m
Hailing from Munich, Pilot Madeleine's Madeleine Schneider-Weiffenbach blogs about all things beautiful in life. Her insta profile features useful travel tips, her looks in beautiful outfits, fitness exercises and now you may get ready for some parenting tips as well as the couple just entered into parenthood.
9. Tara Milk Tea| @taramilktea |1.2m
Tara Whiteman, a Sydney-born babe is a hardcore traveller at heart. Running insta handle as Tara Milk Tea, she would leave you awestruck with her lens and editing techniques. She also shares lots of useful photography tips and tricks across her pictures over insta.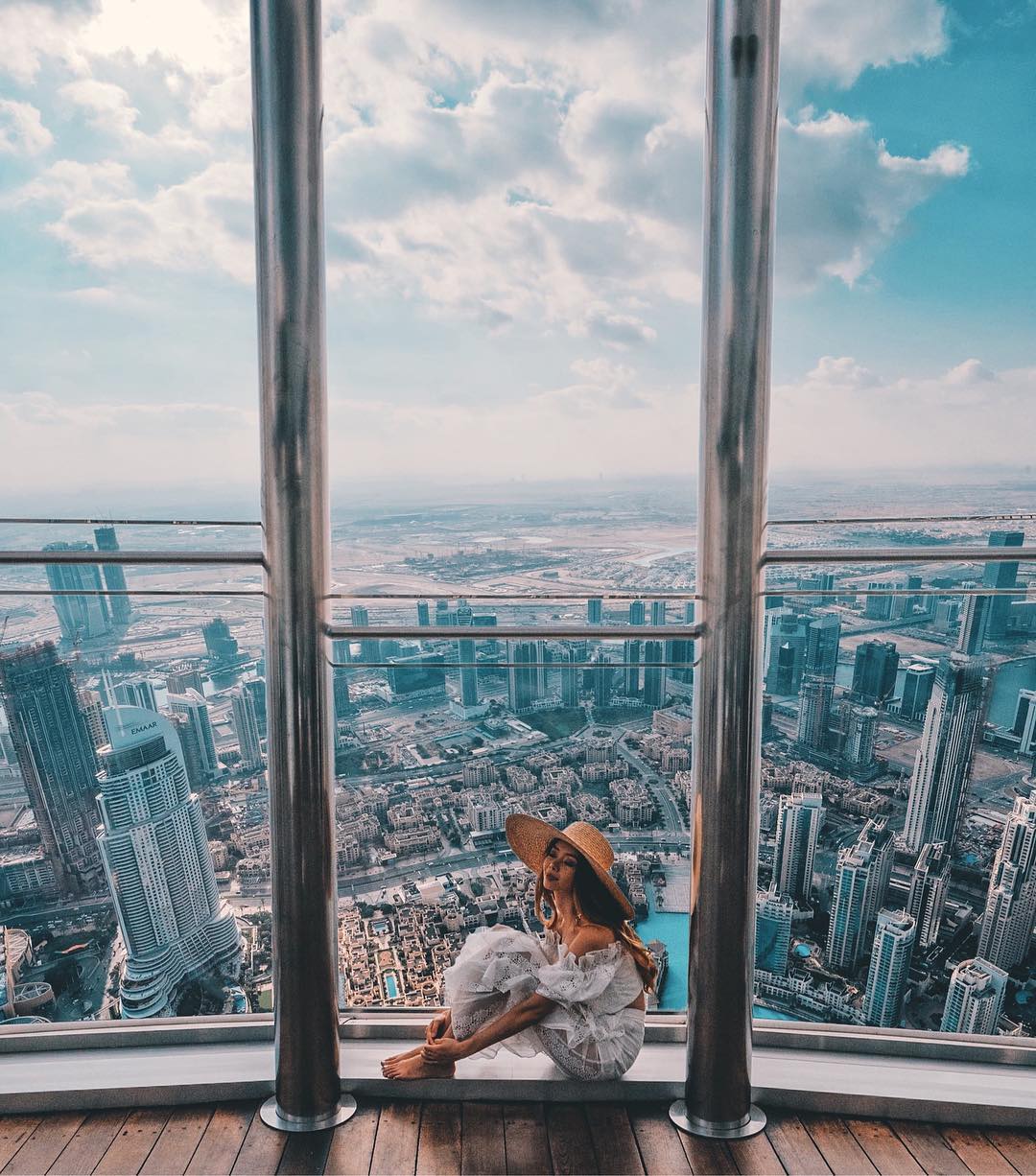 10. Travel In Her Shoes | @travel_inhershoes | 884K
She is just a good package to get inspiration from to lead a happy, peaceful yet adventurous life. She is adventurer, inner peace seeker, nature addict, sailor, olympic-level liquid spiller, obsessive learner, explorer, story teller, photographer all in proportion.
Agnieszka, known as @travelinhershoes had spent 54 days at sea without any communication with the outside world nor seeing anyone but 1 other human. She is a Polish born, Australian educated, Los Angeles based adventure traveler, writer, blogger and photographer, who has travelled 53 countries so far.
She believes travelling makes one more mature, relaxed, open-minded and kinder. She is infectious. So, don't be surprised if you happen to have that travel bug bite you. Catch her on youtube channel for travel inspiration:
11. Caitlin Covington | @cmcoving | 995K
Caitlin Covington with insta handle @cmcoving is twenty-something living in Winston Salem, NC. Her gram profile is a creative outlet to her fashion and travel excursions. You would see her posting everything from fashion, beauty, healthy eating, fitness and life in general.
Check out her vlog on Tulum, Mexico
Lastly, we are doing a filtration of listings across our compilation posts based on sub niche since it has become difficult to churn top 10 or top 20. Our upcoming posts would talk about solo travelers, travel couples, travel bloggers/vloggers (all influencers). So, stay tuned with us.