Tuscany is a good place to unwind, relax and have fun. It is known for its long history, traditions, artistic legacy and landscapes. If you are into trekking, you can have fun trekking the beautiful Tuscan countryside and stay in a luxury resort to end your excursion. In case you didn't know, this beautiful region in Italy is also home to an exclusive five-star wellness property, the Adler Thermae Spa Resort.
After a marvelous trekking trip, you can revive your tired bones in an exclusive spa hotel. The Adler Thermae Spa Resort is located next to the small hamlet of Bagno Vignoni, a small town with a population of just 35. This town is just one of the many places where you can relax and take waters at the famous bath, just like the early aristocratic Romans, and Etruscans that stopped in Bagno Vignoni, including Pope Pius II.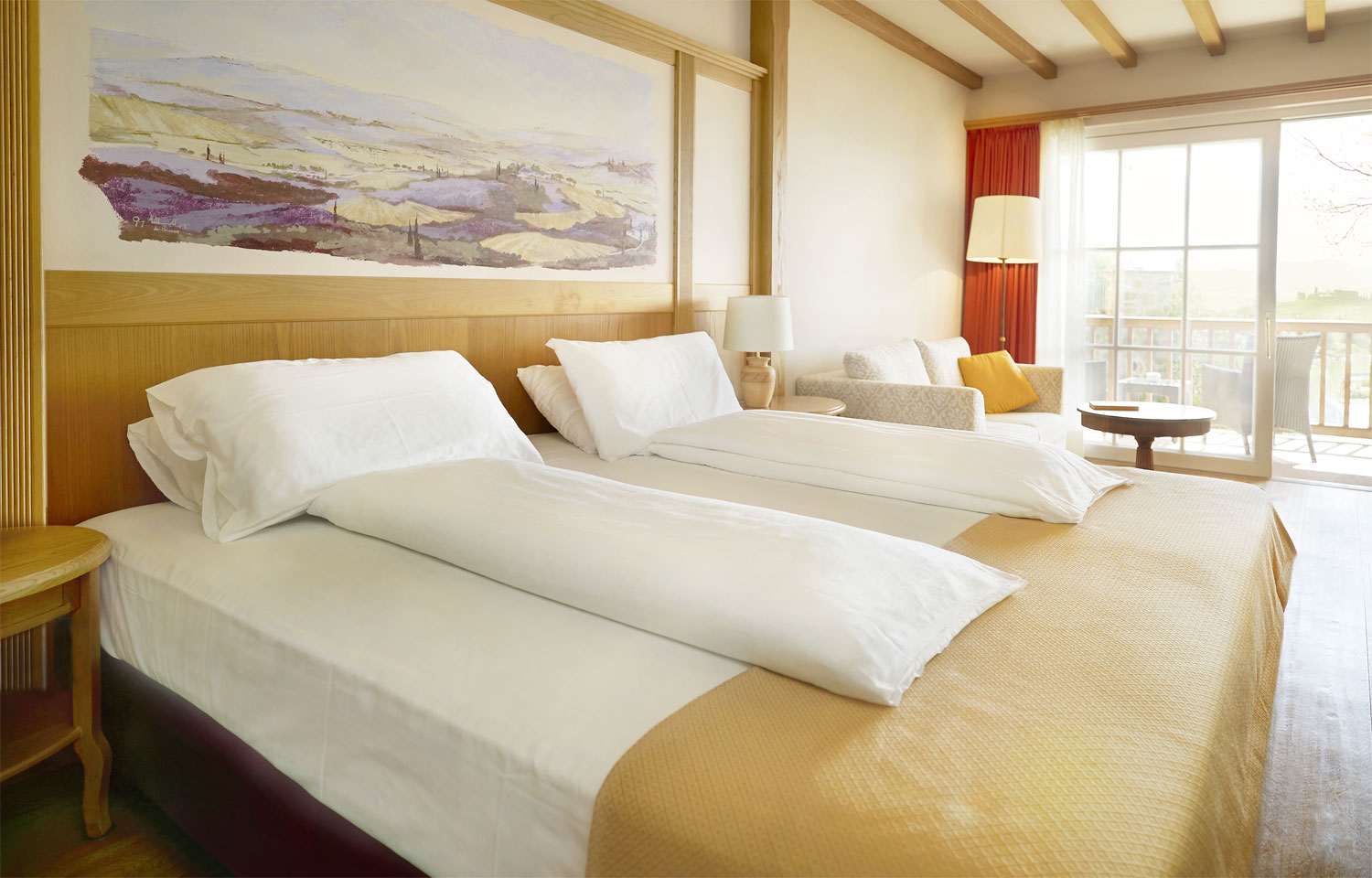 The Adler Thermae Spa resort is part of a small luxury hotel chain owned by the Sanoner family. This 10-year-old Mediterranean-inspired resort has 90 rooms beautifully and luxuriously decorated to soothe and relief tired bones. The hotel's striking arches, cream-colored limestone walls, fresh floral arrangements and high-ceiling are perfect for relaxing the mind and body. When it comes to the suites, you will be happy to find a stylishly decorated room. The suites are similarly designed, with comfy beds, floor-ceiling-glass doors, cozy sitting areas, mini bar, satellite TV, free wifi and spacious bathrooms with separate shower, as well as a deep bathtub.
The resort has lovely and lavish decoration, but the expensive decors are not what make it popular. The secret of the hotel is the water, which comes straight from the healing, thermal spring waters of Bagno Vignoni. Yes! The hotel's two swimming pools are fed waters from the spring waters. So, you can swim while having your muscle soothed by the healing water. And to make your time in the pool even more relaxing, the pool has various temperatures, waterfalls, and jets. Once done swimming in the thermal pool, you can head straight to the steam sauna that is filled with Tuscan herbs or the Etruscan sauna that emits salt steam, great for clogged nasal passages. The hotel has plenty of options, there is a steamy grotto filled with stalagmites, an authentic olive wood Finnish sauna filled with ice-cubes infused with sweet smelling oils.
That's not all! The treatment menu in this resort is filled with an attractive selection of body, facial treatments and massages using the hotel's own organic skincare products. You can have a great time in any of the 21 treatments rooms and have dedicated trained therapists take care of you. Booking a spa program early on will give you price cut, thanks to the early-bird promo. Should you want to try an outdoor activity, they have state of the art and fully-equipped gym with exercise classes including yoga in the heated pool, water spinning classes, suspension training and even pilates.
Other interesting activities include a trip to Adler's new winery, walking tours that include truffle hunt and lunch, cooking classes and more. The rates start at USD $265 a night with daily breakfast, snack and lavish four-to-five course dinner included in the package.