What's the cost of Paradise to you? Laucala, a private island in the South Pacific is offering Paradise to anyone who wants it. But of course, the cost to stay in Paradise for a night is a whooping five grand.
The Laucala Island resort located in the eastern portion of Fiji Island is home to 25 Fijian-styled luxury villas, surrounded by white sandy beaches and rainforest-laced landscapes. The villas are nestled in over 3,400 acres and hidden amid coconut plantation and the island's volcanic mountains.  The island is truly a paradise for the majority of the land is still unspoiled. There is still an abundance of animals, rarest birds, wild orchids, coral reefs and marine life.
The Laucala resort values its surrounding so they have established partnerships with local farmers for their herbs, vegetable, fruits, and meat for its restaurants.  Flower and spices from nearby areas were also utilized for its spa to make guests feel that they are doing something good while there are relaxing and enjoying the island.
The 25 villas are glamorously designed and built using materials locally such as doga timer, fern stems, sago palms, coconut husks and bala bala. All the dwellings, wherever they are located, open to an infinity pool. Getting around the resort is not a problem because a buggy is also available in all rooms.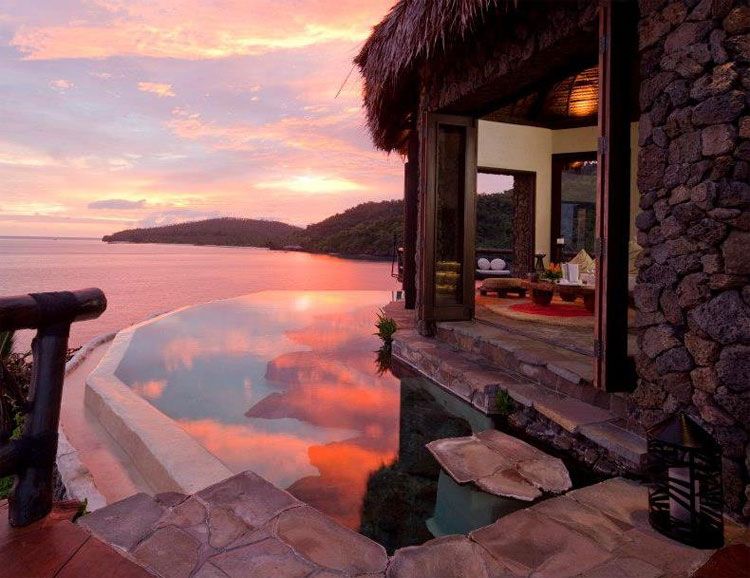 One of the villas, a two-bedroom accommodation, called the Overwater Residence is laid out across several lagoons. Inside, you will take a step in a rich hardwood floors that matched with pale pinks, beige, light blue and oranges colors. The bathroom floor boasted of beautiful stone, there is also a deep wooden tub and large open windows to give you a clear view of the neighboring islands and ocean. The size of the villa is spacious enough for private gatherings with family and friends. You have complete privacy because of its secluded location.
The island resort offers a variety of activities for weary souls ranging from adventurous to relaxing. There is horseback riding, golf, rainforest hiking, spa treatments and cultural tours offered, as well as, sunset cruise, windsurfing, and kite surfing that you can book at the Water Sports Center. For guest with kids, the Kids Club offers informative, educational and fun adventures to smaller travelers.
The resort has other great amenities and also has a 2,152 square foot pool for guests that want to mingle with other guests. The lagoon style swimming pool is covered by tall palms and divided into three areas. It also has Beach Bar, Pool Bar which serves casual drinks.
To stay in Paradise, the Laucala's rate per night starts at $5,040. Guests arriving on the island will check in at the Laucala Nadi Lounge area before flying in King Air B200 plane for a 50-minute flight to the resort.
Via JustLuxe