St. Regis Abu Dhabi is opening its doors to its $40k suite to regular folk who wants to explore the world's highest suspended suite for a fraction of the cost. The hotel will launch its brunch in the cloud series next week. The exclusive brunch series is held in the famous and lavish Abu Dhabi Suite.
The suite is located on the hotel's 48th and 49th floor, 220 metres above sea level so you get a clear view of the surroundings. The brunch event is only available to 50 guests every last Friday of the month starting this April 29. The inaugural brunch is just the start of a beautiful thing and the subsequent brunch is going to be on May 27, July 29 and August 26. There will be no brunch offering during the month of Ramadan.
The 50 lucky diners are welcome by the hotel's butler. And escorted to the suite's private lift where they will have a lavish experience. But, before they can dig into the array of sumptuous food that the hotel is offering, they can explore the 1,120-metre suite. Each room on the 40k suites has a different food on offer. There are a cheese and dessert room, an oyster room, champagne bar and chef stations. Guests who want to take a break from all the food are encouraged to visit the private spa of the suites for a manicure or massage.
The St. Regis Abu Dhabi suspended suites connected between two buildings. The suite has a butler, a cinema, a spa, a bar area, 19 chandeliers made from the finest Bohemian crystal, 24 carat gold leaf accents, two kitchens, private elevator that takes guests directly to the suite from the ground level, in total privacy and a 360-degree panoramic views of the Corniche, Arabian Gulf, and the city skyline. The brunch series brings opportunity to anyone who wants to try the suite's lavishness and the hotel's finest food prepared by highly skilled chefs.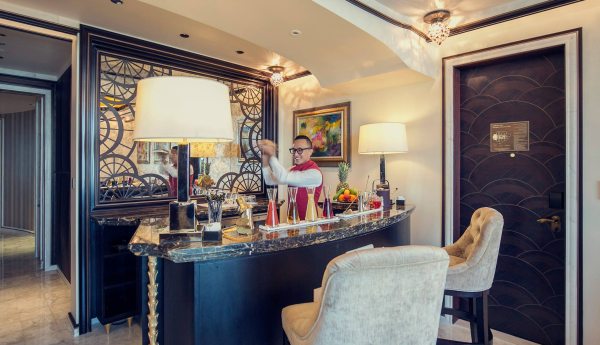 The price for brunch in the Adu Dhabi most expensive and unique suite is about $110 USD and $180 USD with wine or spirit per person. If you want to experience a lavish brunch, you can make a reservation as early as now because only 50 people can dine and unwind in the 40k suite.