Braven has built its reputation by designing and delivering premium speakers and has gone on the overdrive by a series of new releases timed to coincide with the CES. And they are no doubt making an impact at the event. The first in line were three new speaker lines and on the second day of the event they unveiled the US$99.99 Fuse audio mixer, the 1100 ($249.99), 2200b ($299.99), and 2300b ($349.99) luxury speakers, and the $299.99 Braven Bridge "executive conference call companion". The Fuse audio mixer has been positioned as a portable Bluetooth audio mixer that is capable of linking two audio sources and two speakers.

The Fuse audio mixer is truly portable and designed as a little box less than five inches long. However it is a highly capable device with number of onboard controls, including volume and low/mid/high tuners for each audio source, a source level equalizer, a headphone out switch to listen to different audio sources, and a cross fader. The Fuse audio mixer comes with an internal 1200 mAh rechargeable battery that can keep it running for over 12 hours on a single charge. Also on display were three premium Bluetooth speakers that are new additions to the design series speaker collection of the company. The Braven 1100 supports aptX encoded audio. It creates true stereo sound by connecting with another Baven speaker through TrueWireless. It will be available in different color options later this year.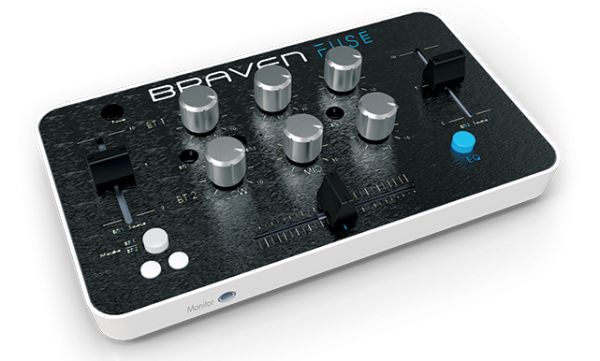 Braven 2200b and Braven 2300b are the two other ultra premium speakers that deliver awe inspiring HD sound. The speakers with left and right channel stereo are capable of receiving over-the-air firmware updates. Another interesting product unveiled at the CES is the Braven Bridge which has been designed for executives to make loud and clear conference calls while on the road. Stylishly designed, the device features dual omnidirectional microphones built into an aluminum body with leather accents. The noise cancelling technology has been built into the device to improve the quality of the sound. The Braven Bridge has a 2800 mAH battery which can also be used to charge mobile devices.
Via: tuaw