Camping has generally been perceived as a cheaper vacation alternative but the new campers that are now available are sure to turn camping into the ultimate vacation goal. Opera is the new camper that comes with the amenities that allows you to camp without compromising on the luxuries you might be used to. It is campers like these that prove that camping can be fancy and match up to the luxury lifestyle you are used to. Opera is a camper you would like to show off. It is obviously inspired by the Sydney Opera House but it is like other mobile homes that pop out of the trailer and expand into a temporary home.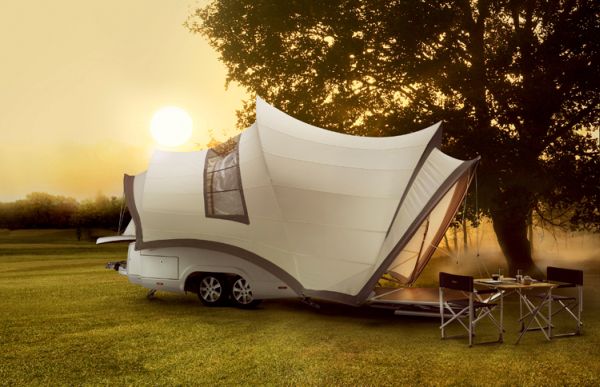 The Camper Features a Large Baggage Area
The new luxury camper has been designed by Your Suite in Nature. YSIN was founded in 2008 and has since been striving to transform camping into a luxurious adventure. Their Opera camper comes with a compass on the exterior to help you place it in the direction of the rising sun to enable you to keep the veranda section of the camper nice and warm. The baggage area of the camper has been positioned in a way that it is accessible both from inside and outside. The space is large enough to accommodate all sorts of things including folding chairs and other items to make your stay more comfortable.

The Kitchen Cupboard Accommodates all Appliances
There is a provision of a multifunctional outdoor kitchen in Opera. It comes with options of a piezoelectric 2-pit stove, piezoelectric gas barbeque and charcoal barbeque. It is good enough to allow you to cook gourmet meals. The stoves can be connected to your car's gas supply thus saving you the hassle of carrying additional gas cylinders. The kitchen cupboard is suitably designed to accommodate all the equipment and appliances. The sleeping area of the camper features two electronically adjustable single beds which can be brought together as a double bed. The bathroom has a ceramic toilet and a Corian fountain head. The camper also boasts of a top loading, 36 liter refrigerator and a boiler to meet your hot water needs. Opera has been priced at $37,000 and should become available for sale soon.
Via: justluxe