The renowned yacht designer Christian Grande has created a masterpiece for the award winning Italian actor Pierfrancesco Favino. They have named it the Picchio Boat which could be literally translated as the Woodpecker Boat. Call it by any name but it is definitely a 'Dream' boat. The luxurious concept boat has been developed on a catamaran and features large living zones, natural wooden decking, luxury furnishings and a stunning glass-bottom master bedroom. The shape of the boat is a little unusual for a yacht but the space is well utilized and luxuriously done up. The inputs from the actor has enhanced the luxurious elements of the boat and made it one of the best designs in its class.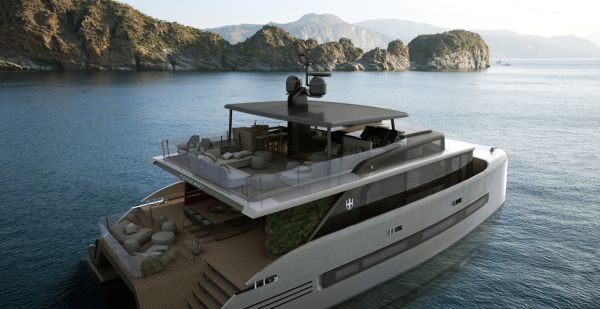 The 21 Meter Vessel Has All the Amenities of a Holiday Home
The 21 meter or 71 feet long vessel has been designed as a floating holiday home. The designer has taken the basic catamaran structure but turned it into a luxury home. The aim of the designer was to create a boat that would not only accommodate a young family comfortably for a long period of time but boast of features and amenities that would make their stay on the boat memorable and enjoyable. The Picchio Boat boasts of a large rooftop deck with kitchenette, large outdoor and indoor living zones, indoor dining room, kitchen, guest bedrooms and a fully equipped master bedroom. The highlight however is the stunning glass-bottom flooring in the master bedroom and the main living room which gives you remarkable views of the sea below.
The Cost of the Concept Boat Not Declared by the Designer
Christian Grande, the designer pointed out that he wanted to create a sort of recreational island to live in and not something to boast about or show off. The Picchio Boat also boasts of some customized features like high bulwarks, removable canvas sun protectors, two vertical garden walls and a large children's play room with foldaway berths. There is room for guests also on the boat as it features two guest suites with private ensuites. The designer or the owner of the concept boat has not disclosed the cost involved in creating the boat or if there are plans to commercially produce the Picchio Boat.

Via: gizmag