The Greek private island where Jackie Kennedy married Greek shipping tycoon, Aristotle Onassis was recently sold by his sole surviving heir, his granddaughter, Athina Onassis Roussel. The island off the West coast of Greece was bought by Russian billionaire Dmitry Rybolovleva's 23-year-old daughter Ekaterina Rybolovleva for a staggering £100 million. Called Skorpios, this kilometer long island has three houses, a boat quay and a helicopter pad. Onassis had bought the island way back in 1962 for 3.5 million drachmas or £10,000. He married Jackie Kennedy at this very island in 1968, who was the widow of US President, John F. Kennedy who had been assassinated in 1963. The couple married in a Greek orthodox ceremony, which was attended by her parents, JFK's sisters and her children. She wore a beige lace gown designed by Valentino.
After Onassis' death in 19 75, Skorpios passed on to Christina Onassis, his daughter from his first wife, and then to Christina's daughter, Athina. Mr. Onassis is buried on this island, along with his son Alexander and daughter Christina. Mrs. Onassis Roussel, 28, as the only surviving descendant to her grandfather is the heir of his entire fortune. She was born in France to Christina Onassis and Thierry Roussel, her fourth husband. Athina competes as a show jumper under the name Athina Onassis de Miranda. In 2005, she married Alvaro de Miranda Neto, a Brazilian Olympic show jumper. She currently resides in Sao Paolo with her husband.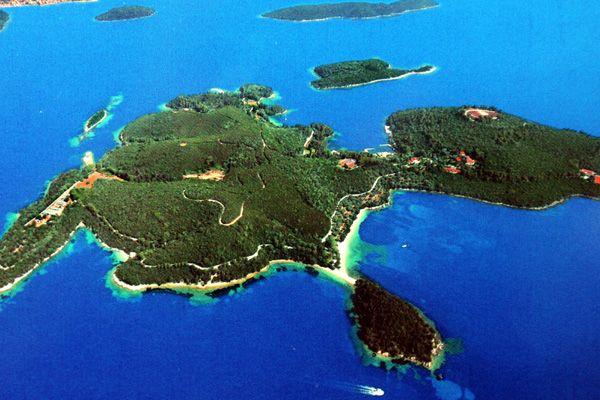 This won't be the first uber expensive purchase for Miss. Ekaterina Rybolovleva. Last year, she grabbed headlines with the purchase of her $88 million New York apartment, making it the most expensive New York apartment till date. She, much like Athina is an avid equestrian. Her father, Dmitry Rybolovleva is the 79th richest person in the world according to Forbes. He made his fortune during the privatization phase after the demise of USSR. He was the owner of the fertilizer company Uralkali and currently owns the AS Monaco Football Club.
Via: Independent , HelloMagazine