50 Cent Biography
Born Curtis James Jackson III in South Jamaica, a neighborhood in New York City's Queen's area, 50 Cent had a difficult childhood. His mother Sabrina was a teenager when Curtis was born. The boy grew up fatherless. To make bad matters worse, Sabrina was a cocaine dealer. She died amid unnatural circumstances in the year 1988. Curtis, who was all of 12 years old at the time, was sent to live with his grandparents. By this time, he had already ventured into the shady world of drug dealing. He was arrested in the tenth grade, but that did not deter him from narcotics. By the time he turned 18, he was taking home $5,000 a day merely by selling cocaine and heroin; not quite the route one would expect a future millionaire rapper to take.
Curtis used to rap while in high school. However, his journey to becoming one of the richest rappers in the world began in 1996, when he began rapping in a friend's basement. By 1999, 50 Cent had signed a deal with Columbia Records. His unofficially released album Power of the Dollar (2000) featured eighteen original tracks. "How to Rob", a single from this album, brought 50 Cent to the notice of other hip-hop and rap stars.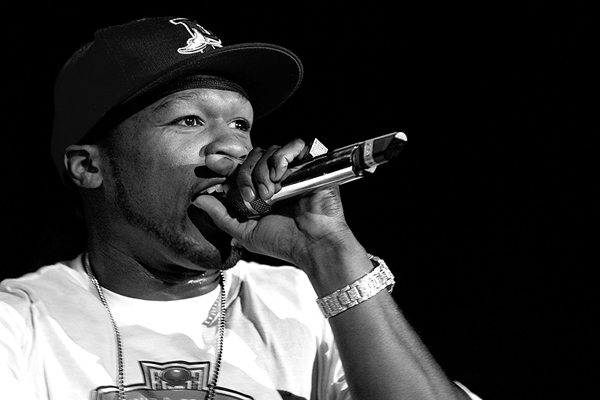 Unfortunately, his earlier nefarious connections in the narcotics business led to his being shot nine times in April 2000, outside his grandmother's home. The attack sent him to hospital for 13 days. When he came out, he had lost a tooth and part of his gums, and a bullet piece remained lodged in his tongue. The injuries proved to be an advantage for 50 Cent. Soon after the accident, he said, "There's a different sound now when I talk, 'cause of the air around the tooth." As he put it, "Gettin' shot just totally fixed my instrument."
The next few years was integral for the growth of 50 Cent music. One of the rapper's best mixtapes from the period – No Mercy, No Fear (2000) – was recorded with his G Unit crew. Guess Who's Back? also earned him fans. It was around this time that Eminem praised 50 Cent's style of music. Eminem and rapper-producer Dr. Dre helped 50 Cent sign on with Shady Records and Aftermath Entertainment. The official debut 50 Cent album, Get Rich or Die Tryin', released in February 2003. With tracks like "In Da Club" and "P.I.M.P.", the album was a blockbuster hit. 50 Cent was well on his way to becoming one of the richest rappers in the business. His second album, 50 Cent The Massacre, sold 1.14 million copies in the first four days. He also became the first solo artist ever to have three singles dominating the top five of the Billboard 200 in the same week. These numbers were "Candy Shop", "Disco Inferno", and "How We Do".
Since then, 50 Cent has gone from one success to another. He has his own clothing line, a PlayStation game, a semi-biographical movie on his life and his own record label G Unit. By 2007, Forbes had already named him the second wealthiest rapper in the world with $32 million to his name. Coming in first on this list of "Hip Hop Cash Kings" was Jay-Z.
The last album released by 50 Cent is Before I Self Destruct (2009). The millionaire rapper had revealed that he was planning a new album entitled Black Magic. However, that has since been shelved. Fans will have to wait longer for that next 50 Cent release.
Age: 36
Date of Birth: 6 July 1975
Place of Birth: South Jamaica, Queens, New York City, N.Y., USA
Occupation: Rapper, Actor
Net Worth: $700 million
50 Cent Home
There is no doubt that 50 Cent is one of the richest celebrities in the world. With a net worth hovering in the region of $700 million, this wealthy rapper can buy property wherever he pleases. 50 Cent probably has real estate investments scattered across America and elsewhere, but the most prominent of these is his home in Farmington, Connecticut. Known as Farmington Mansion, this 50 Cent home was reportedly purchased for $4.1 million. How did 50 Cent swing such a sweet bargain, especially since the 50,000-square-foot home that once belonged to boxer Mike Tyson was originally listed at $25 million?
This elaborate mansion would have been ideal had 50 Cent wanted to throw a biggish party. Not too many other homes boast of 19 bedrooms, 37 baths, four kitchens and five Jacuzzis. The highlight of the large dining room is the spectacular Baccarat chandelier. There is also a gym so that the resident millionaire and his equally wealthy guests need not compromise on their workout routines. If they seek light entertainment, there is a movie theatre within the premises. Also part of the picture is a stunning outdoor infinity swimming pool. There is also a fountain and a one-acre koi pond, if the rapper wants to stem his famous anger while penning typical 50 Cent lyrics. We hear there is also a dance room with stripper poles.
However, the millionaire rapper has not been so enamored of this Farmington home to want to live here forever. In fact, Farmington Mansion has been on the market for a while now. The property was originally listed at $18.5, but the price has fallen several times since its wealthy rapper owner placed the "For Sale" sign.
50 Cent Cars
If you have been asking "Who is the richest rapper?", peeking in on their car collections should give you a pretty good inkling. We looked in at the six cars of 50 Cent that have made news over the years. Now its your turn to sneak a peek.
1. Pontiac Firebird Trans Am
The millionaire rapper drove his Pontiac Firebird Trans Am to celebrity status on the MTV Cribs show. This super-stylish car is a credit to 50 Cent's car collection. We love the kidney grill inserts and the off-beat headlights. However, while he is driving this baby, 50 Cent is likely to be most kicked about the top end instrument panel. There is plenty of space inside, which makes this a luxurious and comfortable car to drive around.
2. Ferrari 599 GTB Fiorano
You may have spotted the millionaire rapper's red Ferrari 599 GTB Fiorano during its appearance on MTV Cribs. This model from the house of Ferrari comes fitted with a 5999cc V12 engine that promises 620 hp at 7600 rpm. Its selling point, of course, is the speed quotient. We hear that this baby goes from 0 to 62 mph in 3.7 seconds. As for the top speed, the Ferrari 599 GTB Fiorano hits 205 mph. Molded leather and carbon fiber seats provide some of the luxury quotient.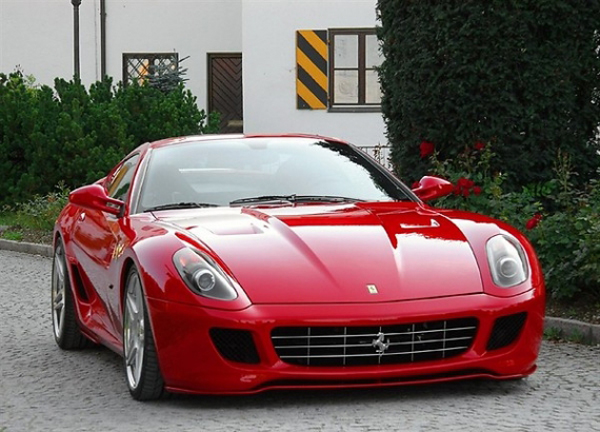 3. Ferrari F50
According to the Urban Dictionary, Ferrari F50 is one of the nicknames for this rich rapper. It is also the name of a super-sporty vehicle that holds pride of place in the 50 Cent garage. Apparently, 50 Cent has nicknamed his Ferrari F50 "Curtis", after himself. This two-seater vehicle with a detachable hardtop is one of the rapper's favorite vehicles. With a top speed of 236 mph and the ability to go from 0 to 60 mph in a matter of 2.9 seconds, this car is every car buff's dream come true. If you have been dreaming your millionaire dreams, this beautiful car with incredible brakes and aerodynamics is perfect for the millionaire garage.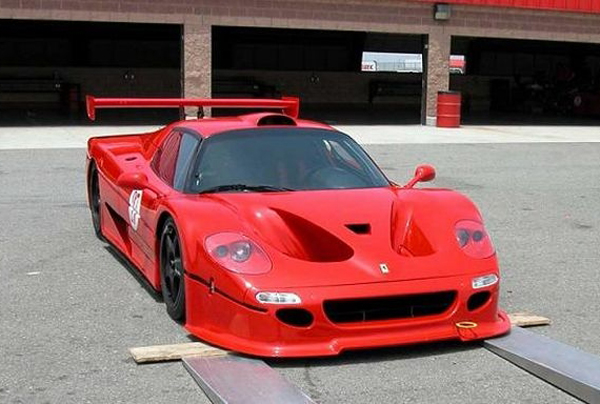 4. Pontiac G8
In 2007, a 50 Cent music video showed off the Pontiac G8. However, the richest rappers cannot be expected to be content with an regular Pontiac G8. Enter the 50 Cent edition. The rapper joined hands with New York-based car tuners Unique Autosports to create a unique vehicle. This custom-made car runs on a LSX 427 engine that produces over 500 hp. Even the exterior paint is custom-made and lovers of luxury will love the perforated red leather inserts on the standard seats. And since this is a rapper's car, it comes with an impressive 800-watt JBL audio system.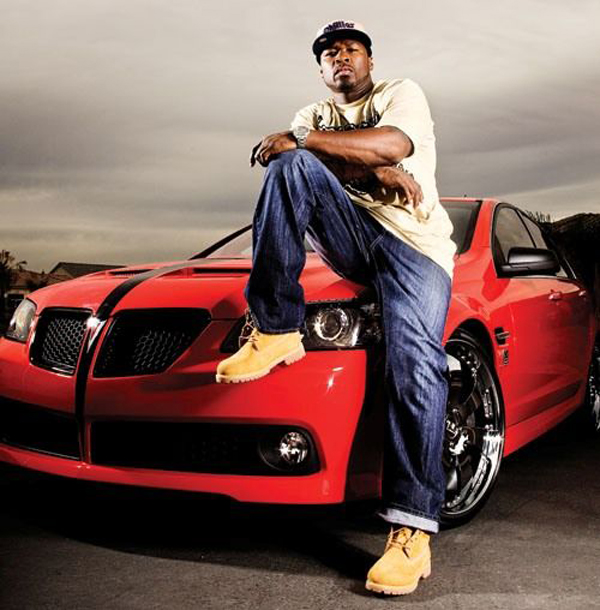 5. Rolls-Royce Phantom
A couple of years ago, some papers reported how 50 Cent apparently got locked out of a Rolls-Royce Phantom. There is no question that this is one beautiful vehicle. There were reports in 2006 that the rapper wanted to fit his Phantom with a drop top. He reportedly said, "I want something more sporty. I'm not an old man. That's why I wanna chop the roof off it." Whether 50 Cent managed to get his way or not, it is unarguable that the Rolls-Royce Phantom is one of the biggest names in luxury. High-quality leather highlights the inner woodwork and the classic gauges. Of course, the car drives like a dream.
6. Lamborghini Murcielago
One of the highlights of the 50 Cent car collection was the Lamborghini Murcielago. This beautiful model from the Italian carmaker boasted of a 6.5l V12 engine that produced 640 bhp power. Outward appearance was the USP of this marvelous vehicle. The chrome finish involved the use of a chrome style paint called MiraChrome. The luxurious interiors included automatic climate control among other things. However, this stunning vehicle is no longer part of the 50 Cent collection. It was sold on eBay in August 2007 for $310,000. The current whereabouts of the car is not known.
50 Cent Holidays
Last year, 50 Cent was spotted holidaying on the beaches of Capella Pedregal in Cabo San Lucas, Mexico. He was busy doing a photo shoot of his latest squeeze on the beautiful shores of Capella Pedregal. The five-star resort at Capella Pedregal offers a range of luxurious rooms, suites and residences. The magic of this beach destination is that it is highly exclusive. If, like 50 Cent, you are one of the richest celebrities in the world, you will revel in the privacy amid stunning locations. The luxury resort houses a top-notch fitness center, while the suites come with private pools, entertainment gadgets and wifi connectivity. The resort is itself carved into the cliffs, helping it blend into its surroundings.
50 Cent Brands
The top richest people are known for their weakness for and links with certain brands. Check out the leading brands on 50 Cent's list.
1. 50 Cent Wireless Headphones
Of all the things that a millionaire rapper should be associated with, wireless headphones are right on the money. The Sync by 50 SMS-WS wireless headphones released last year amid great hype. The higher end model is priced at $399, a price that should make die-hard 50 Cent fans with money to spare to splurge on these babies. If you are a $100 short, there is a cheaper version – Street by 50 – available at $299. These 50 Cent headphones come in two variations – gloss black and gloss white. Given the 50 Cent branding, maybe they play hip-hop better?
2. Krieger Watch
Heavy-duty rappers who figure on "Richest Rapper" lists generally go high on the bling. On a more subtle level, the bling is derived from watches. Millionaire rapper 50 Cent also has his favorites. The hip-hop star regularly wears Krieger watches. The Swiss watch brand is known for its innovative designs and high quality craftsmanship. No wonder it has won so many fans around the world. The 50 Cent connection certainly helps.
3. Dita Eyewear
Sunglasses are a big deal for the richest celebrities. On his part, 50 Cent is often seen donning high-end sunglasses to frame his face. However, one of his pet picks seems to be Dita Eyewear. The Los Angeles based company has created some of the coolest shades in recent times. We love how its designs are meticulously hand-crafted within workshops in Japan, before being shipped to LA for testing, and before being bought up by the biggest stars in the business.
4. True Religion
The millionaire rapper is often spotted in denims, which warrants the question, "What is his favorite denim brand?" The hip-hop star is known to be a big promoter of True Religion jeans. He is often spotted in them. It is quite appropriate too, the brand is famous for its high-quality jeans.
50 Cent Causes
Which causes are closest to the millionaire musician's heart? Have a look.
1. Shriners Hospital for Children
Many of the richest Americans lend support to the Shriners Hospital for Children. Since the first Shriners Hospital was established in Shreveport, LA in 1922, the charitable hospital has grown into a large chain that is dedicated to providing free medical facilities to children below the age of 18.
2. New York Restoration Project
50 Cent is also associated with the New York Restoration Project, a project that was founded by actor Bette Midler in 1995. The project is dedicated to keeping New York green. From cleaning local parks to saving community gardens, the New York Restoration Project is doing its bit, "Greening New York City one block at a time."
3. Life BEAT
The tagline of Life BEAT is "Music fights HIV". The organization has been associated with some of the biggest names in the music industry. The aim is to spread awareness about HIV prevention and provide support HIV+ individuals. 50 Cent is not alone in this movement that has  garnered support from stars like Kanye West, Elton John and Mary J Blige.
4. G-Unity Foundation
50 Cent is very closely associated with the workings of the G-Unity Foundation. He sits on the board of directors for the organization, with people such as Lloyd Banks and Tony Yayo. The organization is committed to better the life of communities that suffer from the twin problems of low income and being underserved.