Calvin Klein Biography
Calvin Klein was born to a family of Jewish-Hungarian immigrants. His middle-class roots paved the way for him to eventually become one of the most famous fashion designers in the world, and also one of the top richest people in the fashion industry.
That Calvin was destined for a place in the world of fashion was evident when he was quite young. While boys his age went out to play, Calvin Klein was busy sketching women's fashions. In time, he would follow his passions and enlist in the High School of Art and Design to improve his skills. After getting his degree, he decided to study apparel design at the New York Fashion Institute of Technology. As it turned out, the man who would become one of the most famous fashion designers did not graduate. He dropped out of the institute in 1962, without taking a degree. However, his talent and lifelong achievements eventually led to the institute conferring an honorary doctorate on the designer in 2003.
Why did Calvin Klein drop out in 1962? He decided to take on the job of an apprentice designer under Dan Millstein. Six years later, he felt ready to start his own venture – Calvin Klein Limited was born in 1968 with CK's friend and financier Barry Shwartz as partner. The first Calvin Klein store opened up in York Hotel. In time, Calvin Klein's sleek and wearable designs brought him regular features in the pages of leading fashion magazines like Vogue and Harper's Bazaar. The designer was already on his way to achieving millionaire status. His clean lines were a big hit, and many were already comparing him to Yves St. Laurent. In 1973, he became the youngest designer to win the Coty Award.
CK was the brain behind the tight jeans that took the world by storm in the early 1970s. Ad slogans like "Nothing comes between me and my Calvins" made Calvin Klein a household name. This was his first mainstream success, and there was no looking back.
Today, the Calvin Klein empire has expanded beyond apparel to include swimwear, perfumes, accessories, watches and more. A CK watch is just as desired as CK eyewear these days. The company records over $6 billion in annual sales. Ownership has changed, with Phillips Van Heusen Corporation acquiring the company in 2002, but Calvin Klein continues to reign as creative head of the enterprise. After all, Calvin Klein the brand would never be the same without Calvin Klein the man leading it.
Calvin Klein married and divorced twice. His first marriage was to Jayne Centre Klein in 1964. The couple have a daughter Marci. The couple divorced in 1974. 12 years later, the millionaire designer entered his second marriage with Kelly Rector, who was working for Calvin Klein Inc. at the time. The couple ended their marriage in 2006.
Age: 69
Date of Birth: 19 November 1942
Place of Birth: The Bronx, New York City
Occupation: Fashion designer
Net Worth: $700 million
Calvin Klein Homes
1. Southampton Estate
Many were upset when Calvin Klein tore down the famous Dragon Head mansion at Bridgehampton in 2009. The mansion, which started life in the 1920s as the Chesterton Estate, was set to rise again in a new avatar. The building authorities did not protest because the home was not deemed historically significant, and therefore, worthy of conservation because previous owners had made huge changes to the interiors.
The original Dragon Head mansion was built by Henry Francis Du Pont, of the famous Du Pont family of America. Later owners like financier Barry Trupin made their own additions to this 1920s home. One owner even constructed a turret, just for show. The mansion also housed spires and an indoor saltwater aquarium. As Calvin Klein reworks the property, it became clear that the grand old world style would be replaced by a more modern, streamlined, typically CK vibe. East Hampton's Michael Haverland is his architect of choice.
The new home is expected to be far less grand, at least in terms of size. Calvin Klein is planning to build within a 1,700-square-foot area. Some reports suggest that he plans to build three buildings on the property and that these will be linked via an underground tunnel. Once ready, the CK home will be only a third of the original mansion.
2. Bridgehampton Home
This fashion designer's Bridgehampton property spans a total of one acre of space and is very close to his Southampton estate. The compact little house (by millionaire standards, that is) offers 4,000 square feet of space. Being a millionaire, Klein had no trouble at all in buying this home for $2.15 million. He is reported to spend close to $170,000 per year for this property.
The Bridgehampton home stands on West End Road in East Hampton. The home has impressively high ceilings and houses six bedrooms, four bathrooms and a three-car garage. The marble baths, bluestone patios and stone fireplace emphasize that this is indeed the home of one of the richest people in the world.
Naturally, Calvin Klein will be rubbing shoulders with some equally well-to-do neighbors. Celebrities like Jerry Seinfeld and Martha Stewart, who rank among the richest people in the world, also own homes in the area.
Calvin Klein Yacht
If you are one of the most famous fashion designers in the world, one that earns in millions, you will naturally want to buy a yacht of your own. Millionaire fashion guru Calvin Klein is no different. His superyacht Vantage hails from the shipyards of Palmer Johnson and stretches out to an impressive 4.57 meters in length.
In 2011, the fashion designer showed off his sophisticated yacht to full effect, drawing plenty of press flashes as well. Calvin Klein's party onboard Vantage on the opening night of the 2011 Cannes Film Festival drew plenty of high-flying celebrities and some of the richest people of the film world. Millionaires and wannabe millionaires chilled onboard the luxury yacht with glasses of expensive champagne for company.
Vantage is a terrific toy for a fashion-loving millionaire like Calvin Klein. The superyacht houses relaxation pads and a Jacuzzi for guests looking to lounge around. Food and wine lovers can flock to the bar and check out the meats on the barbecue on board.
The two-deck yacht houses six cabins, done up in a cream and brown palette, that can accommodate up to a dozen guests. Expensive carpets adorn the cabins, another reminder that this boat belongs to one of the richest people in the world. Of course, there is plenty of space for entertaining many more guests, as must have happened on the night of the 2011 Cannes party. The main deck offers stunning views of the seascape. Moreover, the skylights on the roof allow for plenty of natural light to enter.
On the technical side, Vantage runs on twin diesel engines that fetch top speeds of 25 knots and have a fuel capacity of 8,798 USG.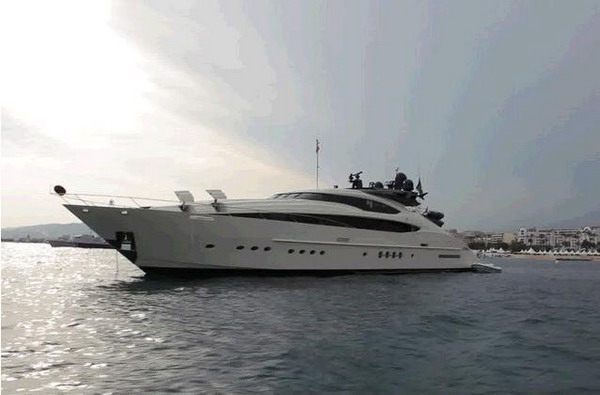 Calvin Klein Cause
The cause that is closest to this fashion designer's heart is conservation, specifically, conservation of the Asian elephant, a species that is currently on the endangered list. Calvin Klein is one of the celebrity supporters of Elephant Family, an Asian elephant conservation group that was set up as recently as 2002. Elephant Family is presently the only United Kingdom-based charity that is solely dedicated to saving the Asian elephant. The organization launched this fight on a multi-pronged level, tackling such issues as elephant smuggling, ivory poaching and elephant electrocution among other things, while promoting human-elephant coexistence. Other celebrities associated with the Elephant Family include the multitalented Stephen Fry, fashion designer Tommy Hilfiger, and royals like Princess Beatrice and Princess Eugenie.