Li Ka-shing Biography
Born in the year 1928, Li Ka-shing is the ninth richest person in the world according to Forbes, with an estimated net worth of $25.5 billion. Currently holding the title of the richest person Asian origins, Mr. Ka-shing is the owner and chairman of the globally renowned Hutchison Whampoa Limited (HWL) as well as Cheung Kong Holdings. These two business empires are predominately focused in the fields of container terminals, along with health and beauty retail, thereby making them the world's biggest operator of container terminals as well retailers of health and beauty products. Li Ka-shing comes from Teochew lineage and was born in Chaozhou in Guangdong province of China. At the tender age of 15, Mr. Ka-shing was forced to shoulder family responsibilities shortly after the demise of his father, which led to discontinuation of his school education. Li started his career in a plastic trading company where he worked as an employee, investing 16 hours a day. Then in the year 1950, Mr. Ka-shing established his own company by the name of Cheung Kong Industries that started off as a plastic manufacturing firm. Soon the company stepped into the highly lucrative field of real estate investment in Hong Kong and by the year 1972, Cheung Kong Industries established itself as a reputable listed entity at the Hong Kong Stock Exchange. Then, in the year 1979 Li Ka-shing expanded his corporate portfolio with the acquisition of Hutchison Whampoa and also took possession of Hongkong Electric Holdings Limited in the year 1985.
By the time Li Ka-shing posted himself as a formidable figure in the corporate world, his business empire had made a fortune by establishing a strong presence in the fields of satellite television, cement production, retail outlets, banking, construction, real estate, plastics, cellular phones, electric power, steel production, ports, and shipping etc. The entire Cheung Kong Group is known to employ a monumental work force of 270,000 people, spread across some 53 countries, while the conglomerate itself owns substantial stakes in about 12 listed companies across the globe.  Mr. Ka-shing began his entrepreneurial career in the year 1950 with the establishment of Cheung Kong Industries. Following the formation of the company, Li incorporated lessons learnt in the plastic trading field and decided to focus on the supply of high quality plastic flowers at low prices. After intensive research and hard work, Mr. Ka-shing finally grabbed a surplus order from a foreign client and in a span of few years turned his humble business into Asia's largest supplier of plastic flowers. To achieve this level of success, Li decided not to rush into pre-mature production, but focused on creating a workshop that met exceptional standards, by conductive an extensive retooling, as well as hiring only the best of technicians. In the year 1958, this Asian billionaire received his first taste for real estate, when he had to purchase a piece land and create an all new infrastructure for his company, due to the expiration of his deed. Thus began his relentless property acquisition drive, which included small parcels of land acquired by Li and by 1971, he has established a separate real estate firm in the form of Cheung Kong Holdings.  In the year 1979, Li Ka-shing made his most successful acquisition till date, when he purchased Hutchison Whampoa Limited from HSBC that in turn became the billionaire's flagship company. At that time, Hutchison Whampoa Ltd. was heavily dedicated to the field of container port facilities along with various other industry verticals. As a result. Mr. Ka-shing became the owner of an empire that was spread across various business categories, while the Hutchison itself had investment interests in various countries such as, China, Canada, U.K, Bahamas, Panama etc. along with several other developing nations.
In the retail sector, under the able guidance of Li Ka-shing, Hutchison Whampoa via its subsidiary A.S. Watson Group established itself as one of the leading retail operators in the world with about 7,800 stores scattered across the Europe and Asia. The A.S. Watson Group is comprised of several major European retail brands, such as the likes of Marionnaud, Superdrug and Kruidvat etc. while also encompassing Asian health & beauty retail chains, Watson's (Your Personal Store), PARKnSHOP, Great Food Hall and TASTE etc. With the massive boom of the Internet, Li-Ka-shing decided to invest into the digital world as well and via his charitable organization Li Ka Shing Foundation, acquired 0.8% in the social networking behemoth, Facebook Inc. for about $120 million. Other notable investments by Li in online entities include a $50 million investment in Spotify, $15.5 million investment in Siri Inc. and in the year 2011, the Hong Kong billionaire made an investment in Summly, which made the latter's founder Nick D'Aloisio, just 15 years of age to become the world's youngest person to receive a venture capital investment.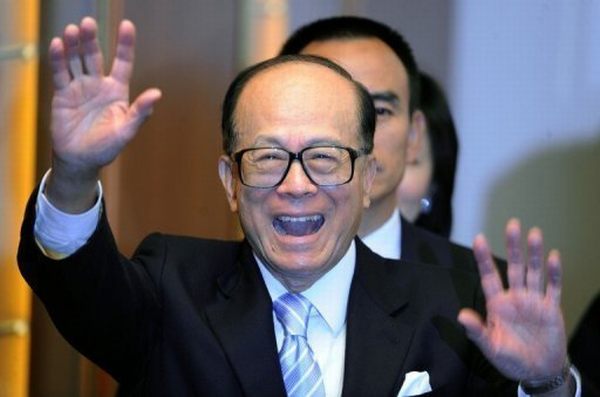 In his personal life, Li Ka-shing is an epitome of simplicity, one who refuses to invest in anything personally flashy and is known to be quite a humble individual. Besides his luxury house located at the prestigious Deep Water Bay in Hong Kong, Mr. Ka-shing is said to have always been dressed in modest suits with conventional ties and simple black dressing shoes that are equally complemented with an inexpensive Seiko brand wrist watch. At the age of 84, Li Ka-shing is a widower and never remarried after the demise of his wife Chong Yuet Ming. The couple were blessed with two boys Victor Li and Richard Li, wherein the former works Mr. Ka-shing at Cheung Kong (Holdings) Limited in the capacity of managing director and deputy chairman, while Richard Li serves as the Chairman of PCCW, which is the largest  telecom company in Hong Kong. Even though Li Ka-shing is 84 years old, yet for a man of his age, he is remarkable fit and adhere to strict daily physical exercise routine that involved an hour and a half of golf, as well as 15 minutes of treadmill powerwalk every day. Due to his immense success, an impeccable reputation and his continued efforts in the field of philanthropy, Li Ka-shing has been bestowed upon with  numerous grand honors, including the 'Knight Commander of the Order of the British Empire', the 'Grand Bauhinia Medal' and is also an honorary 'Commandeur, Légion d'honneur' of the French Legion of Honor.
Li Ka-Shing
Current Position: Chairman, Hutchison Whampoa Limited
Age: 84
Nationality: Hong Kong
Source of Wealth: Hutchison Whampoa Limited
Net Worth: $25.5 Billion
Education: High School (Drop Out)
Marital Status: Widowed
Children: 2
Li Ka-shing Philanthropy
Quite like the previously featured billionaires, the richest person in Asia, Li Ka-shing besides his over the top entrepreneurial skills is also highly revered for his affinity towards philanthropy. Considered to be one of the world's leading philanthropists, Mr. Ka-shing has so far donated in excess of $1 billion to various causes, charity organizations and educational as well as medical institutions, besides tuning his philanthropy organization in the form of the Li- Ka Shing Foundation. As in the case of investment guru and renowned billionaire Warren Buffett, Mr. Ka Shing too stunned the world in the year 2006, when he announced a pledge to donate one-third of his fortune to charity, which stands at more than $10 billion. His philanthropy drive began in the year 1981, when Li Ka-shing donated a considerable sum of money that helped pave the way for the construction of  Shantou University in the Chaozhou region of China. Besides the various charity programs running Li's native country China, the Asian billionaire is also widely active in other projects spanned across the globe. In the year 2002, Mr. Ka-shing donated $8 million to the Li Ka Shing Centre in Cambridge, England and established  a Cancer Research facility that continually collaborates with the University of Cambridge. That very same year, halfway across the globe in Singapore, Li Ka-Shing inaugurated the Li Ka Shing Library at the Singapore Management University after donating $11.5 million.
The year 2005 witnessed a staggering $128 million donation from Li-Ka Shing to the  Faculty of Medicine at University of Hong Kong and the subsequent year, the educational wing was renamed to  Li Ka Shing Faculty of Medicine. Li's passion towards advancements in various scientific fields led to a $40 million donation to the University of California, Berkeley in the year 2005. The donation was aimed at further boosting the institution's research capabilities in the realm of biosciences. This generous offering was immediately recognized by the university, which in turn names the new biosciences facility the Li Ka Shing Center for Biomedical and Health Sciences. Li Ka-Shing is also known to be a great admirer of Stanford University and as a result donated handsomely towards the creation of Li Ka-shing Center for Learning and Knowledge that is part of the university's School of Medicine. Continuing his efforts towards better health standards,  Li Ka-Shing donated $26 million to the  St. Michael's Hospital in Toronto, Canada, where in the funds will be used to construct  the Li Ka-Shing Knowledge Institute that will take the form of a  medical research and education center. In the year 2007, Mr. Ka-Shing also donated an incredible $100 million to the  Lee Kuan Yew School of Public Policy in the National University of Singapore, while also actively taking part in the relief efforts for the victims of  2008 Sichuan earthquake with $4 million donation towards the relief and rehabilitation of the affected.
However, the throne of Mr. Ka-shing's philanthropy realm remains the Li Ka-shing Foundation. Located in both Hong Kong and Canada, this charitable organization was founded and established in the year 1980 by Li Ka-shing himself. The primary objective of the foundation is to raise awareness towards numerous charitable causes and to spread the need to "give." Since its establishment, the Li-Ka-shing Foundation has been heavily active in the fields of education, healthcare etc. while also ensuring that the public at large is continually aspired of the need for charity as their duty. Besides its continuous efforts in the fields of medicine, healthcare, education and cultural programs, the Li Ka-shing Foundation is also been active in disaster relief, especially in Mainland China, where it has donated a significant sum of money for rehabilitation of victims of numerous natural disasters. To ensure that residents of Mainland China are provided with the best of healthcare, Li Ka-shing Foundation donated an additional $14 million to the country, where in the funds were allocated towards  providing treatment to cancer patients, who are in need of financial assistance. This unique initiative was termed as the Ning Yang Service Plan and was put into effect in the year 1998 in the Shantou  region of China. Each of the institutions operating under the name of 'Ning Yang' receives approximately $152,000 in annual aid and the number of such institutions has now risen to 20, while covering 130 regions in Mainland China. The Li-Ka-shing foundation continues to focus its efforts in the field of philanthropy all over the globe, while maintaining its focus on Hong Kong and China. The foundation is also well renowned for its donation of a staggering $258 million to various education programs in Hong Kong since the year 2000.
Li Ka-Shing Private Jets
Gulfstream G550
Price: $50 Million
Designed and developed by Gulfstream Aerospace, the Gulfstream G550 is a luxury private jet that was conceived as an upgrade to the extremely popular Gulfstream V. Developed as an extended range luxury business jet, the G550 sports state of the art technology, including that a military grade heads up display (HUD), while offering the guests an opulent setting for their journey. The Gulfstream G550 is powered by two Rolls-Royce BR710 turbofan engines and boasts of a maximum speed of 0885 Mach, while achieving a cruising speed of 562 million. With a price tag of $50 million a pop, the Gulfstream G550 is capable of achieving a range of 12,500 km. The G550 is manned by a crew of two and can easily accommodate 19 passengers, while featuring many modern amenities such as the likes of a fax machine, on-board wireless LAN, satellite communications and even a printer.