The art lover goes to museums and galleries and exhibitions galore. But the rise of world-class art hotels means that they can quench their thirst for quality artworks from the comfort of their hotel rooms. As far as art travelers are concerned, it is no longer enough for a luxury hotel to have a few artworks tastefully displayed in the lobby or in the corridors and other public spaces. Such travelers want a more intimate art experience. They want to immerse themselves in the creativity of artists from the past and the present. Appreciation for the masters of the Renaissance era will never die down, but art hotels have begun to promote contemporary and local artists as well.
In this post, we highlight some of the biggest names in the hospitality industry. Familiar names like Ritz-Carlton, Four Seasons and St. Regis make it to this list thanks to their impressive collections of art. But alongside these established brands we have lesser known names that feature just as much if not greater commitment to the arts. If you have always wanted to experience art from around the world, the names on this list should help you frame your travel bucket list. Have a good time planning your next art vacation.
1. The Ritz-Carlton Millenia
Where: Singapore
The Ritz-Carlton Millenia Singapore is the quintessential hotel for art lovers. The luxury hotel boasts of a 4,200-piece collection of contemporary modern art by several well-known artists including Andy Warhol, Dale Chihuly and Henry Moore among others. Take the art tour podcast to experience this $4 million collection. One of the highlights is the three-dimensional Moby Dick mural by Frank Stella that adorns the Stella room. It forms a swank backdrop for weddings and other events held in the hotel.
2. The Dolder Grand

Where: Zurich, Switzerland
Built in 1899, this art hotel in Zurich houses over 100 enviable works of art sourced from its owner's private collection. Walk down the hallways, into the lobby, the restaurant or the spa, to come face to face with artworks by the likes of Salvador Dali and Damien Hirst. Well-heeled art lovers would do well to book themselves into the Carezza Suite, a room inspired by Swiss artist and sculptor Alberto Giacometti; the sculptural décor is a fitting ode to the Swedish artist.
3. 21C Museum Hotel

Where: Louisville, Kentucky, USA
Not too many hotels can boast of having in-house galleries, but the 21C Museum Hotel certainly can. There is art everywhere in this stunning and stylish hotel – in the rooms, the baths, and the sidewalk. The hotel arranges for rotating exhibits not only limited to paintings but also installations and photographs. The art here is a celebration of both established and upcoming artists. One of the recent highlights of the hotel's art collection is an enormous replica of Michelangelo's "David", created by Turkish artist Serkan Özkaya. Take an iPod art tour while you are here, and make sure to visit North America's first museum to be dedicated to 21st century contemporary art.
4. ARIA Resort & Casino

Where: Las Vegas, Nevada, USA
Las Vegas may not be your first stop for an art hotel, but the ARIA Resort & Casino defies convention. This Las Vegas art hotel is home to several iconic works of art, including Henry Moore's famous "Reclining Figure" outside the lobby. The four-star resort and casino also houses a striking LED installation by American conceptual artist Jenny Holzer; this one sits outside the hotel's nightclub.
5. The Jefferson, Washington D.C.
Where: Washington D.C., USA
The Jefferson in Washington D.C. stands just a few blocks away from the White House. If you want to experience artworks that provide a touch of American history, this art hotel will not disappoint. You cannot miss the numerous busts of the American founders, nor should you come away without having admired the 18th century political cartoons that adorn the lounge and McKenney Hall. While you are doing business in one of the cabinet meeting rooms, take some time to admire the beautiful Indian American engravings.
6. Bellagio
Where: Las Vegas, Nevada, USA
Bellagio, that famous Las Vegas fixture, may be better known for its rip-roaring casinos, but this high-end hotel also houses a valuable art collection. Fans of Impressionist paintings will should head to the hotel's gallery, wherein are displayed 20 Claude Monets, property of the Museum of Fine Arts in Boston. The French connection continues, with the hotel's Picasso restaurant being adorned with original works by the much-valued artist. Even if you do not get that far, just walk into the hotel's lobby to Fiori di Como blown-glass chandelier by Dale Chihuly.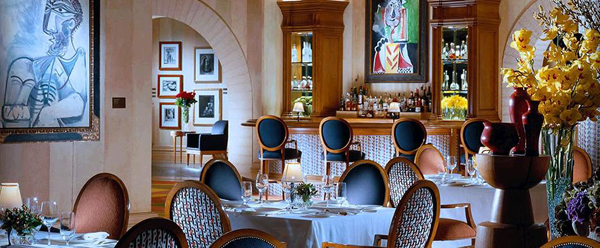 7. Four Seasons Hotel Firenze
Where: Florence, Italy
The hotel comprises a 15th century Italian palace and a 16th century convent. Thus, guests who live here will feel as though they have stepped back in time, to the times when Renaissance art was at its height. Keep your camera handy as you explore this treasure trove of Renaissance art with its painted ceilings, frescos and stuccos, as well as the Renaissance-era sculptures that adorn the 11-acre garden. The lobby features a grand mythological relief dating back to 1555, and painted by one of Michelangelo's teachers, Bertoldo di Giovanni.
8. The Joule

Where: Dallas, Texas, USA
This hotel in downtown Dallas is a celebration of modern art. Walk into the lobby to find the famous "Eye Flower Painting" by Richard Phillips. Grab a coffee at the espresso bar, and your eyes will veer to Andy Warhol's "Electric Chairs". If you loved Barbie dolls growing up, David Levinthal's polaroids of Barbie dolls adorns the hallway on the 10th floor. Artists from Dallas are also exhibited in the lounge and rooms. The website of this luxury hotel exhorts guests to "Stay in Your Own Private Museum".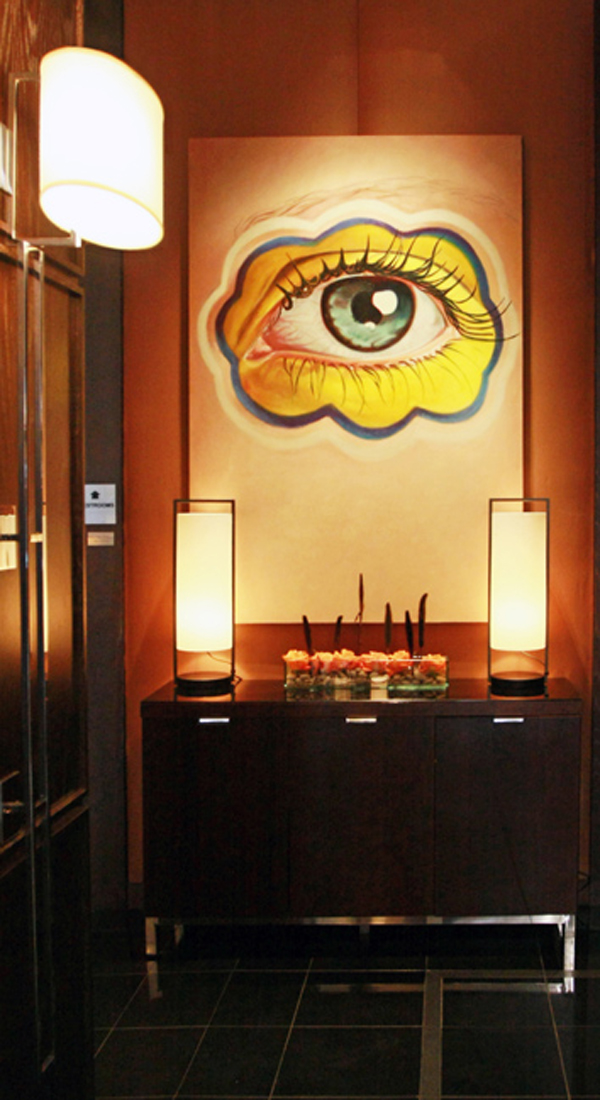 9. The St. Regis San Francisco

Where: San Francisco, USA
San Francisco is well known for its vibrant art scene. And with the San Francisco Museum of Modern Art just next door, connoisseurs of art have much to celebrate when they walk inside the grand doors of The St. Regis San Francisco. The art-friendly hotel greets guests and visitors with a couple of massive artworks, "Love" and "War" by Andrew Morrow. Metal sculptures by German-born American sculptor Hans Schule. Meanwhile, Pascale Giardin's ceramic rose petal installation has formed the backdrop for many weddings.
10. XV Beacon

Where: Boston, Masachusetts, USA
Art is everywhere in this romantic hotel. You will find art in the public spaces, but also in the guest rooms of this 1903 Beaux Arts building. The artists on display at this beautiful four-star hotel include the likes of Martha Lloyd, Joe Greene and Ben Freeman. Jules Olitski's "Green Dot" painting adorns the lobby. For a taste of old artworks, head to the wine cellar of the hotel's restaurant Mooo; the cellar houses mosaics dating back to the fourth and fifth centuries.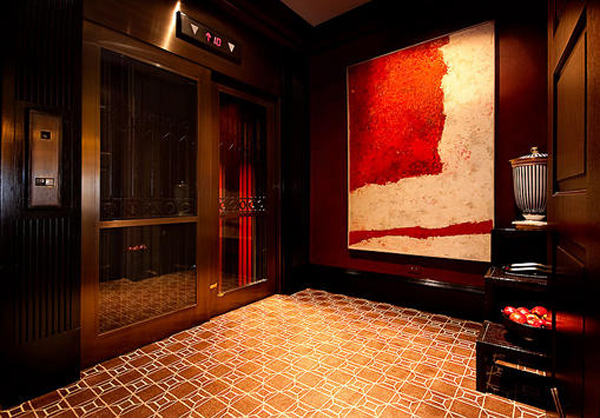 11. Daddy Long Legs Independent Travellers Hotel

Where: Cape Town, South Africa
If you are a backpacker in search of an exceptionally arty experience, set off for this independent traveler's hotel in Cape Town, South Africa. Each room is unique and designed by artists, photographers, musicians, poets, and designers. If you are in the mood for some fun, put up in the Freshroom, which has a Mentos (yes, the mint) inspired retro theme, with even the Mona Lisa holding a pack of Mentos in her hand. Another quirky option is Far From Home, where the dusty wilds of the Karoo play wallpaper.
12. The Henry Jones Art Hotel
Where: Tasmania, Australia
Experience the art of Tasmania while living in the lap of luxury at The Henry Jones Art Hotel. This Tasmanian hotel houses several original contemporary artworks by local artists across its length and breadth. You will find sculpture, paintings, photographs, prints and more wherever you go in this art hotel. Art adorns the rooms, the public spaces, the restaurants and bars. There is even a guided tour to acquaint visitors with the artworks plus a historical perspective. What if you happen to fall in love with a particular artwork? You might be able to buy it. Some of the art displayed in the hotel is available for sale.
13. Hotel Des Arts

Where: San Francisco, California, USA
If you are spending some days at the Hotel des Arts in San Francisco's French Quarter, spare some time to admire the contemporary art by local artists that adorns this art hotel. You will find plenty of artworks adorning the walls. But the art here has an interactive appeal. Cool installations are sure to draw your attention. And even graffiti acquires the status of art. The hotel also hosts exhibitions in its art gallery. Make sure you browse through the hotel's collection of Painted Rooms, which are hand-painted by local artists, and then pick the one that best tickles your fancy.
14. Gladstone Hotel

Where: Toronto, Canada
The Gladstone Hotel is a business venture that is dedicated to being green. It is also committed to promoting art and culture. Each room is unique and carries the style and design perspective of the artists who created the theme. If you are a motorcycle enthusiast, the Biker Room will be right up your alley. The jigsaw-themed Puzzle Room is another great option. You could also try the Felt Room, the Map Room, the Red Room, and many more options.
15. New Majestic Hotel

Where: Singapore
This boutique hotel houses 30 rooms, each of them unique and designed by artists. Browse through the rooms on offer and book one that suits your tastes. You will find a room with a Japanese theme, one that is adorned with mirrors, another that has hidden messages that can only be read while seated on the bed, and so on. If you are in the mood for some arty fun, this is the hotel for you.
16. Arte Luise Kunsthotel

Where: Berlin, Germany
Art lovers headed to Berlin must make a stop and spend a night at the Arte Luise Kunsthotel. After the fall of the Berlin Wall, many artists took up residence in this very building. Since then, the building has come a long way, transforming into a high-end hotel, but never forgetting its creative roots. As in some of the above mentioned entries, each room is designed by a different artist and has its own unique theme. The rooms are fun and quite an experience. Try the Safari themed room or the one with the illustration of the "wall jumper" who scaled and cross the Berlin Wall. There is even one Vincent van Gogh theme.
17. Hotel Fox
Where: Copenhagen, Denmark
21 artists have contributed 1,000 ideas to the 61 rooms in this beautiful art hotel in Copenhagen, Denmark. The rooms are young, funky, very creative and great for photo ops when on vacation. You will find Japanese Manga, street art, fairytales, and more in this offbeat hotel that prizes creativity above all else. As the hotel's website promises, "You haven't seen anything like it."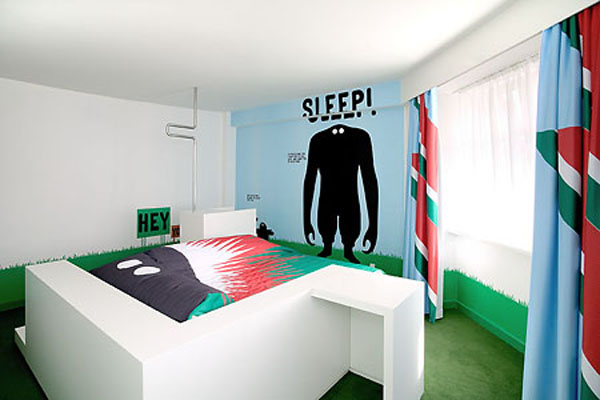 18. Kosta Boda Art Hotel

Where: Kosta, Sweden
Are you fascinated by glass art? Then you should add "holidaying at the Kosta Boda Art Hotel in Sweden" to your travel bucket list. You will find plenty of glass art installations located throughout the hotel. The boutique hotel also organizes glass-blowing workshops – a cool skill to pick up while on holiday. Sip some cocktails at the glass bar, and then head off to one of the glass art exhibitions on the premises. Moreover, the Kingdom of Crystal is also nearby.
19. Propeller Island City Lodge

Where: Berlin, Germany
Living in the Propeller Island City Lodge is like living in an art installation. German artist Lars Stroschen was responsible for the design of each room, a herculean task given that each room is drastically different from the others. So you will find a room with a flying bed, one where everything is topsy-turvy, a third where mirrors adorn every part of the room. If you are ready for an out-of-the-box holiday experience, this art hotel in Berlin, Germany may be just the thing that your heart desires.
20. Hotel Max
Where: Seattle, Washington, USA
This hotel in downtown Seattle promises to cater to both business and leisure travelers. However, this boutique hotel also serves as a platform for Seattle-based artists and photographers, both established and upcoming ones. Even the room key card features a contemporary artwork. The door to each room features a unique photograph that fits in with the theme of that particular floor; there is even a rock 'n' roll floor. There are over 350 works of original art by more than 30 artists adorning the building. A great place to start or end your tour of world art.