The 2012 Olympic Games have transformed London into a veritable rival for popular yachting locations Monaco and Saint-Tropez. In fact, it is raining superyachts at East London, an area that is better known for its industrial leanings than for being a playground of the rich and famous. But the Olympic Games, that great leveler has changed all that, and numerous luxury yachts are now docking on the Thames as it passes through what is possibly one of the least affluent areas of London. This fleet of superyachts from around the world is definitely grabbing some eyeballs.
But much of the interest in these expensive floating vessels has to do with the individuals living in them. Several high-rollers have sailed in to the Thames in time for the London Olympics. Their giant boats have everything that you would expect, and more! A spokesperson for the Canal and River Trust, which looks after the running of these waterways, was reported to have said that this is the most activity seen in the South Quay dock since it ceased to be a trading port. The East London port has certainly benefitted from its proximity to the Olympic Stadium; it is about a half-hour walk from the port to the Games venue. Incidentally, mooring at South Quay is reported to cost over $14,000 a day. But that should not be a problem for the ultra-high net worth individuals hogging East London's ports during the Olympics season.
A Wonderful Spectacle On The Thames
The Royal Victoria Docks even had a special pontoon constructed to make space for the super-rich sailing enthusiasts. This is no ordinary pontoon either; it comes with its own concierge service. Such luxuries are to be spotted along the length and breadth of the Thames river. The international rich who sail in on their superyachts will never need to take a cab or book a car during their stay in London. They can travel between the dock and the Olympic Games venue along the waterway itself. New boat companies are complementing Thames existing boat services. But none of this comes cheap. For instance, wealthy folk can expect to fork out up to £7,500 (about $11,636) for transportation to the Olympics venue, if they avail of Water Chariots' limousine and cruiser charter services.
Indeed, these developments are a far cry from the image of East London as the hub of vagrants and cannabis smokers. Having said that, the Thames was historically used by the richest of the rich when they wanted to make a royal entrance. It was the ceremonial route for royals and other exceptionally wealthy folk as far back as the 17th century. We seem to have gone back in time once again, and many locals are excited about checking out the super-rich and their superyachts as their float on the London river. After all, the glitz and glamour is sure to make for several photo-worthy moments. In fact, sightseers probably should not miss checking out the many superyachts docking at London during the course of the 2012 Summer Olympics.
The Yachts That Came Calling
The Thames river is chocking up plenty of attention as people hope to spot some of the most expensive superyachts and their billionaire or multi-millionaire owners. Hollywood celebrities like George Clooney and Brangelina are reported to be attending the mega sporting event. Russian oligarch Roman Abramovich is expected to be there, with his gigantic superyacht, Eclipse, in tow. The $1 billion boat measures 163.5 meters in length and holds the distinction of being the largest private yacht in the world. It comes with a couple of swimming pools, a pair of helipads, a disco, a cinema, a mini-submarine and a missile-defense system. Abramovich's master suite is bullet proof and has a laser system to keep away the paparazzi and their long lens cameras.
1. Paul Allen's Octopus
Among the yachts that have already made their presence felt at the East London docks in Paul Allen's megayacht, Octopus. The Microsoft co-founder, who has a net worth of $14.2 billion and is presently the 48th richest man in the world, parked his yacht at the Dollar Bay. Although it is no match for Abramovich's Eclipse, the private yacht is massive with a length of 126 meters. There are two helicopters on board, plus a recording studio and two submarines, including one that is remote controlled and designed for studying the ocean floor. There is also a swimming pool moonlighting as a dance floor. Octopus is worth $200 million.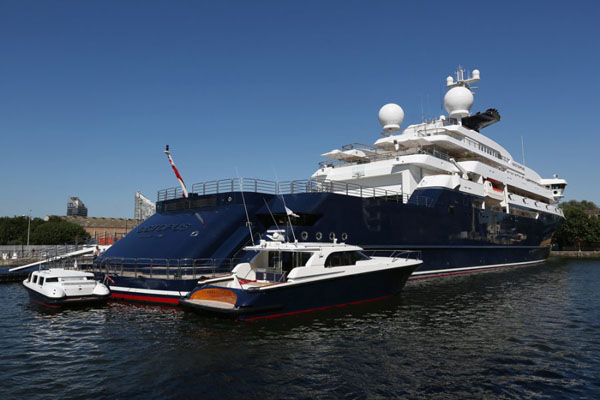 2. Marcel Boekhoorn's Deniki
The 52-meter Deniki is the property of Dutch billionaire Marcel Boekhoorn. This superyacht is frequently spotted at the Grand Prix of Monaco, so when the Thames readied itself for high-end boats in time for the Olympics, it seemed likely that Boekhoorn would make a trip. Five different kinds of fine wood have been used to do up the Deniki. Interestingly, this beautiful boat even has a bespoke wheelhouse for building interiors of luxury vehicles like Bentleys and Rolls-Royces.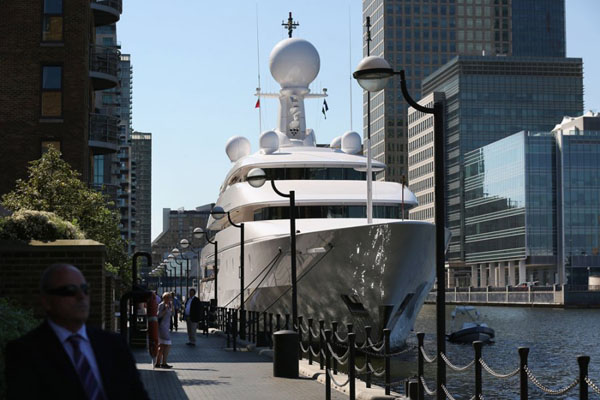 3. Frank Lowy's Ilona
The founder of the Westfield shopping centers, Frank Lowy, has sailed in on his own yacht, the large 74-meter Ilona. Worth a little over $124 million, this massive boat has a fully retractable helicopter pad. Holidays who love sun, sand and sea can actually work on their tan thanks to the two folding beaches that sit on either side of the boat. Ilona is docked at Canary Wharf. She comes with a movie theater, a gym, a massage room and accommodation for 16 guests and a crew of 28.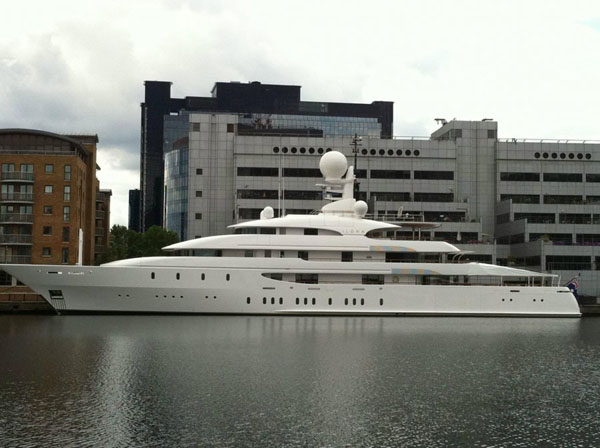 4. Seanna
By now, someone must have snapped up the Seanna to be their home for the Olympic Games in London. The 65-meter luxury yacht was built in the shipyards of Benetti. The large boat offers sleeping space for a dozen guests, but there is plenty of space for a party. The Seanna is available for rent throughout summer, but the rental rates of $680,000 per week is sure to attract only the richest of the rich.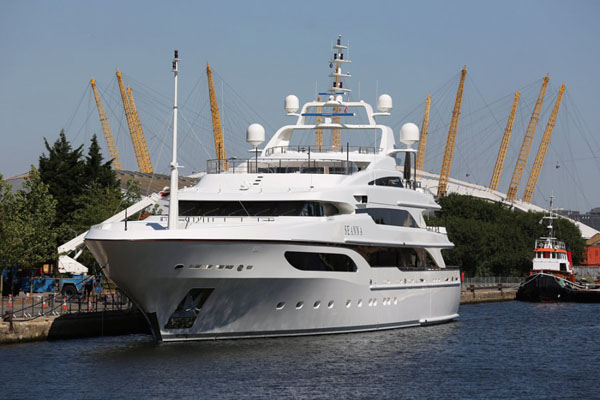 5. Harle
Built by Feadship in 2007, the Harle measures 44.6 meters in length, providing sufficient space of ten guests. With a top cruise speed of 14 knots, this boat is currently docked at Canary Wharf and is a hit with the rich brigade.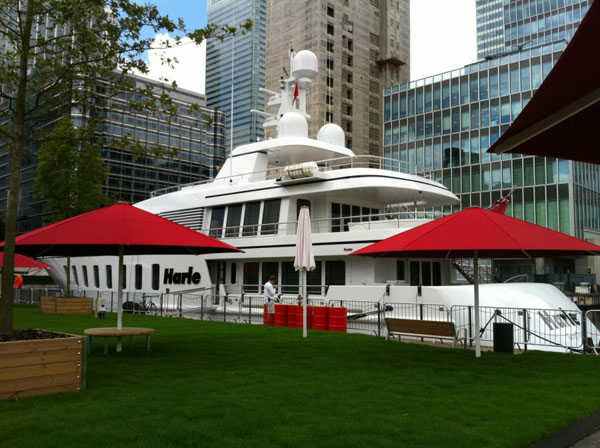 6. Favorita
Compared to some of the other boats mentioned here, the Favorita is little. It measures 29 meters in length and is currently up for sale. The asking price is $3 million, a relative bargain in the luxury yacht market.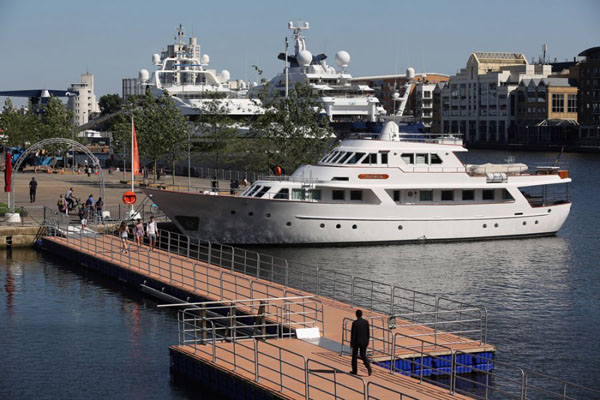 7. Sea Blue Z
Locals and tourists on a sightseeing spree cannot miss this beautiful luxury yacht. Sea Blue Z measures 37 meters in length and is docked at Canary Wharf.