Luxury Boutiques Opening: With the advent of online shopping, sales at showroom have been affected to a certain extent. Online shopping is anytime a good bargain for you gets the best deals and also a variety of products to choose from. There has been a mushrooming of e-commerce sites, so much so that it has threatened at times the very existence of retail stores. In a study conducted by Capgemini it has been found that by the year 2020, retail stores will become showrooms, in the literal sense. They will be places where customers will sometimes drop in to have a look at their favourite products and later order them or buy through an altogether different channel.
In order to give retail shopping a fillip, a line of luxury boutiques or stores have been launched across the world in some global cities. They are stores with a difference and have employed some very interesting techniques to get customers back to some retail shopping. These stores intend to offer that personalised touch to their customers along with some good bargains and also including limited edition products. The shoppers will become their primary focus and present them with stores that are thoughtfully integrated with the best of techniques.
We thought we will present you with a list of these luxury stores located in cities around the world, whose very intention is to bring back the days of shopping at a store!
Aesop
Location: Tokyo, Japan
The popular skin care brand has recently launched a very interesting boutique in Tokyo. The renowned architects, Torafu, were roped in by the skin care brand to design their store. Recessed shelves and openings have been used for the beauty products. The wooden walls and countertops are adorned with a muted brown. The surface gives you the look of marble but actually chip board has been stained and sanded to give the floor that smooth marble look.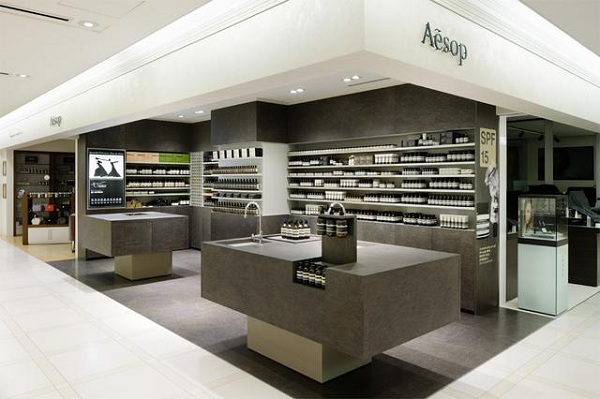 Audi
Location: London, U.K.
Located in London's Piccadilly Circus, the Audi store is a new age digitalised store.  Huge screens adorn the walls of this store. A touch of the careen will give you all the information you want about your favourite Audi. You are also guided by an online personal adviser. One can also store all the information he gathered on a USB and have a closer look on his own laptop or computer.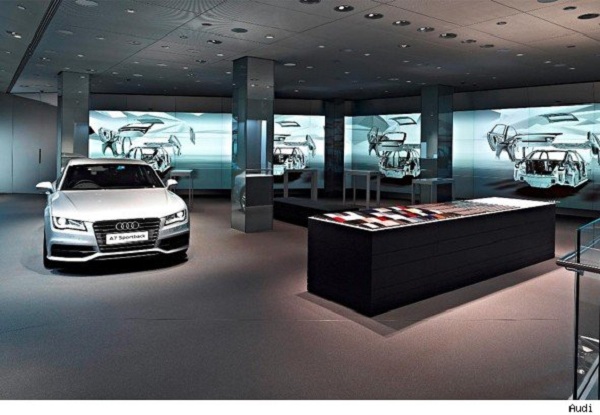 Barney's Shoe Salon
Location: New York, U.S.A
Sleek and contemporary interiors have been given to the Barney's Shoe Salon in New York. The store houses a wide range of men and women's footwear along with some travel accessories by Givenchy, Balenciaga and Rimowa. The interiors of this very plush store were done up by Yabu Pushelberg and Dennis Freedman. iPad station docks can be found at the store where special brass mesh glass cases have been used to give attention to specific brands. Lomestone flooring lends the store that extra zing along with the white marble walls and brass fixtures.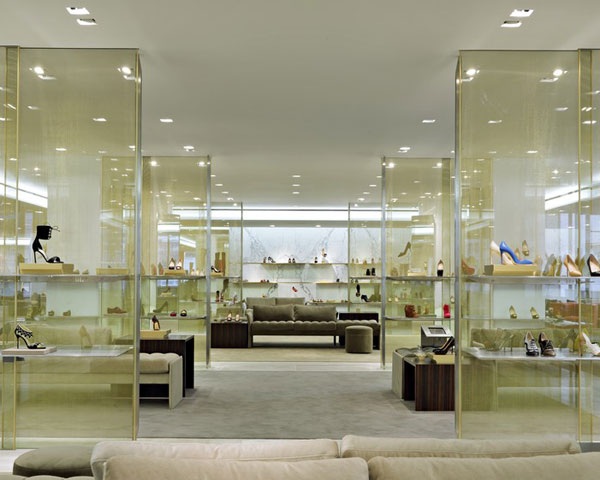 Bottega Veneta
Location: Saint Tropez, France
Handmade walnut tables and leather doorknobs give this store spread across 165 sqm a very cosy and comfortable look. The décor of the store has been done up by Tomas Maier. The store houses everything for men and women including bags, accessories, sunglasses, perfume, and travel accessories. You name it and they have it!
BMW I Store
Location: London, U.K.
AFTER Audi BMW ha also launched it's I store in London. The store focuses on electric concept cars like the BMW i3 Urban design and i8 sedan along with the electric bicycle, BMW iPedelec.
Breitling
Location: Paris, France
This will be a luxury watch store indeed for it is located in close proximity to the Place Vendome, on rue de la Paix. It will be first Parisian boutique and will house a wide variety of Breitling watches.
Burberry
Location: Abu Dhabi, U.A.E.
Christopher Bailey's designs and concepts also adorn the Burberry store here in Abu Dhabi. Located at Etihad towers, the store houses perfumes, watches and eyewear. The collection is for both men and women.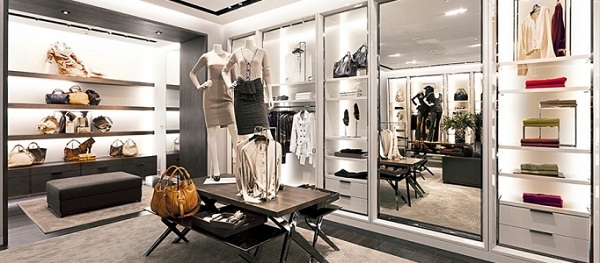 Cartier
Location: London, U.K.
The newly refurbished Cartier store is located in the Harrods jewellery store. It has been designed by French interior designer Bruno Moinard and also has a Cratier diamonds bridal salon. There's a beautiful Watch Wall in the store which has been designed by Windfall.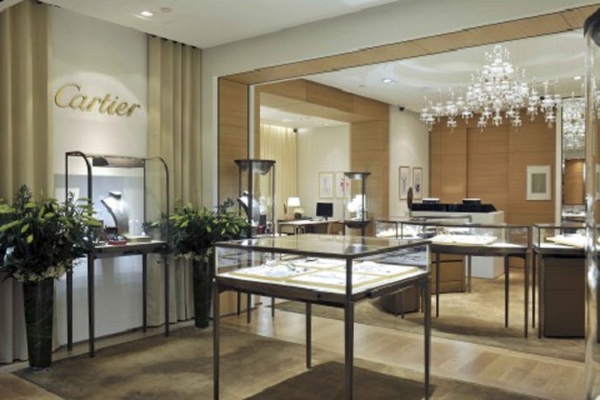 Dolce and Gabbana
Location: Sao Paula, Brazil
Dolce and Gabbana is finally making its presence felt in Brazil. The store is spread across 670 sqm and houses everything from men's and women's wear which includes clothing, jewellery and make up. The store is located at the very famous JK Iguatemi Mall.
Fendi
Location: Singapore
The latest Fendi store in Singapore promises to feature a limited edition line of Baguettes. The store's interior is what one should look out for. This includes a black lava stone floor which exudes sheer luxury. The curved walls lend a feeling of sensuousness to the store. The lightening of the store is fixed according to your mood and it is spread across 200sqm.
IWC
Location: Macau, Paris
The Rue de la Paix has another Parisian boutique. The store has kept in minimal in terms of its décor but as a sleek and different looking décor for each of its watches brands. Chrome, brushed metal and wood is what imparts this store a very sophisticated and elegant look.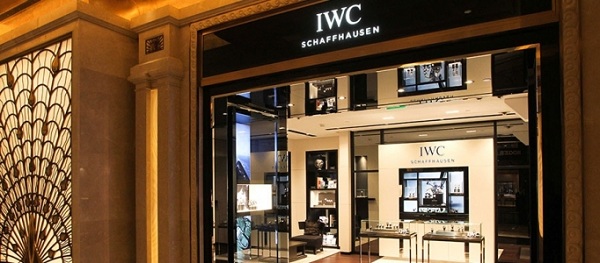 Jo Malone
Location: Turin, Italy
In the shopping hub of Turin lies the Jo Malone boutique. The unique thing about this boutique is that it gives its many customers the chance to also test its many cream and lotions. At the stores Tasting Bar the customers are in for some fun as they enjoy the massages being offered for their hands and arms.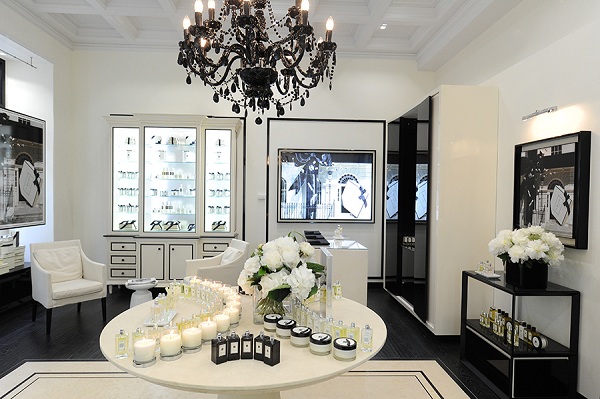 La Montre Hermes
Location: Beijing, China
La Montre Hemes has been launching some stores that focus only on luxury time wear. The La Montre Hermes can be found in USA and Europe as well. The La Montre Hermes in Beijing will be the 17th such store to be launched in Beijing. it is spread across 83sqm of area and is located at the Fu Xin Markson shopping centre.
Louis Vuitton Maison
Location: Shanghai, China
This Louis Vuitton Maison also has a hair salon along with the many luxury products. to keep up with the 'oomph' factor, the hair salon has been kept private and restricted only to some invites. The store houses leather good, men's and women's wear, watches, luggage and jewellery. The gilded spiral stair case adds to the store's unique décor which has been done up by Peter Marino.
Louis Vuitton Jewellery
Location: Paris, France
The Louis Vuitton store in Paris has everything from high end jewellery that can sells for millions to some mid range affordable jewellery products as well. The store has been once again designed by Peter Marino and is located at the Place Vendome in Paris.
Montegrappa
Location: Moscow, Russia
The unique Yuri Gagarin pen along with the White Knights and Russian Cosmopolitan can be found at the Montegrappa store located at the Four Seasons in Moscow. The store was a product of the collaboration with Gourji in Russia.
Mulberry
Location: San Francisco, U.S.A.
Designed by the Universal Design Studio, the Mulberry store in San Francisco also intends to hold exhibitions to showcase their luxury products. Women's wear and other accessories is what one can find at this store.
Panerai
Location: Shanghai, China
A lot has gone in giving this store a very luxurious look. Teak wood wall panels and the Calacatta gold marble flooring, which by the way were specially imported from Tuscany adorn this store. The store is spread across 66 sqm and is located at Shanghai's Nanjing Xi Lu.
Piaget
Location: Abu Dhabi, U.A.E.
The Swiss watch company has finally found its way to the Emirates and black and white flooring is what takes you to the store located at the Etihad towers. Christine Querlioz has designed the store with special lights that keeps it soft and warm.
Prada
Location: Dubai, U.A.E
This is a majestic Prada store that is spread across a whopping 1,140 sqm and has been designed by Roberto Baciocchi. A mirror gallery imparts a unique look to this store with marble and some very elegant carpeting. The store is dedicated to luxury clothing and there's a separate section for both men and women.
Proenza Schouler
Location: New York, U.S.A
Designers Mc Collough and Hernandez have specially selected some products for the store which has concrete walls and pipe fixtures on display. The store is located at the Madison Avenue and is very elegant in its style and look.
Roger Dubuis
Location: Hong Kong, Dubai, Singapore
At the Roger Dubuis store be ready to be welcomed in a jewellery box. The windows of the store are animated with videos and braided leather adorns this very elegant store which has libraries and lounges dedicated to cigars.
Rolls Royce
Location: Geneva, Moscow
The Rolls Royce store in Moscow will be the second in Russia while another one has also been launched in Nyon, Switzerland.
Zenith
Location: Lucerne
This store with deep chestnut brown interiors also has a private section for very privileged customers. The store is known for its luxury watches.