One expects luxury homes to be a fragrant home. There are many candles, diffusers and soaps that help keep your home smelling delicious. Now you even have designer brands of home fragrance and one of them has developed an exclusive fragrance for Sir Elton John, inspired by one of his personal gardens in England. NEST Home Fragrances has caught the imagination of the luxury home owners. The brain behind the home fragrance line is Laura Slatkin who had earlier developed home collections for Christian Dior, Jonathan Adler and more. She has now developed her own line called Nest which has a lot of variety and is beautiful.
The Diffuser is Capable of Perfuming 800 Sq Ft Effectively
The comprehensive Nest line includes Beach, Holiday and the Everyday Collection. Each collection has different candle scent and six of them come with diffusers, lotion, body wash, bar and hand soaps. The fragrance is long lasting and strong but not overpowering that could become annoying beyond a point. You will very soon realize that the diffusers are some of the best you have ever seen or smelled. Its Beach Collection Reed Diffuser is sufficient to perfume a space of about 800 square feet effectively for weeks without any sort of recharge. This particular fragrance has been developed to combine the essence of sparkling water and coconut with melon, lotus flower and sensual woods. This beach fragrance is like a fresh ocean breeze and is available in soaps and candle form.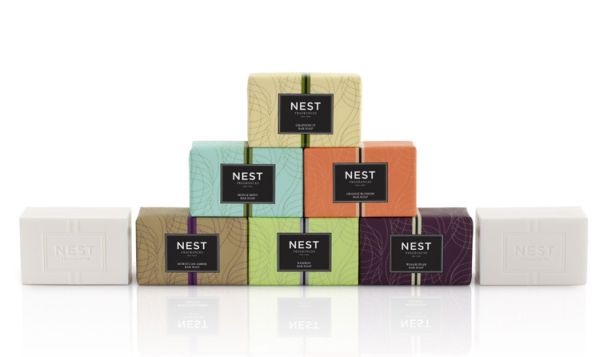 The Nest Line Boasts of Six Fragrances
The Everyday collection is equally impressive. It is potent but not excessively so. There are six fragrances available in candle, diffuser, bar soap, liquid soap, body wash and lotion, namely Moroccan Amber, Wasabi Pear, Moss & Mint, Grapefruit, Bamboo and Orange Blossom. All of them are crisp fragrances with spicy tones and citrus elements. The bamboo and Grapefruit fragrances are quite different from each other. The former reminds you of freshly cut grass while the later sweet like the fruit. Moroccan Amber is spicy and Wasabi Pear is again sweet like the fruit. Moss & Mint do justice to their name and boast of a sweet tone of apple. The line of home fragrance is beautiful and will prove to be an asset for any luxury home.