World's Largest Trimaran: Christopher Columbus epitomizes the dream of big things that  sailed across Atlantic to West Indies. He dreamt of still bigger things in his adventure and now following Colombus footsteps, you could dream of reaching mountain top to view pleasurable spots in the fastest car straightaway from the garage attached to the stunning 158-foot-long world's largest trimaran superyacht which is known as CXL Trimaran Concept, featuring a garage for your McLaren MP4-12C. There won't be parking problem with movable garage which perfectly accommodates your Mclaren.
Eco-friendly designs are popular with trimaran featuring modern technology and luxury with lesser consumption of fuel and easy gliding through the waters. The largest size assures you the maximum space to give maximum comforts. The trimaran has been designed by the maker UltraLuxum. Its extended retractactable outer hulls stretch up to 75 feet to give lateral stability. For collapsible hulls the beam would be 36 feet which could be managed in harbors. The hulls are designed by McLaren technologies.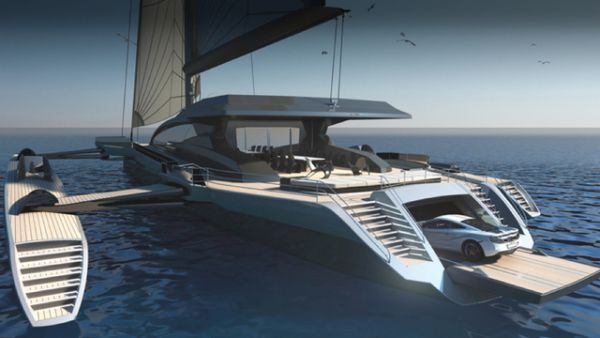 There are many remarkable shows planned for this year for exhibitors throughout the world including boat and yacht shows. You could see the concept at the Monaco Yacht Show which is a trade show at Quai Chicane, berth QC18, which displays luxury mega and superyachts. In Singapore boat Show there were fantastic power boats and sailing boats along with super yachts during April 27-29. The New York Boat Show opened in the first week of January this year with newly created boats and its accessories. The Yacht to charter particularly offers the finest luxury yachts with friendly service to destinations.