Mark Wahlberg's Beverly Hills estate is up for sale. The estate is quite a legend just like the star himself and is available for $12.995 Million. It was listed in 2008 for a staggering $16 Million by Mark Wahlberg himself. It is a house that is more like a 21st century palace that has everything you can ask for. The house had all the facilities tailor made just for the star himself. The Beverly Hills property is spread across 1.73 acres and is mad just for the stars.
Beverly Hills has always been the abode of luxury villas. The Beverly Hills luxury mansion popular because it was the Kennedy's honeymooning paradise was listed for a jaw dropping $95 Million. The house was also famous because certain scenes of the Godfather series were shot here. Mohamed Hadid's house also in Beverly Hills was listed for $58 million. It was a million dollar mega mansion and was the most luxurious place to live in the whole of California. Ellen Degeneres Beverly Hills Estate was also uber expensive and bestowed with luxury and style. Madonna's estate also adorned this most sought and plush locale of Californis. Beverly Hills is sure the place where the stars descend and have turned this place into a dream world of luxury and high style living. Therefore, it was not a surprise to also find Mark Wahlberg listing his mansion in 90210.
Lets' give you a pictorial journey of this splendid house in Beverly Hills.
Mark Wahlberg's Beverly Hills Estate
The house has seven bedrooms and ten bathrooms and we say Mark Wahlberg sure likes things big.
There's also a master suite bedroom which comes with two bathrooms.
Ensuite bathrooms can be found in four bedrooms.
West Coast sunsets and breathtaking views of the Canyon is what this mansion offers.
Once seated in the formal living and dining rooms you can enjoy these views to the fullest.
The kitchen is also nothing short of luxury with the best of facilities made available. What makes this kitchen special is the wide floor plan along with a huge counter space that gives you an immense feeling of openness.
Multiple sinks and a large gas range adorn this kitchen.
There' also a guesthouse for guests, just in case there isn't enough space in the seven bedroom house already! The guest house has two bed rooms and bathrooms.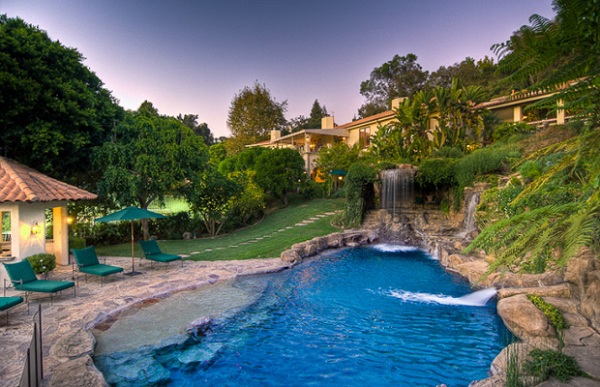 If this was not enough the house also has a recording studio and screening room to keep with the star's hobbies and activities.A boxing ring is housed in the gymnasium, which by the way is two storeyed.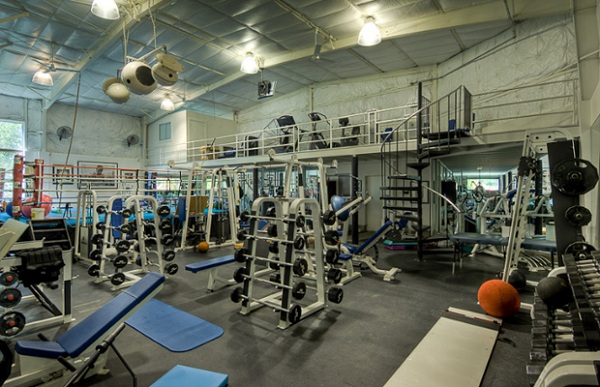 The swimming pool is what you must watch out for. It's no ordinary swimming pool but actually a lagoon with some waterfalls, poolside cabanas, a spa and tented lounge areas. There are also some water slides just in case you want to have some fun.A sunken basketball and racquet ball court is also housed in this multi million dollar mansion.The gardens just make the mansion a beautiful place to be in!
Hilton and Hyland have the listing of this Beverly Hills mansion.
Via Real Estate. Aol