For all those elites who can't stop going gaga over issues related to the protection of our environment, we have just what you were looking for. Michele Puzzolante has created a floating resort that is not only immersed in luxury but derives all its energy from solar power. The resort which is worth a whopping $125 million is a floating paradise and can accommodate over six people at a time. When the sun shines the resort lights up with life and the many facilities on board keeps the guests mighty entertained. The resort can will soon have a five star hotel as well.
In case you are wondering where exactly is this paradise on pristine waters located then lets u tell you that the setting up of this solar powered resort is still in the pipeline. But it is said that the Italian designer, Michele Puzzolante, is considering setting up the hotel in the Philippines.
Let's give you a virtual tour of this very first solar powered hotel.
A Floating Resort powered by the Sun
So how exactly does this very enticing solar powered resort work? Well, for starters the floating resort makes use of artificial photosynthesis. And how is that done you many ask? Molecules of chlorophyll are used to convert light into electrical current. And that is how power is generated on this super luxury floating resort!
It is on the belly of this solar powered floating resort that the pilot sits and steers this luxurious vessel with the help of propellers.
Once on board, the vessel may not take you into the deep seas. Well it's a floating paradise indeed but the propellers can only take the resort to some nearby reefs and give you sometime to spend with the marine life. So, if long journeys in the deep seas is not your cup of tea, then we think this solar powered floating vessel is just the right choice for you.
Get up close and personal with marine life and that too without slipping into any scuba diving gear. A submarine like enclosure with six arm chairs will give you a splendid underwater experience. It's the right place if you just want to unwind and relax and forget for sometime about the hassles of every day life. This underwater feature is called the "Observation Bulb".
The solar powered floating resort is spread across 360 square feet and provides its guests with all the facilities that they would want during the course of their journey.
And by facilities we also mean a bar!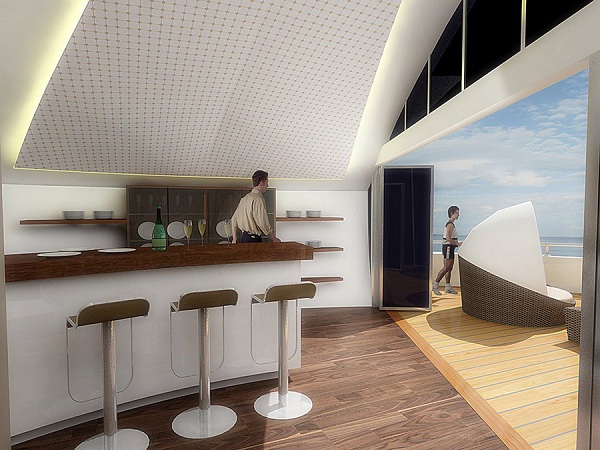 For the comfort of the guests there are two singe and two double bed rooms along that come with an attached bathroom.
Once out of your bed room there's also an open air lounge where you can read, watch movies, have some tea whilst also enjoying the views of the crystal waters.
If you wish to get that tan once on board then relax on the six day beds laid on the deck and also dip into the Jacuzzi.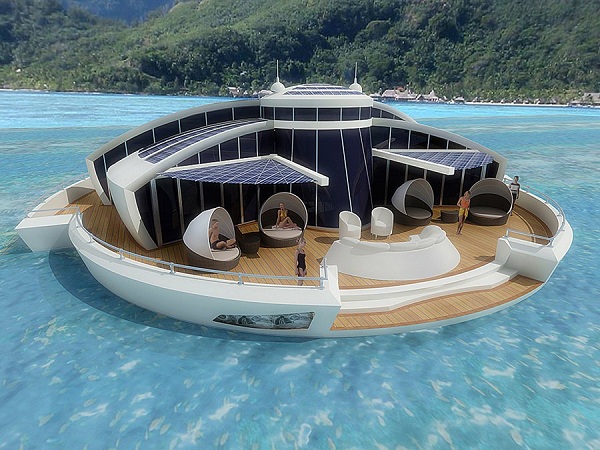 It took a whopping $1.9 million to build each of these pods!
This is what the resort will look like once it's ready. It will have all the facilities for yachts and units.
Two presidential penthouses, four suites, 12 junior suites and 36 rooms is what will be there in the resorts hotel!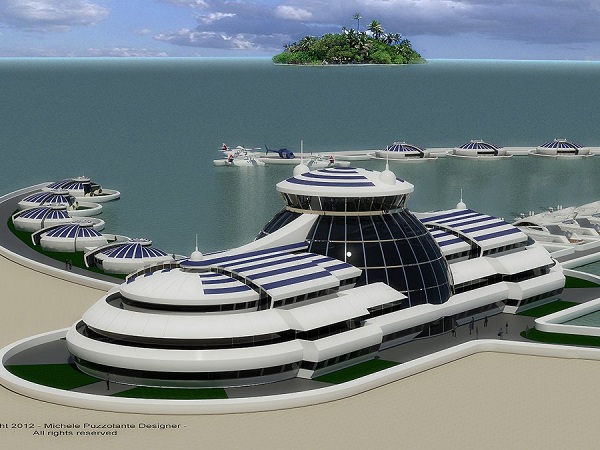 Via MPD Designs